Love's Blush
Love's Blush
Bay Filly
Born 2006
MD-Bred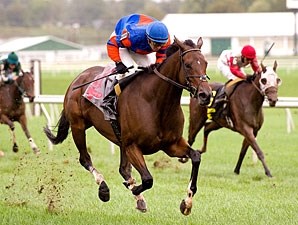 Trainer:

Rodney Jenkins

Jockey:

Abel Castellano, Jr.

Owner:

Richard L. Golden

Breeder:

Sycamore Hall Farm LLC
| Sale / Hip / Type | Buyer / Consignor | Price |
| --- | --- | --- |
| Hip 517 | Yearling | David Wade, for Northview Stallion Station | ($72,000) |
Prices in parentheses indicate a horse did not sell because it did not meet its reserve price.
Favored Eighttofasttocatch wins the Maryland Million Classic to highlight Maryland racing's big day.

Payton d'Oro, who won last year's Black-Eyed Susan Stakes (gr. II) at Pimlico as part of a four-race win streak, will be gunning for her second straight win when she faces nine disaffers in the May 15 Gallorette Handicap.