Dux Scholar (GB)
Dux Scholar (GB)
Bay Colt
Born 2008
GB-Bred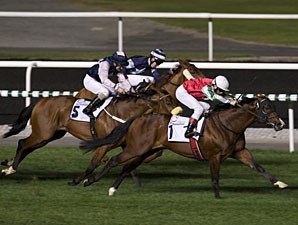 Trainer:

SAVUJEV ARSLANGIREY

Jockey:

STARKE ANDRASCH

Owner:

RAMZAN KADYROV

Breeder:

JUDDMONTE FARMS LTD
Dux Scholar (GB)

Oasis Dream (GB)
Green Desert
Hope (IRE)
Alumni (GB)
Selkirk
Ajuga
Five-Cross Pedigree
No auction history found.
David Watson trains two contenders in two different races for the Singapore weekend, Meandre & Dux Scholar.

Two of the top European contenders for the Breeders' Cup World Championships -- Goldikova and Workforce -- were among a group of international horses that arrived at Churchill Downs late Oct. 30.