May 28, 2014
On a spring day in Louisville a few years after his Real Quiet won the 1998 Kentucky Derby (gr. I) and Preakness Stakes (gr. I) — and came as close as a horse can come to taking the Triple Crown without winning it when he lost the Belmont Stakes (gr. I) by a nose — owner Mike Pegram took some time to meander through one of his favorite places, the Kentucky Derby Museum.

Pegram looked up at the silks of the Derby winners displayed on banners that hang from the ceiling in the museum's main hall: Citation, Secretariat, Affirmed … Soon, he came to a realization that had him laughing a bit at himself for not immediately noticing the connection: "These weren't just Derby winners, they were the Triple Crown winners."
The owner of multiple champions took in the celebration of horses who had completed the elusive Triple Crown — only 11 of them since 1919. He wondered if there was an order. Chronological? Alphabetical? And then Pegram wondered where Real Quiet's banner would be located if …
"Suddenly it hit me about how close we had come to having a Real Quiet banner up there," Pegram said. "That's one of only two times that losing that race got to me."
In the same room with the banners at the Louisville museum, a podium rises about six feet from the ground to ensure prime viewing of a silver trophy with gold studs. Atop the base sits an inverted pyramid with each side bearing the name of one of three races: the Kentucky Derby, the Preakness, and the Belmont.
This is the Triple Crown trophy.
The Cartier-designed award was created in 1950, and each of the Triple Crown winners from before that year was given one. Since then, every winning owner going forward has hoisted it. After a Triple Crown trophy is presented, details of each classic race outcome are engraved to the corresponding side.
The trophy has been shipped to Belmont Park a dozen times since Affirmed's Triple Crown victory in 1978; but rather than being lifted by a new Triple Crown-winning owner, it has returned each year without any new engraving to the museum located at the main entrance of Churchill Downs. This year the trophy will return to Elmont, N.Y., for a 13th time since '78, within the reach of California Chrome's co-owners, Steve Coburn and Perry Martin.
"We hope every year is going to be the year that we give this trophy away," said museum curator Chris Goodlett, who was born a week before Secretariat's 1973 Belmont victory ended the second-longest Triple Crown drought — the one that dated 25 years to Citation in 1948.
Blood-Horse computer-generated statistics shed light on why the trophy is rarely awarded. Looking at the 41 seasons in which stakes have been graded in the U.S. from 1973 through 2013, 1,080,290 horses started at least once in North America. Of that group, only 104,226 ever won three or more races in their career during those years.
Make the requirement that a horse win three or more North American stakes races and the field is narrowed to 7,006, less than 1% of starters. Require three North American graded stakes in a career and the number drops to 1,166. Make the hurdle three grade I stakes wins and it's down to 210 horses, or just one of every 5,144 starters. With his Preakness victory, California Chrome would now qualify in this category.
When you add distance and surface requirements that demand those three grade I wins come in races longer than 1 1/8 miles on dirt (or synthetic), just 43 qualify in the past 41 seasons of racing (The Dubai World Cup (UAE-I) was included for this statistic). That's just one horse from every 25,123 North American starters who has won three or more grade I races on dirt at distances longer than 1 1/8 miles.
Those stats are over a career, or the portion of the career included in the 41 seasons examined. Since 1973, only six horses at any point in their career have won three consecutive grade I races longer than 1 1/8 miles on dirt (or synthetic): Alysheba, Easy Goer, and Gentlemen as well as Triple Crown winners Secretariat, Seattle Slew, and Affirmed. This is the exclusive club California Chrome will try to join in the June 7 Belmont Stakes after winning the Kentucky Derby Presented by Yum! Brands (gr. I) and acing the Preakness.
To capture the Triple Crown under its current format, a 3-year-old has to win grade I dirt races at 1¼ miles, 1 3/16 miles, and 1½ miles in five weeks at three different tracks. In 36 years, no horse has pulled it off — but the connections who have come closest do not believe it has passed into the realm of impossible. Horse racing, especially the Triple Crown pursuit, has a way of attracting optimists.
"I think this drought is just a fluke, a fad that will eventually come to an end," Pegram said. "And when a horse does break through, we might see a couple more of them, like when Seattle Slew and Affirmed followed Secretariat. We've had a lot of great horses during this run, and that would include Point Given, who lost the Derby but then dominated the Preakness and the Belmont. I mean Spectacular Bid came up short; how great was he?
"We're still seeing great horses and one is going to do it again eventually."
---
Wikipedia, that source of sometimes reliable information, defines a generation as 20 years — but then goes on to note that longer life expectancies have extended the period to 25 years. Either way, it's been well more than a generation since a horse has won the Triple Crown.
Following Silver Charm in 1997, six other horses have won the first two legs of the Triple Crown only to come up short in the Belmont: Real Quiet in 1998, Charismatic in 1999, War Emblem in 2002, Funny Cide in 2003, Smarty Jones in 2004, and Big Brown in 2008. I'll Have Another won the first two classics in 2012 but did not compete in the Belmont because of an injury.
Before those, four other horses since Affirmed's Triple Crown victory headed to Belmont with a chance at the trophy: Spectacular Bid (1979), Alysheba (1987), Pleasant Colony (1981), and Sunday Silence (1989).
Since Affirmed, there also have been seven other dual classic winners including Preakness-Belmont winners Risen Star (1988), Hansel (1991), Tabasco Cat (1994), Point Given (2001), and Afleet Alex; and Derby-Belmont winners Swale (1984) and Thunder Gulch (1995). In all, 19 horses have won two of the three classics counting back to the previous Triple Crown winner 36 years ago.
This stretch is not the first time the racing gods have teased with near-misses. Between the four Triple Crown winners in the 1940s to the three from the 1970s, 25 years passed with only promises of another. Fifteen dual classic winners had fans wondering "what if?" Of those 15, seven horses — Tim Tam, (1958), Carry Back (1961), Northern Dancer (1964), Kauai King (1966), Forward Pass (1968), and Majestic Prince (1969), and Canonero II (1971) — completed the first two legs but failed in the Belmont.
On the track California Chrome figures to face eight or nine other Belmont starters. The Lucky Pulpit colt will have no awareness of the many top horses who have come up short in the 36-year drought — the longest in history — that he could end with a win in the 1½-mile test. But for many fans, recent Triple Crown history will be as real a rival as any of California Chrome's four-legged competitors who break from the Belmont gate.
Like a tough-luck bettor, this generation of racing fans is all too familiar with the bad-beat story. There has been a photo finish that would keep "history on hold," an ill-timed stumble leaving the gate, and a champion eased after falling flat for reasons that are still debated.
Since 1997 they've seen a memorable apology in victory and a fun-filled school bus. They've wondered "What if?" as they second-guessed jockeys and trainers. Twice there have been three-year stretches where each year the Triple Crown was on the line in the Belmont only to see the dual-classic winner vanquished.
California Chrome has the opportunity to be the 12th Triple Crown winner or the latest near-miss story for a generation of fans all too familiar with horses knocking on the Triple Crown door but not entering.
Start in 1997 with Bob and Beverly Lewis' immensely talented Silver Charm. The Silver Buck runner had a right eye that seemed attached to his heart; it powered his legs into overdrive any time a rival from that deeply talented crop of 3-year-olds — Captain Bodgit in the Derby, Free House in the Preakness — challenged him in the drive for home. It would take another talented rival's covert stretch move to deny him the crown.
Eventual Hall of Famer Bob Baffert trained Silver Charm and again found himself on the brink a year later with the late-developing Real Quiet, who took seven starts to win his first race but saw his considerable talents arrive in time for a Triple Crown run. Pegram's Quiet American colt bettered Victory Gallop by a half-length in the Derby and by 2½ lengths in the Preakness, but in the Belmont his familiar rival refused to play the role of Alydar, and the tables were turned.
In 1999 the Lewises came back for a Triple Crown shot with Charismatic, a smooth-running son of Summer Squall who started his career so slowly that trainer D. Wayne Lukas dropped him to the claiming ranks to secure his maiden win. That victory brought needed confidence to the once-modest chestnut, who hit his stride with a 2½-length score in the Coolmore Lexington Stakes (gr. II) at Keeneland two weeks before the Derby. Charismatic kept that momentum going, upsetting the Derby at 31-1 and the Preakness at 8-1, but a third-place finish and career-ending injury in the Belmont stretch ended any hopes of closing the century with a Triple Crown winner.
In 2002, thanks in part to a well-timed purchase by Prince Ahmed bin Salman's Thoroughbred Corp., Baffert again looked Triple Crown destiny in the eye when the near-black War Emblem became the first gate-to-wire Derby winner since the filly Winning Colors in 1988 — then showed he could carry that speed when challenged, putting away an early test from Menacing Dennis on his way to a three-quarter-length Preakness victory. But the Derby-Preakness winner who most needed a good Belmont start stumbled badly out of the gate, leaving his connections and backers mumbling something about Murphy and his law.
In 2003 Sackatoga Stables, a group of friends in a racing partnership, took a school bus to the Derby where they watched their New York-bred Funny Cide land the ultimate hood ornament. Between parties in Louisville, the group saw their plucky gelding — in top form under the training of Barclay Tagg — deny royally bred and owned favorite Empire Maker from the Juddmonte Farms of Prince Khalid Abdullah. The bus kept rolling in the Preakness, as did Funny Cide, who scored a 9 ¾-length victory. But Empire Maker skipped the Baltimore classic, spending those weeks preparing for his own classic moment.
Someday Farm's Smarty Jones captured America's hearts the following year by winning the first seven starts of his career, then playing the role of the chosen one in the Run for the Roses. After a thunderstorm and heavy downpour just hours before the 2004 Derby, Stewart Elliott's blue and white silks brightened the gray day as the soupy track proved as much obstacle for Smarty Jones as a puddle to a skipping 5-year-old boy.
That glorious spring, a Sports Illustrated cover story explained "Why Everybody Loves Smarty Jones," and racing fans' hopes reached the highest heights when the Elusive Quality colt demolished a Preakness field by 11½ lengths. Three weeks later he would open a clear advantage in the Belmont stretch with only one rival gaining ground … Birdstone.
Four years later Big Brown took his crack at joining Seattle Slew as the second undefeated Triple Crown winner. Big Brown became the first Derby winner to start from post 20 when he blitzed 19 rivals in Louisville, and he then cruised to a solid Preakness score. But after taking the first two classics by a combined 10 lengths, that momentum came to a shocking halt in the Belmont where he was eased by jockey Kent Desormeaux.
A tendon injury in his left-front leg denied I'll Have Another the opportunity to close out the Triple Crown in 2012. Stunned fans received word of the injury one day before the race.
Of the seven Derby-Preakness winners to compete in the Belmont since 1997, six would strike the front at some point in the 1½-mile classic — including three who led into midstretch — but each of these promising stories ended in disappointment where the ultimate prize was concerned.
---
For every dual-classic winner who came oh-so-close, the Belmont Stakes served up a wide range of winners in these years: classic horses who took advantage of their final chance to shine in the Triple Crown, horses who excelled at 1½ miles, late-developing standouts, and even some head-scratchers who just happened to choose to run the best race of their lives on that day.
Stronach Stables' and Stonerside Stables' Touch Gold found much of his drama before the 1997 Belmont when he stumbled badly in the Preakness, severely grabbing a quarter in his left front foot — an incident his jockey Chris McCarron believes cost him the Baltimore classic. Hoof specialist Ian McKinlay treated his injured foot and allowed trainer David Hofmans to continue preparing the talented Deputy Minister colt.
McCarron, devastated when Alysheba's Triple Crown run came up short in the Belmont 10 years earlier, was glad Touch Gold received his day in the spotlight in what the jockey considers one of the top 3-year-old crops of his era. McCarron would swing out extra wide in the Belmont stretch to avoid Silver Charm's searching eye.
"I had it in the back of my mind that if I had a chance to get to Silver Charm, I was going to get way out away from him because when you ran along side of him, he was a real dogged fighter," McCarron said. "He was really hard to get by, so I tried to use the element of surprise, if you will. And, fortunately, it worked out that way."
Baffert thinks McCarron's move lifted Touch Gold to victory.
"I always felt that to this day if he would have seen (Touch Gold), he would have made a race of it," the white-haired conditioner said five years after the 1997 Belmont. "But we'll never know … The first one was sort of exciting going for the Triple Crown. It was disappointing to lose, but at the same time you're just proud that your horse showed up and he ran. He ran a courageous race."
While jockey Gary Stevens came up short on Silver Charm, he played the role of spoiler the next year, guiding Victory Gallop to the narrowest of victories as the son of Cryptoclearance relished the 1½-mile distance. Victory Gallop already had shown his talents with runner-up finishes in the Derby and Preakness before getting up in his final Belmont stride by that dirty nose. He continued to show his class at 4, closing out his career with victories in the Stephen Foster (gr. II) and Whitney (gr. I) handicaps.
After the closest of spoiler victories, Victory Gallop owner Art Preston felt no need to apologize. He talked about the unforgiving demands of the Triple Crown.
"That is the crazy thing about it and a sad thing about America, in a way," Preston told Blood-Horse after the race. "Seconds don't count in America. Today Real Quiet is a loser. He's not a Triple Crown winner. And quite frankly I never looked at him as a Triple Crown winner.
"If he'd been a champion, he'd have beaten us two or three lengths like he did before. You've got to have a super horse, without a weakness. That's the way it always works with the Triple Crown."
A grade I winner at 2, Lemon Drop Kid skipped the Preakness after an off-the-board Derby finish. But trainer Flint "Scotty" Schulhofer did not rest the son of Kingmambo, opting to get a race over the Belmont surface. Lemon Drop Kid finished third in the 1 1/8-mile Peter Pan Stakes (gr. II) before edging Vision and Verse by a head in the Belmont. Injured Charismatic ran third, then was pulled up after the wire by Chris Antley.
Bill Farish started the day hoping Charismatic, who was bred by his father Will Farish and Parrish Hill Farm, would complete the Triple Crown. While that hope quickly vanished, Lemon Drop Kid — bred by Farish and William Kilroy — joined a list that eventually would grow to seven Belmont winners bred or co-bred by Will Farish to date.
"The Belmont has always been very special to us. For some reason it seems that we breed for the Belmont; I don't know why," Bill Farish said of his dad, who completed a personal Triple Crown that year as co-breeder of both Charismatic and Lemon Drop Kid. "We've had seven Belmonts now that dad has bred, or co-bred, the winner. It was very special given that he (Lemon Drop Kid) was such a good 2-year-old and to see him win a classic at 3 was very satisfying."
Lemon Drop Kid went on to win the Travers Stakes (gr. I) and, at 4, a pair of grade I races among his five graded stakes wins in 2000 as well as an Eclipse Award as champion older male.
The next spoiler would be the first of two longshots to run the race of their lives in the Belmont. In front of the first Belmont crowd to surpass 100,000, in 2002 Sarava held off Medaglia d'Oro to score what is still the biggest Belmont upset in history at 70-1. After his stumble, War Emblem finished eighth. Sarava never won again, losing the final eight starts of his career.
After the shock of Sarava, Empire Maker proved a more logical spoiler in 2003. The winner of the Wood Memorial Stakes (gr. I) — where he defeated Funny Cide — Empire Maker skipped the Preakness after running second in the Derby. Perhaps he needed no help, but the extra time off, added race distance, and an off-track didn't hurt a top performance for the Unbridled colt out of the blue hen mare Toussaud.
A year earlier jockey Jerry Bailey had thought he might have found his Triple Crown winner when he guided Empire Maker to an easy victory in his juvenile debut at Belmont. Bailey rode the Juddmonte Farms homebred for trainer Bobby Frankel in all eight of his career starts.
"I stuck around a couple of extra years trying to find a Triple Crown winner; that was my end goal," said Bailey, who retired in 2006 at age 48. "When I rode that horse in the fall of his 2-year-old year, I thought this was the horse. And Frankel thought so too, and he didn't get too hyped on horses."
As it would turn out, Funny Cide was the 3-year-old going for history in the Belmont — but Empire Maker took full advantage of his final chance to shine in a classic.
"Now (Funny Cide) was the best horse on Derby day, I'll never take that away from him. He was awesome in the Preakness," Bailey said. "But he wasn't a better horse than Empire Maker, especially going a mile-and-a-half."
Funny Cide seized the early lead in the Belmont but faded to third behind Empire Maker and runner-up Ten Most Wanted on the sloppy Belmont track.
"I do wonder what he would have done on a fast track, but the racing gods weren't with us in that respect," said Jackson Knowlton, managing partner of Sackatoga Stable. "I'm not saying he would have won on a fast track — Empire Maker had the breeding to go the 1½ miles and ran a great race, and Ten Most Wanted showed he was a talented horse. But the off-track is the one thing I wonder about.
"You never know because he was so good in those weeks. It just wasn't meant to be."
With Smarty Jones in 2004, the Triple Crown would be on the line for a third straight year and a still-record Belmont crowd of 120,139 turned out to see history but instead watched Nick Zito play Belmont spoiler with Birdstone.
While sent off at odds of 36-1, Birdstone had been a grade I winner at 2 with breeding for the Belmont distance. After he finished eighth in the Derby, Zito took the Grindstone colt back to his Saratoga Race Course base, and Birdstone thrived there, seemingly improving by the day.
"He was no fluke," Zito said of the runner out of Marylou Whitney's mare Dear Birdie, who already had produced 2003 Kentucky Oaks (gr. I) winner Bird Town. "He got good around Belmont time and then he stayed that way." He would go on to win the Travers Stakes (gr. I), the Midsummer Derby, at Saratoga.
Birdstone received the services of Edgar Prado, who halted a Triple Crown bid for a second time in three seasons after guiding Sarava to victory in 2002.
Trainer John Servis believes Smarty Jones could have handled the 1½ miles of the Belmont, but acknowledged that competing in a third long race in five weeks had taken a toll.
"Ten years later I can't think of anything I'd do differently," Servis said. "Smarty Jones was an incredible athlete, and we just hoped that would be enough. But we also knew he was a tired horse."
Birdstone's victory resulted in one of the more unique Belmont moments when Marylou Whitney apologized to the on-track and television crowd. Her family had a longstanding history with the race, starting with W.C. Whitney's winner Jean Beraud in 1899 and H.P. Whitney's back-to-back winners, the filly Tanya (1905) and Burgomaster (1906). Other Whitney-owned winners included Prince Eugene (1913), Johren (1918), C.V. Whitney's Phalanx (1947), and Counterpoint (1951). But on the day the race was won by Marylou Whitney's Birdstone, she expressed the sport's longing for a Triple Crown champion.
"I'm sorry, I'm sorry, I'm sorry that Smarty Jones couldn't win today," Whitney said. "We would have been happy to run second."
While the apology offered further evidence of Whitney's class, the Belmont victory was a huge win for her and Zito. There only are so many chances to capture a classic, and the chance to take on a horse going for the Triple Crown before a huge on-track and television crowd revved Zito's competitive juices.
"Obviously I grew up in New York; I grew up going to Belmont Park so winning the Belmont was special," Zito said. "And of course both times we spoiled a Triple Crown threat so that was special too. I think it's pretty special when you can win a race before the most people who have ever watched a race at Belmont Park."
There would be no apologies after Zito won the Belmont with Da' Tara, however. Many in the sport weren't fans of Big Brown's connections, majority owner IEAH Stables, a new player who favored buying horses who already had started racing under a business plan questioned by many; and controversial trainer Rick Dutrow Jr. Some six years after Big Brown's Belmont run, Dutrow is appealing a 10-year suspension from the sport for medication and regulatory violations and IEAH Stables no longer races horses, having last sent out a starter in August 2012.
"I never got so many high-fives in my life. The (Birdstone win) was different. If I wasn't who I was — I had five seconds in the Belmont at that point — I'd have been pulling for Smarty Jones," Zito said. "But with Da' Tara; it was rejoicing. It was like the goal posts came down. People were happy that horse won; that's the God's honest truth.
"Big Brown was a wonderful horse; don't get me wrong. He was a talented, talented horse. But for some reason those connections were not liked. It wasn't the same feeling when you walked away, you know what I mean? We got nothing but congratulations."
Da' Tara became the first Belmont winner since Swale in 1984 to win in gate-to-wire fashion, scoring at 38-1 at the expense of Big Brown. Da' Tara also never won another race, losing his next 11 starts. Zito believes the 1½-mile distance can help a longshot jump up.
"I think that's why the Belmont has such a history of longshots and horses that don't figure. There are quite a few horses that when you look at them, that was the only big race they ever won. I think the mile-and-a-half has something to do with that," Zito said. "For that day, their pedigrees warranted them going a mile-and-a-half and they ran so hard and so good; then when they came back to reality of the shorter distances, they couldn't do it."
Big Brown's trainer said the 2008 outcome shocked him.
"Going into that Belmont, it looked like a bunch of mismatched horses. Besides Big Brown being so dominant, the rest of the field looked like $50,000 claimers," Dutrow said. "It just wasn't meant to be."
Dutrow has heard all of the explanations for Big Brown's poor outing, but doesn't think any single reason holds up. That Belmont was contested in 95-degree weather with high humidity. Although Big Brown's legal use of steroids during his career spurred national debate, Dutrow said the son of Boundary did not receive a dose between the Preakness and the Belmont. Some wonder if the horse was affected by that change in regimen.
A quarter crack had forced Big Brown to miss training days before the Belmont. He had run down in the Preakness, and during the Belmont he had a loose shoe. But Dutrow said he saw no signs that any of those problems had bothered Big Brown when he examined him after the Belmont.
"Maybe it was a few of those things that added up," Dutrow said, noting that Big Brown was away awkwardly, may have been stepped on early, and was forced wide in the first turn. "He ended up outside on that first turn where the track hadn't even been harrowed."
Dutrow said because Big Brown battled hoof issues throughout his career, race fans never saw him at his best.
"We'll never know how good that horse was; we never saw his best because of his foot issues," the trainer remarked, noting that Big Brown experienced four quarter cracks during his 3-year-old season. "Because of that, I could never get him into a groove. We never saw how good he was."
As California Chrome prepares for what could be his defining moment, this year's Belmont field will feature horses who fall into familiar spoiler storylines. Derby starter and Preakness runner-up Ride On Curlin will take one last classic try in the Belmont. Derby runner-up Commanding Curve skipped the Preakness to focus on the Belmont.
The Peter Pan Stakes has again produced an emerging talent in Tonalist. Several Belmont hopefuls like A.P. Indy colt Commissioner feature promising pedigrees for the 1½-mile race. And recent history has shown the longest of shots can step up in the Belmont.
On the bright side for California Chrome, there are no Belmont starters who have three "A"s in their six-letter names (Sarava, Da' Tara), although "Samraat" comes close.
---
Where are They Now?
Click on each horse's name to see where they settled after their time in the limelight.
Big Brown
Da'Tara
Smarty Jones
Birdstone
Funny Cide
Empire Maker
War Emblem
Sarava
Charismatic
Lemon Drop Kid
Real Quiet
Victory Gallop
Silver Charm
Touch Gold





Big Brown
2008 Dual Classic Winner
Stallion, Three Chimneys Farm, Midway, Ky.
Da'Tara
2008 Belmont Spoiler
Stallion, Haras Avacados, Venezuela
Smarty Jones
2004 Dual Classic Winner
Stallion, Northview PA, Peach Bottom, Pa.
Birdstone
2004 Belmont Spoiler
Stallion, Gainesway, Lexington, Ky.
View Video
Funny Cide
2003 Dual Classic Winner
Hall of Champions, Kentucky Horse Park, Lexington, Ky.
View Video
Empire Maker
2003 Belmont Spoiler
Stallion, JBBA Shizunai Stallion Station, Japan
War Emblem
2002 Dual Classic Winner
Stallion, Shadai Stallion Station, Japan
Sarava
2002 Belmont Spoiler
Pensioned, Old Friends, Georgetown, Ky.
View Photos
Charismatic
1999 Dual Classic Winner
Stallion, JBBA Shizunai Stallion Station, Japan
Lemon Drop Kid
1999 Belmont Spoiler
Stallion, Lane's End, Versailles, Ky.
View Video
Real Quiet
1998 Dual Classic Winner
Died, September 2010 in Pennsylvania
Victory Gallop
1998 Belmont Spoiler
Stallion, The Jockey Club of Turkey Stud Farms, Turkey
Silver Charm
1997 Dual Classic Winner
Stallion, Iburi Stallion Station, Japan
Touch Gold
1997 Belmont Spoiler
Stallion, Adena Springs, Paris, Ky.
Dual Classic Winners
| | | |
| --- | --- | --- |
| 2008 | Big Brown | Stallion, Three Chimneys Farm, Midway, Ky. |
| 2004 | Smarty Jones | Stallion, Northview PA, Peach Bottom, Pa. |
| 2003 | Funny Cide | Hall of Champions, Kentucky Horse Park, Lexington, Ky. |
| 2002   | War Emblem | Stallion, Shadai Stallion Station, Japan |
| 1999 | Charismatic | Stallion, JBBA Shizunai Stallion Station, Japan |
| 1998 | Real Quiet | Died, September 2010 in Pennsylvania |
| 1997 | Silver Charm | Stallion, Iburi Stallion Station, Japan |
Belmont Spoilers
| | | |
| --- | --- | --- |
| 2008 | Da'Tara | Stallion, Haras Avacados, Venezuela |
| 2004 | Birdstone | Stallion, Gainesway, Lexington |
| 2003 | Empire Maker | Stallion, JBBA Shizunai Stallion Station, Japan |
| 2002   | Sarava | Pensioned, Old Friends, Georgetown, Ky. |
| 1999 | Lemon Drop Kid | Stallion, Lane's End, Versailles, Ky. |
| 1998 | Victory Gallop | Stallion, The Jockey Club of Turkey Stud Farms, Turkey |
| 1997 | Touch Gold | Stallion, Adena Springs, Paris, Ky. |
Besides drawing in fans and owners, the near-miss years have helped identify some top stallions. Several Belmont spoilers have enjoyed strong stallion careers, with Lemon Drop Kid securing career progeny earnings in excess of $50 million and Birdstone siring a pair of classic winners from his first crop in Mine That Bird and Summer Bird. Leading the Derby-Preakness winners since 1997 is Charismatic with more than $40 million in progeny earnings.
Lane's End's Bill Farish notes that even though the 1½-mile Belmont distance seems like an anomaly, it can reveal some appealing qualities in a potential sire. He said because of the way the race plays out, it's not just true stayers that win it but horses with some speed. Lane's End stands Lemon Drop Kid and, of course, enjoyed great success with Belmont winner A.P. Indy., who sired his own Belmont winner in 2007 — the filly Rags to Riches.

"I think that the mile-and-a-half at Belmont for that time of year with 3-year-olds, it seems to be won by horses that in a lot of cases are not necessarily pure stayers; they actually do have speed," Farish said. "The way that Belmont is configured — it's such a big track — I don't think the horses really realize that they're running a mile and a half. If you go back to Conquistador Cielo and milers that have won the Belmont, it doesn't always seem to favor the real stayer. I think that's one of the reasons it's such a good sire race because it's really not the mile-and-a-half-type horses that win it all the time."
Gainesway Farm also has seen the potential in Belmont winners. The Lexington farm stands Birdstone and Preakness-Belmont winner Afleet Alex.
"You look back in history and see the horses that have won the Belmont and emerged as very good stallions, of course the Triple Crown winners we know, and then you have the likes of A.P. Indy, Empire Maker, and Lemon Drop Kid," said Gainesway director of sales Michael Hernon. "The Belmont is a true test of the Thoroughbred: distance, soundness. You need endurance and grade I speed. It's a terrific race in its own right and it really proves the horse out."
Other horses involved in editions of the Belmont where the Triple Crown was on the line continue to generate fan interest as ambassadors of the sport. Funny Cide resides at the Kentucky Horse Park outside of Lexington, while Sarava can be visited at Old Friends Thoroughbred Retirement Center near Georgetown, Ky.
"I still get hundreds or maybe thousands of people who come up to me each year and tell me stories about their association with Funny Cide," Knowlton said. "It might be that they won money on him or saw him at the track; they want to share their stories."
As this year's Belmont approaches, fans and racing insiders will have time to ponder what a Triple Crown winner would mean for the sport.
Stallion Earnings
International earnings through March 3, 2014
Dual-Classic Winners
Horse
Crops/
GSWnrs 
Earnings
Charismatic
11 / 3
$41,634,928
Real Quiet 
11 / 5
$28,813,432
War Emblem
7 / 3
$28,671,766
Silver Charm
12 / 3
$26,898,989
Smarty Jones
6 / 11
$24,398,525
Big Brown 
3 / 1
$4,490,586
Belmont Spoilers
Horse
Crops/
GSWnrs
Earnings
Lemon Drop Kid  
11 / 28
$50,615,237
Victory Gallop 
11 / 18
$48,175,768
Empire Maker
8 / 26
$47,493,689
Touch Gold 
13 / 10
$43,051,490
Birdstone 
7 / 7
$13,145,238
Sarava
7 / 1
$3,046,215
---
Each Triple Crown race has its challenges. There's the chaos of the 20-horse Derby field, typically the largest in the U.S. each racing season. Then comes the quick calendar turnaround of the Preakness, just 14 days later in Baltimore. But the unique Belmont has proved the highest hurdle.
Competitors race 1½ miles in the Belmont, a distance none of them have tried and one many of them will never compete at again. Horses that have raced in the Derby and the Preakness enter off a taxing campaign and often face rivals who are fresh. The course itself has been known to trip up jockeys who are unfamiliar with its sweeping turns. And if you're a dual classic winner, the race serves up a massive portion of pressure.
Baffert said in the Triple Crown season, there typically is a lot of anxiety going into the Derby with dreams on the line and unknowns in the race. He said going to the Preakness with a Derby winner is a lot of fun and, with the Derby trophy already in hand, the pressure is turned down several notches in those weeks. But if you have a horse win both of those races, the stress returns before the Belmont.
Pegram was surprised about his feelings in the weeks leading up to Real Quiet's Belmont.
"After the Preakness there is a lot of pressure, I won't deny that," Pegram said. "Even a group as happy-go-lucky as we were; we were feeling it. You start thinking about it; you're breathing the air only a few before you have."
Before sending out War Emblem in the 2002 Belmont, Baffert talked about the pressure of not letting down a great horse.
"It's really thrilling to know that you have a horse of this caliber and the way he's just getting better and better," Baffert said. "It's a little scary because I'm responsible for this magical horse all of a sudden."
Horsemen also have to balance supplying the public with information about racing's star horse while still preparing for the race. Servis was amazed at how the interest builds from after the Derby through the Belmont.
"The thing that surprised me most was the media attention after winning the Derby," Servis said. "I wasn't surprised at the interest immediately after the race and the next day, but somehow I thought that it would go away after that Sunday."
Without as much work as the trainer, owners such as the Sackatoga Stable partners were able to enjoy the spotlight. Media requests for the Funny Cide owners came from television, radio, magazines, and newspapers. They appeared on the TODAY Show. Knowlton met LeRoy Neiman, and the artist showed up at the barn to paint a picture of Funny Cide. Funny Cide t-shirts, bobbleheads, and beer would soon be on the way.
"I remember one night I was on the phone well after midnight talking with a news show in Europe. The BBC covered us. It was worldwide," Knowlton said. "Everywhere we went during those weeks we were treated like celebrities. Of course, that was all because of what Funny Cide had accomplished."
In addition to the pressures of the spotlight, there's also the question of distance. Five weeks after everyone has wondered who will be capable of getting 1¼ miles, a Belmont field gears up to find out who can handle an added quarter-mile. Some of the Belmont winners that spoiled Triple Crown bids were at their best going the distance.
"I think the Belmont was the perfect race for him," Bill Farish said of Lemon Drop Kid. "He was a classic-type horse who really could get a distance. He was a battler, and I think that came out in a number of his races; he really fought hard down the stretch and wanted to win. It showed in the Belmont."
Secretariat owner Penny Chenery believes there is not enough emphasis on breeding classic horses.
"Back in the 70s we were still breeding horses to race them and so much of the industry now is concentrated on sales," Chenery said in 2012. "And so you breed a precocious, good-looking, early speed horse who isn't equipped to go a mile and a half, or to run three hard races in five weeks. We just have a different set of goals with the horses that we breed now, and it will take a remarkable individual to complete this."
The most recent jockey to win a Triple Crown, Steve Cauthen, said he did not worry about Affirmed's ability to handle the 1½-mile distance because it was beyond his control. He just focused on giving his horse every opportunity to win and hoped the ability to finish 12 furlongs would be there.
"The pedigree of Affirmed did not absolutely say he's a mile-and-a-half horse. And, in fact, I don't think a mile-and-a-half was his best distance," Cauthen said in 2012. "My big focus was just to try to get the pace slowed down and run our own race, run the race we wanted to, what we had determined would suit us best. And, of course, that all worked out."
Once on the track, the unique 1½-mile Belmont oval can trip up jockeys. After Real Quiet opened a four-length lead in the Belmont stretch, only to be caught in the final stride by Victory Gallop, many pointed the finger at his rider Desormeaux for moving too soon. Racing Hall of Fame jockey Jerry Bailey believes the early move by Desormeaux, also a Racing Hall of Famer, cost Real Quiet the victory. He said riders have to avoid the temptation to shift into auto-pilot and riding the Belmont track as if it were a one-mile oval.
"So much emphasis is made that you can't come from way back at Belmont, and I agree with that. I don't think you can come from way, way back with that come-from-behind blast-off move because a horse just can't make up that much ground," Bailey remarked. "But having said that, if you're in position early and midway through the race, then you do have to wait.
"If you come in with the mindset of a rider that you move like you normally move and don't change anything too much, which is very tempting to do, really tempting to do, you'll be in trouble. Most moves (at other tracks) are made entering the far turn or midway in the far turn, something like that; and that's just way too early there, especially if you've established your position. It's over an eighth of a mile too soon."
How do the Tracks Compare?
Choose a segment below to see how the stretch run, turns, and final turn distances compare at the three Triple Crown tracks
At Belmont Park, there are still 3,117 feet (0.59 miles) remaining entering the far turn compared with 2,511 feet (.48 miles) at Churchill Downs and 2,479 feet (.47 miles) at Pimlico Race Course.
"I rode that track every day and you're still tempted to let your horse move as you drop into that far turn," Bailey said. "It's like when you leave your house each day to drive to work, you go out your driveway, you turn left or right, and then you turn when you go by a geographical marker. You get into a habit. You're going by geographical markers; maybe you're on the phone sometimes. Your mind sees something and you know to turn there.
"And that's the way we become as riders, you get to the far turn and you start letting your horse move. At Belmont you really can't do that. You have to make yourself be disciplined and wait the extra time until the middle of the turn. And if you don't ride there, it's very hard."
Secretariat's jockey, Hall of Famer Ron Turcotte, noted that today's riders have little experience in 1½-mile dirt races.
"The game's really changed. We used to run two miles. Now they hardly run a mile-and-a-quarter, a mile-and-a-half," Turcotte said in 2012. "You may have ridden a mile-and-a-half a lot on the grass and the horses seem to handle it all right, but you see very few on the dirt."
Cauthen believes riders benefit from having experience at Belmont Park.
"Obviously having some experience at Belmont, I think, is good," Cauthen said. "It's just such a different-sized track. The track's wider, the turns are so much more sweeping, and just to know where you need to start thinking about making a move. It would be easy to get ahead of yourself if you hadn't ridden a few races there."
But to this day, Baffert and Pegram do not blame Desormeaux for their loss.
"(Desormeaux) won the Derby by making a big move in the turn, and he won the Preakness by making a big move in the turn. He tried the same at Belmont, and it almost worked," Pegram said. "I love this sport, but if there's one thing I don't like about it, it is the tendency of some people to look for someone to blame anytime a horse comes up short. It seems like we have more and more of those people. You don't have to blame someone every time a horse loses a race."
California Chrome is guided by jockey Victor Espinoza, who is based in Southern California. He's not a regular rider at Belmont and has just two wins in 65 starts at the track. Those two victories did come in grade I stakes — aboard Pico Central in the 2004 Vosburgh and Officer in the 2001 Champagne. Also, he's experienced the Triple Crown pressure before, finishing eighth on War Emblem after his gate stumble.
The Triple Crown provides unique challenges for trainers as well. Servis acknowledged it was difficult to gear Smarty Jones up for the Preakness and then down a gear for the Belmont. Smarty Jones completed the first 1¼ miles of the Belmont in a faster time than he posted in winning the Kentucky Derby at that distance.
"For the Preakness I didn't work him because coming out of a 1¼-mile race, he was dead fit," Servis said. "I knew we had to race again in two weeks, and at Pimlico I wanted some of that speed in him."
But the approach shifts before the 1½-mile Belmont.
"In those three weeks the challenge is then to gear down and teach him to settle more for the 1½-mile race," Servis said. "You really need a horse who is push-button."
The Derby-Preakness winners that have come into the Belmont are asked to perform their best on a schedule that the connections have been forced to follow. Servis said one of the reasons it was difficult to keep Smarty Jones from tiring is that he wanted to work hard each time he was on the track in the morning.
"You need a horse who is pretty easy on himself. One of the challenges with Smarty was he was a horse who was not easy on himself," Servis said. "Plus, you know there are some very good horses waiting for you in the Belmont and they have been working on their chosen schedule."
Pegram believes the way young horses are handled on the track is the reason they're not more durable. That durability is needed when a horse is asked to run three classics in five weeks.
"I don't buy into this idea that the breed has changed or that horses are less durable," Pegram said. "I think we're babying horses too much."
Pegram believes current training approaches that rest horses longer between starts are hurting their durability. The approach springs, in part, from handicappers who noticed horses tend not to run their best off a big effort unless they receive about six weeks of rest.
"The Ragozin Sheets are a great handicapping tool. They were designed for handicappers, but now I think too many trainers are using the Sheets to do their training," Pegram said. "Trainers aren't running their horses as much and, as an owner, that bothers me. I think that has changed things as much as anything."
Trainer Todd Pletcher has won six Eclipse Awards in the past ten years, but he has never saddled a dual classic winner. Pletcher is brilliant at placing his horses and often allows them significant rest between starts, but the schedule of the Triple Crown prep races can hinder such timing. Significant Derby preps are run as late as three weeks before the Derby, which, according to the current approach, is not the ideal amount of time between starts should a horse deliver a top effort in a prep race.
A victory in the Derby completely forces a trainer's hand as the Preakness is just two weeks later. Pletcher's lone Derby winner, Super Saver in 2010, finished eighth in the Preakness. Pletcher has never won the Maryland classic, typically preferring to rest his Derby starters. He has started seven horses in the Preakness (through 2013) with his best finish coming with his first starter, Impeachment, who finished third in the 2000 edition. He has started just four horses in the Baltimore classic since 2009 (not including 2014) and of those starters, Super Saver was the only one who also raced in the Derby. Pletcher won the Belmont twice, however, with the filly Rags to Riches in 2007, and with Palace Malice in 2013. He plans to start Commissioner and potentially Matterhorn this year.
Along with giving horses more rest, trainers are not racing them as often as 2-year-olds. Real Quiet had a dozen starts under his belt when he entered the Derby gate. This year, Pegram's Rebel Stakes (gr. II) winner Hoppertunity, who like Real Quiet finished second in the Santa Anita Derby (gr. I), was headed to the Kentucky Derby Presented by Yum! Brands with just five starts under his belt but was sidelined with a minor injury two days before the race.
These two trends have reduced the experience horses have when they start in the Triple Crown races, increasing chances that they'll encounter something they haven't previously seen in a race before.
California Chrome does not lack experience, especially relative to this era. He had the most experience of any Derby starter this year and will be making his 13th career start in the Belmont. That experience helped his comfort level in the large Derby field and in finding favorable position early in the Preakness.
In terms of fatigue, California Chrome's Derby did not appear to be an especially taxing race — Espinoza eased him late after a smooth trip — but the 1½-mile Belmont will be his third start at 1 3/16-miles or longer in five weeks in the unforgiving Triple Crown.
While the final leg of the Triple Crown is the third start in five weeks for dual classic winners, many of their Belmont challengers skip the Preakness, take time off, or at least have the luxury of plotting their own schedule.
The past five Belmont Stakes with a Derby-Preakness winner competing were won by horses that did not race in the Preakness. Da' Tara and Sarava were making their classic debuts, Birdstone and Empire Maker skipped the Preakness after running in the Derby, and Lemon Drop Kid prepped in the Peter Pan Stakes (gr. III) after an off-the-board Derby finish. The most recent Belmont "spoiler" to race in the Derby and Preakness was Victory Gallop, who foiled Real Quiet in the final strides after runner-up finishes in the Derby and Preakness.
Before this run of five straight Belmont new shooters as spoilers, eight of the previous 11 Belmont winners to spoil Triple Crown bids, from 1961 through 1998, had started in the Preakness. Alydar ran second to Affirmed in each of the 1978 classics.
"You look at this new trend of skipping the Preakness and you wonder what Alydar would have done against Affirmed in the Belmont if Alydar had skipped the Preakness? Affirmed is a great horse obviously, and maybe he still would have found a way, but you do wonder," Knowlton said. "We're seeing so many horses skipping the Preakness and gearing up for the Belmont. If you have the Derby-Preakness winner today, you can bet one of these horses will be waiting for you."
Coburn, who has been talking about Triple Crown possibilities since before his Santa Anita Derby (gr. I) victory, thinks the approach is less than sporting.
"I'm not saying he will win the Triple Crown, but he has just a good of shot as anybody else out there," Coburn said in April. "The only thing that bothers me is you've got these trainers that are not going to run in the Kentucky Derby but they'll back up and come to the Preakness and race against a horse that's only been off a few weeks, and to me, that's cheating because if you've got a horse you think can win the Triple Crown, start from the first race and go all the way through. And if you drop out of the first one, why go to the other two except for the money.
"I look at it this way, if you think you've got the horse to do it, put him in the first one and keep him in the second one and third one, and may the best horse come out on top, and that's all I've got to say about that."
The schedule all but ensures a Derby-Preakness winner will have some amount of fatigue going into the Belmont. Exacerbating that fatigue is the fact that recent Derby-Preakness winners have had to contend with larger fields in each classic. The seven Derby-Preakness winners that started in the Belmont in the past 20 years generally faced larger fields in the three classics than the Triple Crown winners. The dual classic winners of the past 20 years raced in Triple Crown events that averaged 12.5 starters, making those fields 40.4% larger than the 8.9 horses that started, on average, in the years of the 11 Triple Crown winners.
To put that in perspective, among equal horses, the odds of winning three straight races against 7.9 opponents would be 493-1. The odds of winning three straight races against 11.5 equal rivals would be 1,521-1.
The Belmont itself has proved to be especially popular in recent years. The average number of Belmont opponents faced by the 11 Triple Crown winners was 4.4. The average number of Belmont opponents faced by the seven most recent horses to win the first two legs of the Triple Crown has been 8.3. This year's field size likely will be close to that recent average.
Charismatic and Smarty Jones both defeated more horses in their three Triple Crown races than any Triple Crown winner. In finishing third in the Belmont, Charismatic defeated nine rivals there after topping 12 in the Preakness and 18 in the Derby for a total of 39. Smarty Jones defeated 33 rivals in the Triple Crown as he defeated seven others with his runner-up Belmont finish, nine in the Preakness, and 17 in the Derby; a total of 33.
The most horses defeated by any Triple Crown winner were the 32 vanquished by War Admiral. In winning the 1937 Triple Crown, the Admiral defeated 19 rivals in the Derby, seven in the Preakness, and six in the Belmont. Real Quiet also defeated 32 rivals, capped by his loss to Victory Gallop in the Belmont.
Affirmed, the most recent Triple Crown winner, defeated just 20 rivals in taking the three races. All seven of the Derby-Preakness winners in the past 20 years defeated more horses in their Triple Crown races. Of course, none of the latter fields included Alydar but those numbers show the dramatic increase in field size for the Triple Crown races.
Not only do 3-year-olds face larger fields in the classics, they face a tougher numbers game in terms of foal crops. In an arid Triple Crown period ended by Secretariat, Sports Illustrated writer Whitney Tower cited the larger foal crops as a growing Triple Crown hurdle.
"Winning (the Triple Crown) is not going to be any easier in the future," Tower wrote in Sports Illustrated after Majestic Prince in 1969 became the sixth horse during the 25-year-drought to win the Derby and Preakness but fail in the Belmont, finishing second to Arts and Letters. "When Sir Barton became the first of eight to accomplish the feat in 1919, he was one of but 2,128 foals of 1916. Citation was one of 5,819 foals of 1945. Majestic Prince, Arts and Letters, and Dike were just three of 20,131 foals of 1966, and the number is increasing by approximately 1,000 every year."
The current crop of 3-year-olds is from an estimated 2011 North American foal crop of 25,500. That number is up slightly from 1966 but down from the heights of 51,296 in 1986. The foal crops of 1994-2005 were in the 35,000 range.
Classic horses seemingly benefit from a previous race at Belmont Park. All 11 Triple Crown winners either won or placed in a stakes race at Belmont Park before they competed in the Belmont Stakes. In the past 20 years six of the seven Derby-Preakness winners to start in the Belmont Stakes were making their first start at Belmont Park when they broke from the gate.
Those dual-classic winners making their Belmont debut included Big Brown, Charismatic, Real Quiet, Silver Charm, Smarty Jones, and War Emblem. California Chrome will be starting at Belmont for the first time.
"The thing about Secretariat and the Belmont, that was his home track, and I think it's a great advantage," Chenery said in 2012. "It's got to be intimidating for both the horse and the rider."
In the past 20 years the only Derby-Preakness winner to win at Belmont Park before the Belmont Stakes was Funny Cide, who started his career with three straight victories there as a juvenile, including a pair of stakes races for New York-breds.
---
Despite the lack of a Triple Crown winner, fan interest in the accomplishment remains strong. Three times during this current stretch more than 100,000 people have turned out at Belmont when the Triple Crown has been on the line. Knowlton was impressed with the six-figure crowd on a rainy day in 2003. A fourth six-figure crowd appears likely this year.
"When you take into account the horrible weather that day and there were still 104,000 people who turned out to see the race at Belmont Park, that says a lot," Knowlton said. "I remember waking up that day and it was drizzling and then it just started pouring, more and more and more. But it didn't keep many away."
Before the 2002 Belmont, Baffert noted how the potential for a Triple Crown brings interest from general sports fans.
"I have a lot of people come up to me in the outside world that are sports fans that are really following racing more than they ever have before and I think that's attributed to Silver Charm going for the Triple Crown, coming back a year later with Real Quiet. Then Charismatic going for the Triple Crown, Point Given gets two wins last year," Baffert said. "Big horses like that, they're hungry for it. They want it. They want to see it … They've been coming every year. They've been buying their tickets. They want to see it and maybe, you know, I'd love to be the one to do it."
Besides the interest by fans, Pegram believes the near-miss years have helped attract owners to the game and caused some already involved owners to target the classic races. Increased field sizes in the classics back that up.
"One thing about it, I think this run of near-misses has built up interest in winning the Kentucky Derby and the Triple Crown races," Pegram said. "Silver Charm, Real Quiet, Charismatic, Funny Cide, Smarty Jones, War Emblem, Big Brown; I think seeing these horses come so close has increased interest in winning the Derby."
Elliott Walden, who trained Victory Gallop and currently serves as president of WinStar Farm, sees the enthusiasm build for the Triple Crown races in the Derby prep season.
"I think the one thing that we're getting great at as an industry is this lead up to the Kentucky Derby and the passion and the excitement that it brings to owners and trainers," Walden said. "I think that's evident with people that want to get into the mix of things."
Statistically it is odd we have seen so many horses come close without completing the Triple Crown. Charismatic was sent off at odds of 8-5 in the Belmont, War Emblem 6-5, Funny Cide 1-1, Smarty Jones 3.5-10, and Big Brown 3-10. Before those five, Real Quiet was sent off at 4-5 and Silver Charm at 1-1.
Based on those win odds, Big Brown had a 76.9% chance of winning, Smarty Jones, 74.1%; Real Quiet, 55.5%; Funny Cide and Silver Charm, 50%; War Emblem, 44.4%; and Charismatic, 38.5%. Given those win-bet odds going into this stretch, the chances that one of those seven horses would have won would be 98.6%.
---

Despite the drought, connections of both dual classic winners and spoilers continue to be optimistic when it comes to the Triple Crown. Most advocate no changes to the series that currently demands a young horse win three races of 1 3/16 miles or longer in five weeks at three different tracks. This year Maryland Jockey Club president Tom Chuckas said he favors more time between each race and will discuss the idea of spreading the races out with the other host tracks.
A few weeks before this year's Derby, Servis said the next Triple Crown winner will be one of two things: just far and away the best of his generation, or a top horse who has everything go his way in each race. Knowlton also believes a Triple Crown winner today will have to be significantly better than the competition because at some point a horse will face a setback or have to win on a day that he's not his best.
"It's an extremely grueling five weeks, plus you have to remember that these horses also have to win a tough race or two just to get into the Derby," Knowlton said.
Bailey believes medication reforms made in recent years will improve the chances of a horse sweeping the Triple Crown. In 2009 the industry outlawed anabolic steroids from racing and recently has worked to prevent clenbuterol from being used for its anabolic effects. Bailey believes the use of steroids led to huge runs by young horses in one of the Triple Crown races or prep races that would them knock them out and hinder their chances at running back at a high level.
"Once you have more throwback-looking horses competing, looking more like they did 20 years ago instead of Adonises coming onto the track, then I think you've got a chance," Bailey said. "Medication reforms are going to get us back to the throwback horses; the ones that are good enough are going to show up and it's not going to be artificial. It's going to be because they have talent and that's what it's going to take to win the Triple Crown. It's going to take a very talented horse."
When asked if the sport will see another Triple Crown winner, Dutrow didn't miss a beat.
"Yes, if they give me back my license," he said.
Are California Chrome and trainer Art Sherman the next in line for racing's most celebrated feat? Coburn believes something special is going on with the Lucky Pulpit colt who would become the first California-bred to win the Triple Crown.
"He was born on my sister Brenda's birthday, February 18th, and she died of cancer when she was 36 years old," Coburn said. "And this year, it will be 36 years since there's been a Triple Crown winner."
The Triple Crown run generates powerful feelings. For the connections of the talented Derby-Preakness winners in the past 20 years, the fondest memories go well beyond the winner's circle.
Knowlton recalls a feeling of floating through those five weeks.
"We were just ecstatic to have a horse run in the Derby. Then to win that race was beyond anything we had hoped for," Knowlton said. "Everything else was an incredible ride, just icing on the cake."
Eleven years later the Funny Cide partners still are a hot item. Knowlton recently did a reading of a Funny Cide children's book at a Saratoga Springs book store. Funny Cide appeared at Keeneland at the "It's My Derby" event, a fundraiser for the Kentucky Derby Museum, and is part of the daily Parade of Champions at the Kentucky Horse Park.
"We had a great run. We went to Belmont with a chance to make history but came up short," Knowlton said. "But it's something we continue to relish. Those good feelings don't go away."
Pegram has fond memories of the five-week push for the Triple Crown with Real Quiet.
"One thing about it is, we know that no horse is going to come closer to winning it, without winning it, than we did," Pegram said. "That was the ride of my life."
Trainers Dutrow, Tagg, and Servis fondly recall time spent with their horse, family, and friends during those five weeks.
"I'll never forget this time at Belmont when a group of people had gathered at the barn and they were talking with their back to Big Brown. He came up behind them and just kind of poked his head into the conversation, as if to say 'What's going on here?' " Dutrow said. "He was such a cool customer; more personality than I've ever seen in a horse. We had a lot of fun with him.
"He's the most incredible horse I've ever seen in my life."
Tagg recalls doubters questioning his decision to put New York-bred Funny Cide on the Triple Crown trail, especially after the horse had finished off the board in the Holy Bull Stakes (gr. II). Even after placing in the Louisiana Derby (gr. II) and the Wood Memorial, Tagg said many doubted Funny Cide could handle the Derby distance.
After the plucky chestnut won that event, Tagg recalls returning to New York for a celebration at Stella's Restaurant near Belmont.
"When I walked in the door, everyone was sitting in the bar area waiting for me," Tagg said. "Allen Jerkens got up and came over to me — he's a great big bear you know — and he threw his arms around me, hugged me, and said, 'You stuck to your convictions and you did it.' There were tears running down his face.
"That, to me was the most important thing that happened. It was just unbelievable."
Servis said he would never trade the walk from the barn to the paddock before the Derby, flanked by his sons, next to the best horse he'd ever trained, on the brink of his biggest victory. Those good feelings could not even be sunk by a torrential rain.
"My favorite memory about the entire experience was the walk over for the Derby with my two boys and Smarty Jones. The boys were just so proud," he said. "Of course none of us were prepared to walk in the mud after that downpour; I think we ruined some shoes, but it didn't matter. I'll never forget it."
---
Credits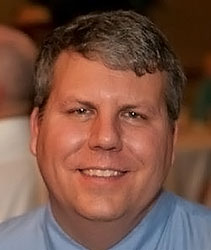 Frank Angst
A staff writer for Blood-Horse magazine, Frank Angst has twice been honored for writing the news story of the year by American Horse Publications and has received several other recognitions from that organization and others. Angst has been at Blood-Horse since 2012 and has covered horse racing for more than a decade. He lives in Prospect, Ky. with his wife Nikki and son Andrew.
Online Features Editor: Claire Novak
Designer: Kimberly Reeves
Visuals Director: Anne M. Eberhardt
Mulimedia Producer: Scott Tracy
Videography: Gary Bogdon,
Charlie McCarthy
Digital Assets Coordinator: Kevin Thompson
Chief Copy Editor: Tom Hall