January 14, 2015
On a mid-November afternoon last year on the Belmont Park backstretch, autumn's fingerprints were everywhere. The stable area's usually verdant trees rested, nearly bare, with golden and russet-colored leaves carpeting the horse paths. Every now and then a horse van lumbered through the stable gate onto Hempstead Turnpike, bound for warmer climes.
Todd Pletcher's Barn 31, all hustle and bustle earlier in the day, had settled into near stillness. Dust motes swirled in the sunlight that filtered through the windows. A few horses lazily poked their heads above the black and white "TAP" webbings. The slower eaters had muzzles still buried in their feed tubs, working through the remnants of a late-morning meal.
Even North America's all-time leading trainer in stable earnings, seated at his desk in his tidy barn office, had a rare hour or so to spare for an interview.
To say Pletcher is a private person when it comes to dealing with the media would be an understatement. When the conversation veers toward anything personal, there is an audible groan as his silver-haired head tilts backward and his blue eyes flicker toward the ceiling. While he readily answers questions about his horses and operation, most reporters have learned not to expect much beyond that. Of course, during the Saratoga Race Course meet there is always the obligatory Q&A session with Pletcher, who once went out on a limb and revealed to a local paper that "Scooby-Doo" was his favorite childhood cartoon show.
Still, this particular moment on a quiet afternoon seemed ripe for reflection, which is often the case as a season winds down. Career milestones also lead to contemplation. And for 47-year-old Pletcher, 2015 represents his 20th year as a licensed trainer.
"I know when you first start, every single race, every win or loss… you want to get going and you want to build some momentum, and if you lose three or four races in a row, you feel totally dejected, devastated," Pletcher said. "I think after you mature a little bit, and have been around it for a little while… I think I have become probably a little more relaxed since then."
A graduate of what has become known as the "D. Wayne Lukas school of horsemanship," Pletcher left his position as an assistant in his mentor's barn early in December 1995. That same month he launched his own stable at Hialeah Park. With about eight runners initially in his care, Pletcher saddled his first starter, Paramount, on Jan. 13, 1996, at Gulfstream Park. His first win came 13 days later, with Majestic Number, at the Hallandale, Fla., oval.
"The one thing I've tried to maintain over the years — and it's something I learned from Kiaran McLaughlin when I worked with him at Wayne's barn — is that you just have to keep an even keel because you're going to have the wins and you're going to have the losses," Pletcher said. "There are going to be spells when you win four or five in a row, and spells when you lose 20 in a row, and you just have to stay focused on what you do, and not lose confidence in what you do. And not get down about it."
His competitors and racing fans may see Pletcher as unemotional and distant, but there is more to the horseman than meets the eye. Beneath the guarded persona lies a determined competitor, a sly humorist, a devoted family man, and a trainer whose drive has carried him to the top of the game.
---
Today Todd Pletcher represents the best of the best among North American horsemen. In May 2014 he became the all-time leading trainer in money won, a title previously held by Lukas. Three months later he joined his former boss as the only other trainer to have saddled 1,000 stakes winners.
All but certain to be a first-year-ballot inductee into the Hall of Fame when he becomes eligible in 2021, the Dallas-born conditioner is in many ways the face of horse racing in this country.
His six Eclipse Awards represent a record for any trainer.
He has won just about every major graded race on the New York Racing Association circuit, including two editions of the Belmont Stakes (gr. I) — with the filly Rags to Riches in 2007 and with Palace Malice in 2013.
He owns more than 30 training titles at NYRA tracks, his primary base of operation for much of the year.
His operation peaks in the summer with approximately 175 horses located at three tracks — Belmont Park, Monmouth Park, and Saratoga Race Course — and among his more than 100 employees are four assistant trainers and two office managers.
At Gulfstream Park, his main winter racing headquarters, he's captured the last 11 training titles.
The climb to this level of excellence began with a childhood passion for the sport, influenced by a father — Jake "J. J." Pletcher — who trained Quarter Horses and Thoroughbreds at Southwest tracks. Pletcher was frequently by his side in the barn, and his dad said his son's first inclination, when he regularly began riding the stable pony at age 6, was to become a jockey.
"I had a Cadillac with an armrest that came down across the front seats, and he would ride that armrest like it was a horse," JJ recalled with a chuckle.
A lanky frame, however, put any notion of a career in the saddle to rest, and Pletcher's focus turned to becoming a trainer.
"He was a natural from day one around horses, and I knew he was going to be good (at training) early on because he had a passion for it," JJ said.
An only child, Pletcher is extremely close to both of his parents, who divorced when he was 12. Jerrie Pletcher, his mother, lives in San Antonio, Texas, where her son attended James Madison High School.
JJ resides in Ocala, Fla., where he owns Payton Training Center, a 96-stall facility in which his son has a 40% stake. JJ breaks many of the yearlings that Todd later trains; he was also instrumental in the selection at auction of one of his son's Breeders' Cup winners, English Channel, as well as More Than Ready, a grade I winner Pletcher trained to earn more than $1 million during his two seasons on the track.
JJ was keen for his son to broaden his racetrack education beyond his stable. He arranged for Todd to work in the barn of California-based trainer Henry Moreno one summer as a teenager, and later for Hall of Famer Charlie Whittingham when on break from his college studies.
Pletcher can also thank his father for an introduction to the Keeneland yearling sales when he was a teenager.
"I knew he would learn a lot at the sales, just by going around and seeing good horses, learning conformation, and meeting people," JJ said. "He had a great personality as a kid; everyone liked him. He would ask questions of people at the sales, and they would give him information because he was so likable and polite."
Jerrie Pletcher recalls an "animal-crazy" young boy who showed hogs and sheep at 4-H events, and who liked to curl up in bed reading horse books with his dog Taffy, a Pekingese-Poodle mix, by his side. His mother said one of her son's favorite horses was Ruffian, and that her 8-year-old was incredibly "distraught" to learn of the filly's death from a broken leg in her 1975 match race with Foolish Pleasure.
Pletcher met his future wife, Tracy, in high school, and they married on Feb. 29, 1992, in San Antonio. They have three children: Payton, 16; Kyle, 15; and Hannah, 12. The whole family enjoys going to the races, particularly Payton, who works in his dad's barn in the summers and who has already gone on record saying he wants to follow in his father's footsteps as a trainer.
Tracy Pletcher says there is a very different side to her husband away from work, a side that reveals itself as soon as he walks through the door of their home in Garden City, N.Y., and greets the newest member of the family — Kirby, a Cavalier King Charles spaniel.
"It's funny to see how Todd gets a little silly with Kirby, this 11-pound dog he talks to when he walks into the house," she said. "Todd didn't want a little dog. You would look at Todd and think he would want an Australian shepherd. I think at the time he said German shepherd or a Labrador, and I told him we needed to start small."
Further evidence of transformation at home comes from the trainer's choice of leisure clothing.
"There's a playful side to Todd at home, in our backyard, playing basketball with the boys in this goofy attire… black socks and Ugg slippers," his wife said. "I don't think people would (envision) that because they're always saying stuff about how (sharp) he dresses at work.
"I think the public sometimes thinks he doesn't have a sense of humor, and those closest to him know that isn't true," Tracy added. "He has a great sense of humor. He loves to have a good time. He cuts up here with our kids. Of course, it's a family business, and (his job) is always there with all five of us, but he's very much a husband, a father, and a friend, when he's away from the barn."
An alum of the University of Arizona's four-year Race Track Industry Program in Tucson, Pletcher described himself as an average student.
"I was more focused with having a good time," he said. "I would always be disciplined enough to get by, but not disciplined enough to worry about making straight A's."
Pletcher occasionally reported on intramural sports for the school's newspaper, the Arizona Daily Wildcat, an activity he participated in with his Pi Kappa Alpha fraternity brother and roommate Chris Halligan, who remains a close friend and was the best man at his wedding.
"Todd would frequently use his platform as a journalist to vex other fraternities and other organizations," Halligan said. "He's one of the funniest people I know. He doesn't take himself really seriously."
The buddies occasionally drove around campus in Pletcher's black SUV, interacting with the student body — an activity, Halligan said, that revealed his friend's mischievous sense of humor.
"We would find groups of students who Todd would ask ridiculous questions of from the driver's seat," Halligan recalled. "One time, we pulled up to this corner, and there was a little group that I would call skate punks, skateboard kids who obviously were expressing an antisocial point of view. Todd rolled down my window, leaned over, and said to them, 'Excuse me, how would I go about joining your organization?' Of course, they had no organization, but if they did, I think they summarily rejected both of us as prospective members based on looking at us."
Those carefree times in Tucson probably feel like a lifetime ago for Pletcher, who rises each day around 3:30 a.m. to go to work. He said he has no real hobbies, outside of watching sports on television. Occasionally he binge-watches television shows — some past favorites include "The Wire" and "Breaking Bad." More recently, HBO's "The Newsroom" piqued his interest. The precious free time he has is spent with his family, but Pletcher's focus never strays far from his horses and the races he targets with them.
---
With top pedigrees and pricey auction backgrounds, Pletcher's runners are a ubiquitous presence at the Kentucky Derby Presented by Yum! Brands (gr. I) and Breeders' Cup World Championships. Although his win record with his starters at these events — 1 for 40 at the Derby and 7 for 108 at the Breeders' Cup — provides fodder for reporters, undoubtedly, his number of wins in the marquee races will grow. He has never started the favorite at the Derby, and his $14,309,650 earnings at the Breeders' Cup ranks him 5th by trainers overall. Unsurprisingly, his mentor Lukas is first on that list with earnings of $22,580,520.00.
Pletcher typically excels on the road to the Kentucky Derby, saddling well-bred "buzz horses" to eye-catching maiden romps and powerful stakes performances. Still, his win record on the first Saturday in May is not reflective of his Derby prep success, despite the fact that he saddled a record-tying five starters in both 2007 and 2013.
In 2010 he had four starters, and one of those horses, WinStar Farm's homebred Super Saver, took the proverbial monkey off his back.
But Super Saver wasn't the most talked-about horse in the Pletcher stable that spring; it was Eskendereya, the winner of the Fasig-Tipton Fountain of Youth (gr.II) and Wood Memorial (gr. I), who played the likely Derby favorite. Six days before the race, however, the Giant's Causeway colt was declared a non-starter because of a leg injury.
Eskendereya's defection made the victory by Super Saver all the more satisfying for Pletcher, who entered that year's Kentucky Derby 0-for-24. The son of Maria's Mon out of the A.P. Indy mare Supercharger splashed through the Churchill slop to win by 2½ lengths under Calvin Borel. Super Saver, who had finished second in the Arkansas Derby (gr.I) in his prior start, was the second choice at 8-1 in the 20-horse field.
"I think overall our (Kentucky Derby) record has been frustrating in some ways, but I don't know that we've gotten there with a horse that the general public totally expected to win," Pletcher said. "I think in some ways, our performance leading up to the Derby has been outstanding. We've probably overachieved with a lot of horses we have gotten to the Derby that underachieved at the Derby.
"It's a hard race to win," Pletcher added. "I think a lot of it has to do with Churchill's surface. There are just a lot of horses that don't like it. We've had a lot of horses that won't perform over that track for whatever reason. Our win with Super Saver was probably a situation where he was in a perfect place at the right time — caught a sloppy track — so sometimes it works your way."
Pletcher had a record number of Triple Crown nominees (41) in 2014, and six of those horses competed in the classics — four in the Kentucky Derby and two in the Belmont Stakes. His top finishes came with Belmont runner-up Commissioner, beaten a head by Tonalist, and with Danza, third in the Kentucky Derby.
Although Pletcher's stable appeared strong early in 2014, by late spring the operation had been dealt several blows. Besilu Florida Derby (gr. I) winner Constitution was knocked off the Triple Crown trail with a hairline fracture of his right front cannon bone. Princess of Sylmar failed to duplicate her sensational 2013 campaign and was retired in the fall of 2014 after just one win, an ungraded stakes in April. By summer, Dogwood Stable's Metropolitan Handicap (gr. I) winner Palace Malice — considered among the front-runners for Horse of the Year honors at the mid-season point of the year — finished sixth in the Whitney Stakes (gr. I) as the odds-on favorite and was subsequently diagnosed with bone bruising in his left hind cannon bone. The 5-year-old son of Curlin did not race again after that early-August start, although he is back in training and scheduled to return to competition this year.
There was further attrition among Pletcher's older-horse division when his representation at the Breeders' Cup World Championships was solely with 2-year-olds. Carpe Diem's second in the Sentient Jet Breeders' Cup Juvenile (gr. I) was the trainer's best finish from the five horses he brought to Santa Anita Park.
Despite the setbacks, last year marked the fifth consecutive season that Pletcher led all other North American trainers in purses won. Overall, it was the ninth occasion he has held that title. The Pletcher stable also led the nation last year in graded stakes wins (40) and earnings ($12,672,007), and Pletcher earned his fifth consecutive Saratoga training championship, which represented his 11th title at the summer boutique meet in upstate New York.
"I would say 2014 is typical of a lot of years we've had," Pletcher reflected. "I'm thankful for the good we have done, but you always feel like you could have done better.
"Up until mid-August we were on a record-setting pace for us. Then a lot of injuries caught up to us that prevented us from having as good of a fall as I hoped for — Palace Malice being a prime example. If he had stayed as good as he was going into the Met Mile, he could have had a huge year. So, I think it is the nature of the business. You're always going to have years when you go into cycles."
Flipping the page to 2015, Pletcher listed Commissioner, Constitution, Danza, Golden Lad, Palace Malice, and Stopchargingmaria as among the stakes runners he expected to head up his older horse contingent. Among the unraced 2-year-olds on his radar in November 2014 were J S Bach, a Tale of the Cat colt, and Overcontrol, a $725,000 Tapit colt out of a More Than Ready mare. As it turns out, Pletcher's instincts were right on the mark. J S Bach finished a solid second in his Dec. 19 debut at Gulfstream, and Overcontrol generated plenty of buzz when he won a 6½-furlong maiden race by 4¼ lengths at the South Florida oval Dec. 27.
As far as Pletcher's 3-year-old picture goes for 2015, the known commodities include graded stakes winners Blofeld, Carpe Diem, and Daredevil. One of his most exciting juveniles in 2014 was Hopeful Stakes (gr. I) winner Competitive Edge, sidelined last fall with a hairline fracture. The son of Super Saver rejoined the trainer's winter quarters, Palm Beach Downs in Delray, Fla., in November.
The bulk of Pletcher's stable will winter at Palm Beach Downs this year, rather than shipping to his usual base — Palm Meadows Training Center in nearby Boynton Beach.
"We were at Palm Beach Downs in 2006, 2007, and 2008 with some horses, and we felt like we had good results there," Pletcher said. "It's a very quiet setting. It is limited traffic with less than 200 horses on the grounds, and a mile track, so I think that helps keep it a good, fresh surface."
Running one of the largest stables in North America, Pletcher maintains a rigorous schedule. He frequently travels to check in on his divisions, and when he isn't in the shedrow assessing his horses, he's on the phone with his assistants issuing directions. Through phone calls, e-mails, and texts, he always makes himself available to his owners. Having multiple runners on a single racing card is the norm for his operation — although even Pletcher may have outdone himself on July 7, 2014, when he sent out 17 starters at Belmont Park.
With such responsibilities heavy on his shoulders, it is no wonder that Pletcher's public persona evokes such adjectives as "aloof," "serious," and "focused." But that is not to say he is humorless. On the contrary, the trainer possesses a dry wit and alacrity for good-natured ribbing.
When someone inquired during the week of the 2013 Kentucky Derby if he had a specific training plan in place for his anticipated starters — a question, that in retrospect, could have been worded better — Pletcher deadpanned without missing a beat, "Heck, no. I just holler out to the exercise riders and tell 'em to take the horses out there and do whatever they want."
Although Pletcher does not participate in social media platforms, he is aware of the Twitter account @NotTheToddster, a parody of his life created by an anonymous user ("I'm the best trainer in the world, obviously," the account's bio reads). An example of recent tweets: "NBC missing the boat not using me in @BreedersCup ads … know I would obviously draw the ladies" and "Rooting for the Royals because the Queen always digs me at Royal Ascot and I look awesome in a top hat. #WorldSeries."
While the user's identity is unknown to Pletcher, he's inclined to believe it's a woman, and he often laughs at the tweets, which are relayed to him by friends.
"I do actually think it's pretty funny," Pletcher said. "As long as they don't do anything too insane or off-the-wall, it's okay."
Wisecracking notwithstanding, kindness and humility are also traits Pletcher demonstrates, said Elliott Walden, the president, CEO, and racing manager at WinStar Farm.
"The word that comes to mind when I think of Todd is humility," Walden said. "For a guy who has been as successful as he is, to me, it's never about him. All during (2014), he talked to me about a guy who is in the military, who just reached out to him about a job in the horse business after he gets out of the service. I've had numerous e-mails and phone calls from Todd about what we can do to help this guy."
Walden recalled another instance illustrating the trainer's willingness to connect with people.
"A fan came up to Todd and wanted to see one of his horses; I think it was Palace Malice," Walden said. "And Todd was just as nice as can be, telling her to come by the barn and see the horse. I was there the next morning when she came by at Palm Meadows.
"He has a way about him that is pretty natural and is not about being fake. For a guy who could take a different approach and feel like he could be too busy for stuff like that, Todd's actions dictate otherwise."
The competitive nature of his job doesn't allow many close friends on the track, but Pletcher points to Kiaran McLaughlin as the exception. Additionally, the trainers' wives and their children have formed a tight bond.
"Since I met Kiaran when we worked in Wayne's barn together, he has been a good teacher, a good person, and a good friend to me," Pletcher remarked. "Most of my closest friends are guys I went to college or high school with. I try to be friendly with everyone, but I think it's hard to have friendships when you're using the same (training) facilities, which is different from other sports."
---
At the 2014 Eclipse Awards ceremony, a rare public display of emotion came from Pletcher when he stood at the podium to receive a record sixth training championship. Paying tribute to Caixa Eletronica, a horse who had died two weeks earlier in a training accident, he delivered a poignant acceptance speech.
A handsome chestnut with a blaze that ran the length of his face, Caixa Eletronica didn't fit the typical profile of a Pletcher runner. He wasn't regally bred, nor was he bought for a substantial sum at auction. He broke through the maiden ranks in a $25,000 claimer for his former connections and was claimed by one of Pletcher's owners, Mike Repole, for $62,500 in 2011. The horse went on to win seven stakes, including the $1 million Charles Town Classic (gr. II) in 2012.
On a January morning on the Belmont training track, a riderless horse collided with 9-year-old Caixa Eletronica. Both horses died instantly, and Caixa Eletronica's exercise rider Carlos Castro suffered a broken pelvis.
"You train a lot of horses over the years who have a lot of ability, but maybe don't have the try, the heart, the desire," Pletcher said. "Then you have the others who maybe have a little less ability, but they make up for that with determination and try, and that was Caixa Eletronica."
Caixa Eletronica was just one of the many success stories that Pletcher and Repole have scripted since the owner came to his stable in 2009. A small sampling of their biggest wins together includes the 2011 Travers Stakes (gr. I) with Stay Thirsty, the 2010 Breeders' Cup Juvenile with that year's 2-year-old champion, Uncle Mo, and the 2014 Alabama Stakes (gr. I) with Stopchargingmaria.
Pletcher and Repole are a modern-day version of The Odd Couple. Pletcher's race-day attire usually features well-cut charcoal-gray suits and conservatively patterned ties. He goes with polo shirts, neatly tucked into Wranglers, in the mornings. Repole is likely to show up at the barn in shorts and a rumpled T-shirt. At the races the owner often favors bright orange dress shirts — a nod to his stable silks, orange and blue, and the colors of his favorite sports team, the New York Mets.
Their differences don't end there. Repole is outgoing, a fast talker. Pletcher is reserved. He enunciates his words. But what they do have in common is the desire to be the best at what they do, both constantly striving to better themselves professionally.
"Mike actually taught me how to be a better communicator," said Pletcher, who speaks nearly every day with Repole, and considers the owner a friend. On average, their phone calls last 45 minutes, the trainer said.
"I've never been around anyone who asks as many questions, and in as many different ways as he can," Pletcher remarked. "Mike literally just pulls information from you, constantly. I think that is how he learns and is why he has been as successful and continues to be successful.
"Even though we don't appear to have similar personalities, we do. I'm the kind of person if I win three races one day and lose one, I would probably spend more time thinking about the loss than the three wins. You kind of get that feeling that no matter how well you have done, you could have done better, you could have done more, won more races, run up more money. Mike is like that, too."
Repole, 45, amassed his fortune from the food-and-beverage industry. The native of Queens, N.Y., co-founded the company that manufactured the ultra-popular beverage Vitaminwater, which he and his partner later sold to Coca-Cola for $4.1 billion. Today, Repole is the chairman of BODYARMOR, another "super drink" company he co-founded.
"We both share this happy, but not content, personality," Repole said. "I think we make each other better in a weird way. I'm into the food-and-beverage industry and he's training horses, and whether we are talking about his staff or my staff, or his product — his horses — or my product, it's about how can we both improve."
The two don't always talk horses. Repole said they "bust on each other quite a bit." Many times that takes the form of the owner's glee when Pletcher's beloved football team, the Dallas Cowboys, loses.
But there is one area in which Pletcher receives Repole's sympathy.
"Todd is very quick-witted and very funny and nobody would guess that," Repole said. "He is not what he's perceived to be. I think it's a shame a little, but I understand it. I think if you're Todd Pletcher, you have to be that way.
"Todd and I talk about this a lot, the more successful you are, the longer the list of people who don't like you. There is a lot of envy and jealousy out there. So, he has to be a little stoic. When he loses the Belmont by a nose, it's hard for him to react.
"When Todd Pletcher loses a grade I by a nose, there isn't anybody in the world who feels bad for Todd Pletcher. He's not asking for sympathy. But he's feeling those losses, and that's Todd Pletcher. He can win 35 graded stakes a year, but you know, he's going to remember the five races he loses by a nose.
"People like to say Todd's successful because he gets all these great horses and owners. No, he's successful because he works (long) days and seven days a week. The only time he turns off is because of family. That's why he's successful."
Many horsemen — among them his father and Lukas — played influential roles in the development of Pletcher's career. But the future Hall of Famer has also drawn inspiration from outside sources. While Pletcher said he doesn't "hero-worship," he does have admiration for people who exhibit extreme dedication to their craft.
One such person was John Wooden, whose precise approach to detail as head coach of the UCLA basketball team for 29 years impressed Pletcher after he read a biography on the legendary sports figure.
"I think you learn a lot about being successful by reading about successful people," Pletcher said. "Wooden's attention to detail, looking at everything down to how his players put on their socks. It was like, wow, this guy covered everything. As elementary as that sounds, it emphasizes that the little things make a difference. If you try to take care of all those things, the bigger picture comes together."
As a kid, Pletcher held Dallas Cowboys head coach Tom Landry in high esteem. And what he may not have understood about the coach then has become clear to him now.
"I remember sometimes getting frustrated that Landry wasn't more emotional as a coach, but now, as an adult, I can appreciate that," he said. "Landry was always focused and very level with wins and losses, and how he reacted on the sidelines. That type of professionalism I admire and I try to maintain. (But) we're all going to have situations where we're going to throw our binoculars down when we get beat (a head) in the Whitney."
Pletcher was referring to a rare public display of temper. His Quality Road was the 1-2 post-time favorite in the 2010 Whitney, and entered the race with an unblemished record for owner Edward P. Evans that season — with victories in the Hal's Hope (gr. III), Donn Handicap (gr. I), and Met Mile. A win in the $750,000 Whitney would have continued his perfect campaign, but the Elusive Quality colt succumbed to Blame in the final strides.
Watching the race from the Saratoga grandstand, Pletcher forcefully set his binoculars down in frustration and they went tumbling to the ground in front of his box seat. As much as he works to maintain a cool façade, in that moment everyone witnessed his competitive nature — an inborn desire to win.
"It was a brutal loss," Pletcher recalled. "(My reaction to the defeat) was genuine. But I got some grief from my family about the binoculars. It wasn't the first time I reacted like that, but it might have been the first time (the media) saw me doing it."
Pletcher may seem quietly immersed in the routines of the racetrack — on that November afternoon, for instance, when the members of his shedrow rested in the silence and his biggest upcoming task was to saddle Genre, a maiden 2-year-old filly who would win the sixth race over at Aqueduct. But humming along beneath the reserved surface is the motivation that keeps him going through all the sport's ups and downs.
What makes him tick? He can answer this question without hesitation.
"The drive to succeed. I enjoy training horses and racing horses. I don't think training on a farm would be totally satisfying to me. I like the competition. I've always appreciated the fact that the results are very concrete. You get to see if what you're doing works every time you go to the races. You know if it's working, and if it's not, you need to find out why and change it."
---
Credits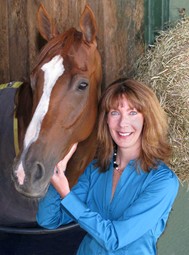 Karen M. Johnson
Freelance writer/HRTV field producer Karen M. Johnson authored The Training Game, a book that provided an inside look at several high-profile trainers in North America, including Todd Pletcher. The Training Game was a finalist for the prestigious Tony Ryan Book Award in 2009. Her work with HRTV has been recognized with an Ohio Valley Regional Emmy for "The Rivalry" — a documentary chronicling Easy Goer and Sunday Silence's epic battle in the 1989 Triple Crown — and an Emmy nomination for "The Fix" — the story behind the 2002 Breeders' Cup pick six scandal — a documentary Johnson wrote and co-produced. She and her family bred and owned 2002 Breeders' Cup Classic winner, Volponi, who was trained by her Hall of Fame father, Philip G. Johnson. A former reporter and editor for the Daily Racing Form, she lives in Long Island, N.Y.
Online Features Editor: Claire Novak
Designer: Kimberly Reeves
Visuals Director, Photographer: Anne M. Eberhardt
Digital Assets Coordinator: Kevin Thompson
Chief Copy Editor: Tom Hall
Copy Editors: Eric Mitchell, Ian Tapp