A cup of coffee cost 10 cents and a doughnut was just a nickel when the first Winchell's Donut House, situated on a busy street in the Temple City neighborhood of East Los Angeles, opened Oct. 8, 1946. The Donut House was the brainchild of a young, business-savvy entrepreneur named Verne H. Winchell. He had failed trying to sell used cars and jukeboxes in the past, but he was confident that people would buy his doughnuts. Winchell needed a winner, and he found one.
Customers who visited Winchell's shop knew that the pastries were fresh because the owner said they were. Any doubters could loiter on the sidewalk outside the shop, look through the window, and actually watch the doughnuts being made. With patience and a dose of good timing, those customers could monitor the preparation, walk into the shop, and buy a doughnut from the latest batch, fresh and still warm. Winchell scored a winning exacta for pastry aficionados—good coffee and good doughnuts—and customers flocked to the Donut House.
Winchell opened two more doughnut shops in 1949, and a steady succession of others followed each year as the chain expanded throughout Southern California and into Arizona, Colorado, and later into the Pacific Northwest. In 1968, with more than 250 Winchell's Donut Houses on the map, the company merged with Denny's Restaurants, Inc., in a stock swap worth nearly $30 million. Winchell was named chairman and CEO of Denny's in 1972. He left Denny's after directing a remarkable turnaround at the company and eventually sold his interest for a reported $600 million.
Born in 1915 as the world was going to war, Winchell came of age during the Great Depression. Like many others of his generation, he was careful with his money. Ron McAnally, Winchell's principal trainer for many years, diplomatically described him as "frugal." Other descriptions of Winchell's tight purse strings were not so kind to the man who made the doughnuts.
"People might have thought him a little on the frugal side," McAnally said in a Daily Racing Form interview, "but this is the kind of guy he was. When we'd go for coffee and doughnuts in the track kitchen, I'd have to buy. But if I told him about a horse he should get, he'd write the check right there. He always did the thing that made sense."
One of the first horses McAnally suggested that Winchell buy, during the early days of their association, was a yearling colt by 1954 Kentucky Derby winner Determine that went for $19,000 at the 1960 Del Mar sale. Winchell already had raced a stakes winner, Del Mar Derby winner Mr. Eiffel with trainer Dale Landers the previous year, but the Determine colt proved to be a serious step up in class for both the owner and for McAnally.
Named Donut King after Winchell's apropos nickname, the colt was the owner's first, and as things turned out his best, chance to win the Kentucky Derby. Sadly, Verne did not live to see his son Ron's best Derby chances—so far, at least—including Gun Runner, who in 2016 ran third for Winchell and Three Chimneys Farm before winning the 2017 Breeders' Cup Classic (G1); or Tapit. The elder Winchell also didn't see Tapit's stellar career as one of the best sires in the world, but he had a hand in Tapit's success.
"We were looking for something exceptional."
Ron Winchell on the approach he and his dad Verne took at the 2002 Keeneland September yearling sale, where they purchased Tapit for $625,000
Verne and Ron were shopping for horses at the 2002 Keeneland September yearling sale when a gray colt by Pulpit caught their eyes, and the attention of their advisers, farm manager David Fiske, trainer Michael Dickinson, and veterinarian David Lambert.
"We were looking for something exceptional," Ron Winchell recalled. "We were working with David Lambert, who was doing heart scans … cutting edge at the time. His number one pick was this Pulpit colt … He was rather skinny in front, I called him aerodynamic … He was a sporty looking, athletic colt. We decided that was going to be the number one horse that we were going to chase. At the time, we didn't spend a ridiculous amount of money at the sales, but this was one that we wanted to stretch for."
Sabermetrics revolutionized baseball—think of the Brad Pitt motion picture "Moneyball" about the 2002 Oakland Athletics—through the application of objective knowledge to a sport that had survived for decades on best guesses, unwritten rules, and intuition. Dr. Lambert is trying to do the same thing for racing using a series of objective physical tests developed at Equine Analysis, a business he founded in Midway, Ky.
Although it might sound counterintuitive, Dr. Lambert's analysis does not purport to select horses that a buyer should purchase. Instead, the testing regimen is designed to identify "simple and reliable negative predictors," those factors that should steer a buyer away from a horse. By eliminating "bad" horses from the mix, Dr. Lambert explained, a buyer is more likely to select a good horse from the ones that are left.
The Equine Analysis evaluation involves three tests: a cardiac ultrasound that requires 15-30 minutes of data gathering and another hour of analysis; a genetic screening; and a test called "photo select" that evaluates a horse's skeletal structure and that replaces potentially unreliable measurements taken with a tape. Results of the three tests are compared with a large, and growing, database to identify negative predictors.
Of the horses Dr. Lambert and his team evaluated during the 2002 Keeneland sale, he was most excited about Tapit. That enthusiasm carried over to Verne and Ron Winchell.
"We were bidding on him," Ron Winchell said. "It was me and my dad, and it was starting to get expensive. He turned to me and said, 'What do you think?' I said, 'We've got to stop bidding at some time.' So, he bid again, I think it was $600,000. He kind of defied what we had just talked about."
A couple of bids later Fiske signed the ticket for Tapit at $625,000. Verne died two months later; Tapit was the last horse the father and son purchased together.
Everyone likes the man who makes the doughnuts, but when the Donut King is your friend, your business partner, your father, the relationship is truly special.
---
---
The field for the 1961 Champagne Stakes, the richest race run in New York that year, included the winners of nearly every important test for 2-year-olds that year. Crimson Satan won the Garden State, Hawthorne Juvenile, and Lafayette stakes, plus the Pimlico Futurity, and would be named champion juvenile colt; Jaipur, the even-money favorite, won the Flash, Cowdin, and Hopeful stakes and would be named champion 3-year-old colt the next year; Sir Gaylord, the second choice, won the Sapling, Great American, National Stallion, and Tyro stakes.
Donut King barely got a mention in a Sports Illustrated article about the best 2-year-olds of the year based on the West Coast. Bettors who might have wondered whether the colt's winning form in the California Thoroughbred Breeders Association Sales Stakes two months earlier would travel well in the Champagne sent the Winchell colt off at odds of 8-1.
The Champagne turned into a stretch duel between Jaipur and Donut King, with Sir Gaylord several lengths back in third, but not a factor. There was bumping at the head of the stretch when Jaipur bore out into Donut King and again closer to the finish when Donut King drifted in and brushed the favorite. A foul claim by Jaipur's rider, Eddie Arcaro, was disallowed. In just one minute and 36 seconds, Donut King became an important part of the conversation regarding the next year's Kentucky Derby.
Donut King did not win the 1962 Wood Memorial, although he looked like he might have been the best horse in the race when he finished a fast-closing third behind Sunrise County and Admiral's Voyage, who finished in a dead heat for first. Donut King was 12-1 on the morning line for the Kentucky Derby, but he was scratched on the eve of the race when a bruised foot did not respond to treatment.
"He was my first real chance and best chance to win the Kentucky Derby," McAnally recalled.
Winchell eventually got his Derby starters, but none of them managed to break into the top three in the race. Classic Go Go was the best, finishing fourth in 1981; Sea Cadet ran eighth in 1991; and Valiant Nature was 13th in 1994.
Forty-two years after an impressive third-place finish in the Wood Memorial propelled Verne Winchell's Donut King into the Kentucky Derby picture, albeit briefly, Ron Winchell's lightly raced Tapit won his Wood Memorial (G1) in dramatic fashion and joined the favorites for the 2004 Kentucky Derby (G1).
History, unfortunately, was against him.
Tapit was making only the fifth start of his career in the Derby. He was impressive in the Wood Memorial, but in his only other race as a 3-year-old the colt had finished a lackluster sixth in the Florida Derby (G1). Lightly raced horses typically do not fare well in the Kentucky Derby, run at a testing 1 ¼ miles. Should he win, Tapit would be the first horse since Exterminator in 1918 to win the Derby with only four previous starts.
Tapit had a reasonable excuse for his disappointing finish in the Florida Derby. He was showing the first signs of a respiratory problem that would bother Tapit for the rest of the year.
"He stopped at the head of the stretch," trainer Michael Dickinson recalled of the Florida Derby. "Fortunately, jockey Edgar Prado realized the horse wasn't right and eased up on him. After the race, he had a dirty scope. He returned to Tapeta Farm (Dickinson's state-of-the-art training center in Maryland) where he spent a lot of time outside grazing."
Dickinson was worried about the state of Tapit's lung infection, the lost training time, and whether the Wood Memorial would be coming up too soon for the colt. Maybe it would be better to pass on the Wood, but Winchell overruled his trainer.
"I was nervous that he wasn't over his lung disease," Dickinson said, "and wanted to skip the Wood Memorial and go straight to the Kentucky Derby. But Ron Winchell quite rightly thought you never know what can happen in the running of the Derby and it would be nice if he could win a grade 1 as soon as possible."
"Michael wanted to train him up to the Derby," Winchell agreed. "I said we're not doing that.' If we can't finish first, second, or third in a major prep, we're not going to the Derby. He reluctantly went along with that. He said Tapit's 'not ready, not prepared, not going to win the Wood Memorial.' "
That's not the sort of thing an owner wants to hear before an important race. Fortunately, Dickinson underestimated Tapit's will to win. What could have been a disaster turned out to be what Ron Winchell called the "defining moment" in Tapit's career.
"Without that race," Dr. Lambert agreed, "we might not know who Tapit is today."
Simply getting Tapit to the starting gate for the Wood Memorial while managing his lung infection and lost training time was no mean feat. Getting the colt to Aqueduct ready to win a difficult race at 1 1/8 miles was a masterful bit of conditioning on Dickinson's part.
Sent away the fourth choice at odds of 5-1 because of the Florida Derby and his time away from the races, Tapit was so far behind the field during the first half-mile that he was barely in the frame for the television broadcast. Seventh after six furlongs and fourth at the top of the stretch, Tapit ran down the leaders inside the final furlong to win by a half-length over Master David.
It was a hard-fought win, and it took a toll on Tapit. The colt coughed all the way from the winner's circle to the testing barn and he was congested to a point that would have slowed most horses.
"He won the Wood because of his tremendous ability and great courage," Dickinson said. "We were then always behind the eight ball and could never really catch up. He finished ninth in the Derby, but wasn't himself. Unfortunately, I could never get him back to his best."
Dickinson is a "detail kind of guy," Winchell said, and going into the Kentucky Derby the trainer had the entire race planned out, how to ride Tapit, where he should be throughout the race. The owner and trainer met in the saddling paddock before the Derby and went together to the jockeys' room where Dickinson laid out the plan for jockey Ramon Dominguez. Winchell never had done that with any other trainer, he recalled, and in the end, the advance planning didn't matter.
As they walked out of the jockeys' room, the rain started. The drops were so big, Winchell said, that it looked like "little pancakes" when they hit the dirt.
"Michael says, 'change of plan,' and we walked back into the jockeys' room," Winchell said. He does not remember the details of the new, rainy day plan, just that it did not work.
Smarty Jones won the 2004 Kentucky Derby in the slop, which Winchell believes was a factor in Tapit's poor showing. The colt finished 16 lengths behind the winner, never a factor. Tapit got the summer off, but the nagging lung infection never completely went away. In his last start Tapit ran ninth in the Pennsylvania Derby (G2) in September.
"We just couldn't get him right," Winchell said. "The best thing to do at that point (after the Pennsylvania Derby) was to retire him."
He had a respectable record—three wins from six starts and earnings of $557,300—but other horses would be entering stud in 2005 with similar, if not better, credentials. The questions now facing Ron Winchell were two-fold: where to stand a well-bred grade 1 winner, and how to separate him from his new competition, a crop of first-year stallions.
---
---
Tapit won both his races at 2, breaking his maiden by 7¾ lengths at Delaware Park in October and winning the Laurel Futurity (G3) a month later. The even-money favorite for the Futurity, Tapit was boxed in for the first six furlongs and was so rank that for a time it was not clear whether jockey Ramon Dominguez could even control him.
"Crying out for racing room," is how the track announcer described things that afternoon.
The effort caught Winchell's attention.
"He was literally wanting to run over the horses in front of him," Winchell said. "He was very green. But the way he did it when he finally got open coming around the turn … He just exploded. At that moment, you're like, OK, this is a serious animal."
When Polish Rifle drifted out toward the center of the track as the leaders turned into the stretch, a gap unexpectedly materialized in front of Tapit. When he finally had room to run, Dominguez gave the colt his head. Ten strides later Tapit was in front and drawing away. He won by 4 ¾ lengths, without being threatened by the other horses in the race.
The next Saturday morning, a week after the Laurel Futurity, Michael Hernon was watching a popular local television program called "Down the Stretch" at his North Broadway home in Lexington. The broadcast was hosted by John Henderson, who reviewed important races from the past week, including the Laurel Futurity.
Hernon was working as director of sales at Antony Beck's Gainesway Farm at the time, a position he still holds. Born in Ireland, he became a serious fan of horse racing as a teenager, serious to the point of recording race calls on a portable machine—video cassette recorders would not be available until the mid-1970s—and replaying them over and over at night.
Nijinsky II was Hernon's favorite horse, Lester Piggott his favorite jockey, and the 1969 Dewhurst Stakes at Newmarket one of the races that he still remembers. Nijinsky II was unbeaten as a 2-year-old in four races at The Curragh Racecourse in Ireland when trainer Vincent O'Brien shipped the colt to Newmarket for the Dewhurst.
O'Brien put Piggott on Nijinsky II for the first time in the Dewhurst and during the early going the choice seemed like a mistake. Nijinsky II was stuck near the back of the field through the first few furlongs and Piggott did not seem to be doing much to get the colt moving. Everything changed with a furlong remaining. Despite a quiet ride from Piggott, or perhaps because of it, Nijinsky II suddenly sprinted away from the field and drew off to win by three lengths.
The race was so impressive that Piggott's biographer, Dick Francis, wrote that after the Dewhurst "a whole brave new world could clearly be seen on the horizon." Francis was right with his optimism. The next year Nijinsky II became the first horse to sweep the English Triple Crown since the Aga Khan III's Bahram in 1935.
Watching the rebroadcast of the Laurel Futurity that November morning, Hernon saw the same display of sudden acceleration that he remembered from Nijinsky II's Dewhurst.
"I didn't know anything about Tapit," Hernon recalled, "but I was very impressed with his ability to accelerate. I thought I saw something in Tapit that I'd seen in Nijinsky. I got goosebumps."
Antony Beck was traveling in Spain, but Hernon was impressed enough with what he had seen in the Laurel Futurity to call his boss to tell him about Tapit.
"He said 'if you like him that much, go to Maryland and see him,' " Hernon recalled. "I knew Michael Dickinson, Tapit's trainer, who's a very bright guy. I called him and went to see Tapit. He had great physical quality, great balance, good bone. He's an alpha male and I got the feeling that he was inspecting me as much as I was inspecting him."
It probably didn't hurt that Tapit had Nijinsky II a few generations back on his sire's side and on his dam's side.
Beck liked Tapit, liked him a lot. When Tapit won, in the Laurel Futurity and in the Wood Memorial, Beck recalled, he looked like a "really good horse." Tapit, he thought, would be a good fit among the stallions at Gainesway Farm.
Tapit's sire, Pulpit, was a well-bred son of A.P. Indy whom Beck expected would become an influential "sire of sires." There also was a link to Gainesway in the horse's pedigree, through Unbridled, sire of Tapit's dam, Tap Your Heels. Tradition matters to the Gainesway owner: "It's something I think about every day," he said. Unbridled began his stud career at Gainesway, and Beck hoped that getting Tapit would honor the farm's decades-long tradition of standing high-quality stallions.
Beck recognized that for Ron Winchell, whom Beck had not met at that point, Tapit was more than just another good horse. Tapit represented an important link to Ron's late father. Verne Winchell had a reputation for maintaining the highest standards, and Beck knew that selling Gainesway to Verne's son as a home for Tapit meant selling the Gainesway tradition, and the Gainesway team.
The lynchpin of that team was the late Marion Gross, who the year before had celebrated 40 years at Gainesway, 35 of those as stallion manager. Having a legend managing the career of Tapit — and Gross surely was an institution in Central Kentucky and beyond — would have appealed to any stallion owner. Gross died in 2009, and Carl Buckler took over as Gainesway's stallion manager. Buckler had worked with Gross for decades. He started working with the Gainesway stallions in 1973, and he continues the protocols instituted by Gross.
"We pursued Tapit," Beck said. He met Ron Winchell when the owner was making the rounds of Central Kentucky farms, shopping around for the best place to stand the Wood Memorial winner. Beck told Winchell: "I know how much this horse means to you. He'll be in good hands here at Gainesway. We'll look after him. We'll do our best to make him what you want him to be, what we all want him to be."
Winchell was sold.
"Antony Beck had the most interest," Winchell said, "and seemed to really believe in Tapit as a potential stallion. He made me feel comfortable that Tapit was in the right hands."
Tapit entered stud at Gainesway the following year, standing his first season for $15,000. Winchell retained a half-interest in Tapit, Beck bought a one-quarter interest, and the remaining one-quarter interest was divided among a few shareholders. The arrangement was more like a partnership between Winchell and Beck than a traditional syndicate composed of many individual shareholders.
There have been opportunities for Winchell to sell shares in Tapit from time to time, but he usually refuses the offers. One reason to sell a share, he said, was to help spread the risk of owning a horse of Tapit's value. "It's impossible to insure Tapit for what he's worth," Winchell said. In September 2014, the Racing Post reported that a share in Tapit was sold for $2.8 million, putting the stallion's worth in the neighborhood of $140 million.
---
Landing Tapit to stand at Gainesway was a necessary first step for Beck, but the difficult work was just getting underway. Tapit was a grade 1 winner standing his first season for a reasonable fee. The question was how to distinguish him from all the other nice first-year stallions with competitive stud fees.
Tapit's competition in the breeding shed for the 2005 season included several prominent first-year stallions: dual classic winner Smarty Jones, Belmont Stakes (G1) winner Birdstone; Lion Heart, a grade 1 winner at 2 and 3 and second in the Kentucky Derby; Congaree, winner of five grade 1 races at four different distances; multiple grade 1 winners Peace Rules, Medaglia d'Oro, and Speightstown; and grade 1 winner Candy Ride. Unless something spectacular happened to set Tapit apart, he might get lost in the crowd.
Beck was, and still is, involved in the selection of mares sent to Tapit, and he was generally disappointed in the quality of mares being booked for the stallion's first season. Beck graded the mares going to Tapit as either an "A" or "B" or "C," he said, and there were "so very few 'A's and very few 'B's." Beck and Winchell always have supported Tapit with their own mares, but Beck soon realized that whether Tapit became a top first-year sire was out of his control. Tapit would "have to do it himself," Beck said, without depending on a stellar book.
That's exactly what happened.
A few weeks into the 2005 breeding season, Michael Hernon got a call from someone wanting to breed a mare to Tapit. The horse's book already was full at 150 mares, and Hernon was reluctant to add another. By coincidence, though, Marion Gross dropped by Hernon's office around the same time to extol the virtues of Tapit.
Gross told Hernon that Tapit "had a great libido and was stopping his mares on one cover." They decided that the horse easily could accommodate another mare, and Hernon added My White Corvette, a daughter of Tarr Road, to Tapit's book.
The foal from a breeding that almost did not happen was Stardom Bound, winner of the Bessemer Trust Breeders' Cup Juvenile Fillies (G1), the Del Mar Debutante (G1) and the Oak Leaf (G1) stakes on her way to an Eclipse Award as 2008's champion juvenile filly. With progeny earnings of $2,811,337 ($1,420,600 earned by Stardom Bound), Tapit finished 2008 as the leading first-crop sire and as the leading sire of 2-year-olds.
The immediate success of Stardom Bound and other fillies Careless Jewel and Laragh from Tapit's first crop led people to think of him as a "filly sire," Hernon said. Then champion 2-year-old male of 2011 Hansen, who happened to be gray like his sire, came along and people began arguing that good horses sired by Tapit had to be gray. Finally, Hernon said, buyers realized that when you buy a Tapit, you're getting grade 1 potential on dirt or grass, no matter the color or the sex of the horse.
Tapit was off and running as a sire with a spectacular start that no one could have predicted. Champions Hansen and Untapable (3-year-old filly in 2014) followed Stardom Bound, along with three winners in four runnings of the Belmont Stakes, and dozens of other major stakes winners. The stallion who stood his first season for $15,000 soon commanded a stud fee 20 times that much. In the rarefied air of world class stallions, $300,000 was a bargain.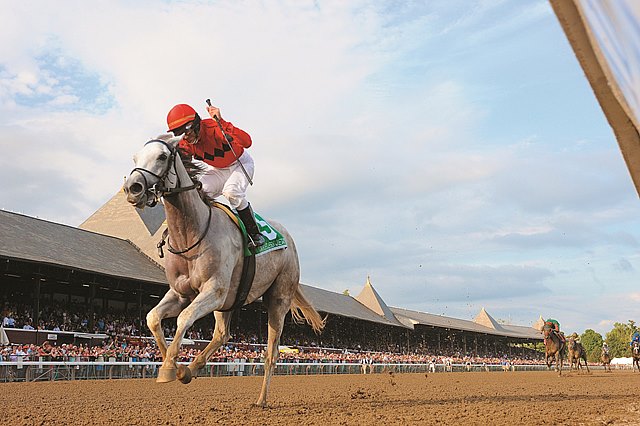 Return-on-investment can come through purses and sales. Tapit has been dominant in both areas. He topped the General Sires List for three consecutive years, 2014-2016, and likely will finish among the top five living sires when final figures are tabulated for 2017.
Steve Asmussen, a longtime associate of the Winchell family probably knows as much about training sons and daughters of Tapit as anyone else. Tapit foals have "extreme talent," Asmussen said, a trait he believes they inherit from their sire.
"Timing is important when you're dealing with the Tapits," Asmussen said, explaining what he meant by "extreme talent" and the issues that come with it. "You don't get just the parts that you want to be extreme. If you want normal, or what is perceived to be normal, you'll probably have normal ability to go with it. But when you get the fire, the intensity that reaches a point where a horse can perform better than other horses, you usually get personality traits that go along with that fire.
"Each horse is unique, and you can't really compare one to another. But with the Tapits, when they're doing what you want, you just get out of the way."
Tapit was the leading sire by average at the 2017 Keeneland September yearling sale, with 17 yearlings averaging $950,000; the median price for Tapit yearlings was $700,000. The average and median prices represented returns on Tapit's stud fee of more than 3-1 and 2-1, respectively, without including the production and preparation costs associated with getting a yearling to sale.
"People wanting to breed into that market are sending their best mares to Tapit," Beck said. The initial concerns about the quality of mares being bred to the horse have long since vanished.
"In hindsight, to say that I developed Tapit into a great stallion …," Beck paused for a moment before continuing. "It was Tapit that turned me into a genius, not the other way around."
In the end, Hernon probably put the current state of affairs in perspective as well as anyone else: "We're all living in Tapit's world."