May 7, 2015
"Fighting Notion leads 'em into the stretch in the Preakness… Summer Squall on the inside, Unbridled on the outside. And down the stretch they come!"
I'll never forget that call by Dave Johnson in 1990—a quarter of a century ago! The two great horses engulfed the front-runner, then looked each other in the eye. Pat Day asked Summer Squall the question, and he gave the answer, winning the precious Preakness Stakes (gr. I) by almost three lengths and avenging his Kentucky Derby (gr. I) loss to Unbridled.
In what I think has been my wonderful life, winning the Preakness has been one of the truly stupendous moments. If you are in the horse business, winning a classic is like putting a big "A +" on your report card. Our Dogwood Stable has taken two of them now because Palace Malice won the Belmont Stakes (gr. I) in 2013… but those two Triple Crown legs were a long time between drinks.
---
I bought Summer Squall as a yearling from Will Farish's Lane's End Farm at the 1988 Keeneland July sale, then the premier sale in the Thoroughbred world. Only the crème de la crème was offered at this glitzy event.
He was a racy-looking bay with some stylish white markings, by Storm Bird out of the Secretariat mare Weekend Surprise. It was a very elegant pedigree. I paid $300,000 for him—out of my usual range—and got him at that price because he did not show well. His mind was on romance, and most of his appearances in the walking ring were noteworthy only because of constant erections.
As an individual, the colt was a trifle pigeon-toed, a little off in one knee, and more lightly made than the average animal in the sale. Although I love a horse with a good walk, he did not have one—but, by God, he looked like a racehorse.
And he never acted like anything else.
Summer Squall broke easily at our place in Aiken, S.C., and understood from the start what the game was all about. He seemed truly special in every way. I remember one day, just for the hell of it, he decided to run off for about a mile. I thought, "Oh, Lord, what will we find when he comes back to us?" His rider was in tears, but Summer Squall never took a deep breath.
Here was a precocious colt that seemed to be faster than the word of God, so we decided to run him in the Aiken Trials in mid-March. He had a big reputation all over Aiken, so it was just a question of by how far he would win the quarter-mile dash. He was one of only four horses in the gate, but when they sprung the latch, he was gazing out at the infield. He suffered his only defeat that year, but he learned a valuable lesson.
I shipped him to Keeneland to the fine horseman Neil Howard, at that time a private trainer for Will Farish. But Will had told me—since I tended to be a pretty good customer—that if I ever wanted to send a horse to Neil, it could be arranged. Summer Squall and Neil were an ideal fit. He worked him once when he got there and then ran him. The colt won by 11 lengths, with future Hall of Famer Randy Romero in the irons. Neil was kind—and correct—to give credit to Ron Stevens, our longtime trainer in Aiken. Neil said, "He was a baked cake when I got him."
Summer Squall then reeled off four straight stakes—two at Churchill Downs, and then the Saratoga Special (gr. II) and the Hopeful (gr. I) at Saratoga Race Course. Pat Day was his rider in those graded stakes, and after the Hopeful—in which he was engaged in a terrifying mid-stretch donnybrook—Pat said the colt was the most courageous horse he had ever been on. To use an old-timey hardboot expression, "he was as game as Dick Tracy."
After Saratoga we shipped to Arlington International Racecourse for one more start before the Breeders' Cup, but, shockingly, he trained perceptibly off one day. We found a hairline crack in a cannon bone, perhaps caused by that roughshod Hopeful run, so we were through for the year. We brought him back to Aiken for the winter, confident that a couple of months would put him right, and we had the 1990 classics heavy on our minds. He was undefeated, and we thought he might be 2-year-old champion, but that honor went to Rhythm, with Grand Canyon second. Understandably, we were out of sight and out of mind.
Winter quarters became a bit of a sticky wicket. Summer Squall was a Dogwood horse, of course, so we wanted him in Aiken at our headquarters, but Neil Howard was quartered in Camden, 50 miles away, and a case could be made for the horse being with his trainer. Neil came over to Aiken to check on him periodically, and when his string shipped to Gulfstream Park in Florida, the horse went with him and he commenced cranking him up for the 3-year-old campaign. He was one of the Derby winter book favorites.
Summer Squall was owned by a Dogwood partnership consisting of 28 people, with me in control; I had introduced the group ownership concept to a slightly skeptical racing world a couple of decades earlier. Always tweaking the process, at this point, I had decided to package five colts in a partnership and sell 40 shares at $55,000 a share. So Summer Squall was one of a five-horse package that included yearlings by Alydar, Nijinsky, Nureyev, and Danzig. Thank goodness some people bought multiple shares, so I did not have 40 people. But 28 partners were plenty unwieldy. The other four horses did not create much excitement, but the partners certainly wanted to attend every Summer Squall race and to bring their pals and families. This came at a time when most racetracks were doing good business, and were not especially customer-friendly about providing seating. Dogwood soon after reverted to four-share, single-horse partnerships. The celebrity of Summer Squall definitely precipitated this change.
---
When you get a phone call from a horse trainer early in the morning, it is usually not good news. Such a call came from Neil Howard on Jan. 10, 1990, and it surely was not a social call: Summer Squall had had his final half-mile work for the Hutcheson Stakes (gr. III), and he had bled profusely. The well-known stable vet Dr. Mark Cheney was summoned to the barn immediately, scoped him, and determined that he would need a quiet two weeks for the lungs to heal from a pretty significant bleeding episode before he could go back in training. Mighty poor circumstances for launching our Triple Crown campaign, to put it mildly.
A trim, tidy, active individual, this colt had not lost any condition when he went back in training. Soon we were feeling pretty good about the situation, and Neil and I went in to see the Gulfstream racing secretary Tommy Trotter, and requested that he put up a race for us. He said there was no shot, but why didn't we run in the Swale Stakes (gr. III) on March 17. The timing was good; the seven furlongs was good. The only hitch was that Housebuster, the greatest sprinter in North America, had won the very Hutcheson we had missed and was now headed for the same race! Still, we had to run in it. We had to get started, so Pat Day flew in from Oaklawn Park, where he traditionally rode in the winter, and we were off to the races.
We ran second to Housebuster, beaten a length, finishing ahead of the good horse Thirty Six Red. No bleeding. You would have thought we had won the Arc de Triomphe (Fr-I). We felt that happy days might be here again.
Readjusting our entire schedule, we put Summer Squall on a program where he started every two weeks from mid-March to mid-May, excepting three weeks between his Blue Grass Stakes (gr. II) start and his Kentucky Derby start. This was in a day when, as horse races came along, racehorses ran in them. So it was not particularly noteworthy. Today, of course, they run less and train more, and all of them seem automatically to require a month or more between races.
We shipped to Turfway Park in Kentucky where the Jim Beam Stakes (gr. II) was offering $500,000—big money at the time. Our colt won the race by 2½ lengths, handling the 1 1/8-mile distance with no strain. The horse was now as sharp as jailhouse coffee.
We went to Keeneland for the Blue Grass, the number one Derby prep in 1990. We won it by 1¾ lengths, in the mud, and beat Unbridled in the process. Predictably, we made the running, but Angel Cordero on Land Rush engaged us at the quarter pole and tried to squeeze us against the fence. Summer Squall quickly reacted, however, and put him away. Pat Day always said, "The worst mistake a rider can make is to get rough with Summer Squall. He gets mad, and even more determined."
Kentucky Derby time, and we were looking good. Summer Squall was in Neil's barn at Churchill. He had become the poster boy for Lasix, and we had much confidence in this anti-bleeding medication. The only horse that was really heavy on our minds was coming from the West Coast. That was Mister Frisky, trained by the wily Laz Barrera, and sporting a 16-race win streak, most in Puerto Rico, but a couple of big numbers in California.
It looked as if we could be favored for the Kentucky Derby.
Running any horse in the Derby is a great thrill, but one of the favorites? Nothing could compare! Ours was a well-liked team, I believe. Neil Howard has always been one of the most popular figures on the racing scene. Pat Day was beloved, especially in the Midwest. Dogwood had paid its dues and was respected. The horse was an off-the-charts hero, with his gritty performance record (eight starts, seven wins, and a second), and his earlier struggles with the hairline fracture and then his bleeding episode.
Neil's staff figured to be high-class. Squall's groom was Willie Wood, earnest, affable—from the old school. His exercise rider was Robert Vickers, a handsome, engaging Englishman with a clock in his head. If you were going to the Derby, this was the ideal outfit to go with, and Neil did a skillful job of juggling his job as private trainer for one of the biggest names in racing with the necessary demands of having a "Big Horse" for one outside ownership entity with a hell of a lot of owners—under control though they may have been.
Summer Squall galloped daily with no incidents, shoals of press and tourists scurrying along behind him back and forth to the racetrack. He had one maintenance breeze, five-eighths of a mile. Then he was all dressed up and ready to go.
The big day finally came. Only one thing eased the anxiety. Churchill has the lovely custom of providing a "host" for the connections of Derby runners; the host will do any and everything you need to maximize your Derby experience—pick up your laundry, have your car washed, meet someone at the airport, etc. Our host in 1990 was the Louisville Chief of Police! But Anne and I really didn't have the guts to request anything. Finally, he offered, "Would you like to have a police escort to Churchill Downs on Derby Day?" Would we ever! What a deal. We were staying that entire week at a house owned by our friend Joann Owen, on the grounds of the Louisville Country Club. Late Derby morning a squad car was out front, and—with sirens screaming and lights flashing—we zoomed to the Downs in nine minutes, and felt like royalty in the process.
Then, a long, long, long wait, of course, in a wonderful box, with well-oiled well-wishers streaming by. About three o'clock, I winked at Anne, slipped away, walked back to the barn, and sat solemnly with Neil and the boys, each of us peering at the horizon from his own bale of hay. Around five o'clock, there was suddenly a flurry of pacing about, then Willie—with far too much assistance—got Summer Squall ready for the walk over. Incidentally, this procedure has morphed nowadays into a highly popular, thoroughly televised "Walk Over," which literally involves about 1,000 humans and resembles Pickett's Charge at Gettysburg. But back then I was probably the lone owner to come over with his runner. There were just five of us and the horse. And what a thrill to strut down the stretch before the Twin Spires with people yelling "Go get 'em, Squall!"
It was a perfect race for us, except we might have inherited the lead too soon. We were sixth early on and started creeping up at the half-mile pole. At the five-sixteenths pole Mister Frisky, Real Cash, and Thirty Six Red caved in, and there we were on the lead. Summer Squall turned for home—perhaps idling a bit and thinking his work had been done—and the unbelievable wall of noise of 150,000 screaming people hit him. He cocked his head toward the grandstand, and WHAM! Here came Unbridled, with a full head of steam. He nailed us at the eighth-pole and, before we could fight back, rolled home by 3½ lengths with us settling for second.
Pat Day thought being on the lead already, along with the impact of the crowd noise, made Summer Squall lose his focus. I was anxious to agree. Years later I was asked to conduct a pre-Derby tour for Kentucky legislators in the barn area at Churchill Downs, and I was going on about how we would have won the Derby with Summer Squall, but "he got startled and was mesmerized by that awesome wall of noise when he turned for home." Standing 20 yards away kibitzing was the great rider Craig Perret, who won the Derby that day on Unbridled. He could not help but yell out, "Hey, Cot, I'll tell you what mesmerized Summer Squall. It was when me and Unbridled came running past him!" He had a point.
That Derby featured the charming, touching footage of trainer Carl Nafzger describing the stretch run to Unbridled's tiny, nonagenarian owner, Mrs. Frances Genter. No one will ever forget it. In fact, Pat Day said he was upset at losing until he saw that footage. I might not have gone quite that far. That tender moment was wonderful, but I thought: All right, Mrs. Genter has had her day; she doesn't need another one in Baltimore.
On Monday a bright-eyed, bushy-tailed Summer Squall shipped to Baltimore and the Preakness, where we—and many others—expected our colt to turn the tables on Unbridled.
Interestingly, after the Derby I announced that whatever happened in Baltimore, we would not go on to New York and the Belmont. New York at that time did not permit the use of Lasix. Running Summer Squall without that medication at the end of this grueling campaign would really be asking too much.
"That is etched in stone," I dramatically stated to the press. Carl Nafzger, my good friend and arch rival, skeptically said, "Yeah, but that's what they make chisels for!"
Summer Squall and Unbridled met six times. It was an intense rivalry, and it is rare indeed that such fierce competition does not create a rift of some sort with the connections of those horses. This one did not. Neil, Carl, and I became even closer friends with added mutual respect during the two years of trying to beat each other.
---
Pimlico really takes beautiful care of its Preakness participants and puts on the production that is the most fun. Dogwood has run in the Derby eight times, three times in the Preakness, and three times in the Belmont, and I give the highest marks to Pimlico. The Derby doings are frenetic, the Belmont is rather aloof, but the Preakness is unbelievably warm and hospitable. Usually, all the Preakness runners are in the same barn, which injects some colorful unpredictability when these competitors are bedfellows and mostly the result is positive.
Anne and I, with children and grandchildren, spent the entire week in Baltimore at a rather smart hotel minutes from the track, the Cross Keys Lodge, which was somewhat of a surprise because Pimlico is not exactly located in the finger-bowl section of that city. We saw the horse train every morning and were transported wherever we wished to go by a Pimlico-supplied car and driver (a savvy off-duty detective, no less).
The partners and some Dogwood staffers started coming to town at the end of week. Pimlico was a little easier with the seating than Churchill, and, happily, some of partners had made their own arrangements.
Friday—the day before the race—Summer Squall went out for a gallop and sprinted away from his rider for a sixteenth. When he came back, and had cooled out, Willie took him out to graze, and he trickled some blood from his nostril. Willie quickly took him back to his stall, but eagle-eyed Jennie Rees from the Louisville Courier-Journal spotted it. She asked me about it as I stood in the horse's stall and I acted like I didn't know what she was talking about—stupid, because a few minutes later it was all over the place, and I had to own up to it. I pointed out that the colt had gotten unusually exuberant in his gallop, for which he naturally had not been treated with Lasix.
Neil had a handy flair for making himself scarce in moments like this, which served him well. An hour later Pimlico held its "Alibi Breakfast" in the clubhouse dining room. Neil did not attend; I did, and the Summer Squall topic was a very popular one. The answer was, "The Lasix will hold him tomorrow."
That night Pimlico threw the "mother" of all spectacular parties. It was at the very glamorous Baltimore Aquarium, a truly gorgeous structure on the Inner Harbor. In the shank of the evening, with Doc Scantlin and His Imperial Palms Orchestra blazing away, a gigantic barge hove into view and cut loose with the damndest fireworks extravaganza you ever saw. What a wingding! The thought occurred that here we are enjoying all this glitz, splendor, and excitement—a night that will never be forgotten—and five miles away in a dark, 12-by-12-foot stall, dozed a four-legged animal whose ability to run fast, coupled with his marvelous determination to do so, had made it all possible. Strange world, horse racing.
Finally, Preakness Day arrived…and seemed as if it would never end. Whoever says horse racing is "fun" has not quite gotten it right. Fun is really not what it is. I described campaigning this horse as "an agonizing sort of ecstasy." The wonderful thing about horse racing—and much of living, I suppose—is the joy of anticipating, looking forward, dreaming of the conquest, "shooting the moon." When the day comes to shoot it, however, that anticipation turns to a pretty intense brand of anxiety. Spending the afternoon being one of the favorites for the Preakness is nerve-wracking, though you may be cavorting about and oozing charm from every pore.
I went to the barn around 3:00 p.m. to do an interview with the famous race caller Dave Johnson, and, of course, the primary topic was the bleeding episode the day before. I declared with great bravado, "Believe me, the Lasix will hold him and he will run a bang-up race." While there, the ABC Television producer asked to put a mike on me so they could get my comments during the running of the race. I agreed, but this would turn out to be a poor idea.
I waited in the Preakness barn with the horse, and finally around 5:10 p.m., we got the call to bring the horses to the paddock. Then there ensued an amusing—and annoying—display of gamesmanship between Carl Nafzger, who would saddle the Derby winner, and Laz Barrera, the crafty California trainer who had Mister Frisky. Laz liked to be late to the paddock, to keep everyone cooling their heels. Carl wasn't going to permit it. They both finally came out together, and we were able to start the dramatic walk down the path—the press contributing to the bulk of this procession. We were to saddle on the turf course, and as we moved onto it, a photo was made of the Summer Squall entourage, and I—with deep frown and jaws clenched — looked like I could easily bite a ten-penny nail in two! Not exactly fun at that moment, but certainly a highlight of my life.
The saddling paddock before a big race is like a cocktail party—photos to be made, introductions you would gladly skip, and nothing very enlightening is ever said ("He looks good, doesn't he?" "What does the trainer think?" blah, blah, blah). When the horses were saddled, we beat it across the dirt course to our boxes. Adding to the tension of the moment just before the horses went in the gate, Albert Barrera, Laz's son and assistant trainer, decided he would stand on his chair right in front of me. I grabbed him by the seat of his pants and pulled him down. Not a time for polite discussion.
The crowd was silent. The whole scene had a weird, surreal feeling when the starter pushed his button. Then a gigantic roar, and the Preakness was on.
With a clean break, Fighting Notion and Mister Frisky made the running. Summer Squall handily settled about fourth, with Unbridled some lengths back, Craig Perret biding his time as they went down the backside. Leaving the backstretch, Pat nudged Summer Squall a bit, and he easily slipped closer while hugging the rail. Mister Frisky had given way, and about then, Dave Johnson sang out, "Fighting Notion leads them into the stretch…" That horse left a tempting sliver—repeat, sliver—of room on the inside, and Pat asked Summer Squall to go through it. He did not hesitate, but big Unbridled was rolling on the outside. And the two great rivals looked each other in the eye at the top of the lane.
This time our colt was ready for him. There was a ding-dong battle for an eighth of a mile, and then Unbridled blinked. Summer Squall made him crack. His 18 seconds for the final three-sixteenths of a mile was the fastest in the race's history. As Dave Johnson called it, "It's Summer Squall by two lengths. Second in the Kentucky Derby, he's gonna WIN the Preakness!"
Hugging, kissing, whooping, with the ushers trying to get our sizeable group collected and moving down the steps and across the track, so that I could lead the colt into the winner's circle. Anne and I were hustled onto the presentation stand, where ABC luminaries Jim McKay and Jack Whittaker, along with high muckety-mucks of the racetrack and the Maryland governor, did their numbers. For some strange reason, in my remarks, I said, "This horse has the heart of a Cape Town Lion!"—a puzzling expression that leapt from a distant part of my brain.
The subject of comments leads to what were the auditory fruits of ABC's having "miked" me. They were unfortunate. I'm afraid I have an automatic tendency when I become sufficiently excited (generally when viewing a football game, prize fight, or horse race) that causes me to bellow "Goddamn!" Not the logical reaction, I admit. Well, when Summer Squall slithered through on the rail, and was engaged by Unbridled, I cut loose with "Goddamn" about 50 times before they hit the finish line, and tossed in few afterward. ABC cut me off after the first one went out on the airways.
I do not recall any champagne in the Director's Room. I know pretty soon after, we went where you should always go after a big win: to the barn to see the horse. Of course, the press was there, and all over the Belmont issue. I said again that we would not run him. Most were in shocked disbelief. At the time Visa offered a $5 million bonus for a Triple Crown winner, or—of enormous significance in this situation—$1 million to the Triple Crown runner with the highest placing in the three races. OK, so Unbridled won the Derby; Summer Squall won the Preakness. If we don't run in the Belmont and Unbridled just shows up, he gets a million bucks. He did, and he did. I told Carl Nafzger later, "You son of a gun, you ought at least to give us a 10% commission!"
---
The day we won the Preakness had a dream-like, out-of-body quality about it. Though I knew we had done something pretty good, it still took a while for the significance to sink in. That race in Baltimore is a big deal in our world. It was like throwing a stone in a pool. The ripples kept coming—even today. We had won a great American classic with a horse who ran it in 1:53.60, one of the fastest times ever.
We went to Pimlico to see Summer Squall on Sunday morning, and he was frustratingly energetic. I thought, Look, you've run five times in two months, and we are not going to ask you to run in the Belmont, where we would get a million-dollar bonus if we just finished ahead of Unbridled—at least you could act like you're tired!
Well, needed or not, he rested back in Kentucky until September. Then we went to Philadelphia and easily won the Pennsylvania Derby (gr. II). Then it was on to Louisiana Downs for the Super Derby (gr. I) and a rubber match with Unbridled, but there was a strong virus epidemic at the time, and Summer Squall got it the day before the race.
We scratched him, of course—creating agony galore for the racetrack management on the eve of potentially the biggest gate in the history of that racetrack. We next tried the Meadowlands Cup Handicap (gr. I), thinking Summer Squall was virus-free. He wasn't; he got beat eight lengths, as an even-money favorite.
That was it for the year. He came back to the great horse town of Aiken, where he was revered, and the population came out in droves daily just to watch him eat grass.
He came out smoking at Keeneland in 1991 and had a highly respectable year, but not a sensational year. His feet were not his strongest point, and he was plagued with quarter cracks at crucial times. That's why he ran badly in both the Hollywood Gold Cup (gr. I) and the Breeders' Cup Classic (gr. I), although he did win the Fayette Handicap (gr. II).
After the Preakness, Will Farish, his breeder and a member of the 40-share syndicate, bought a fourth of him for $2 million. The original syndicate kept a fourth of him, and Will syndicated the rest of him based on an overall value of $8 million. It was logical to retire him at the end of his 4-year-old season, and he went to stud back where he came from to Lane's End Farm.
---
Summer Squall was surely one of the top racehorses of his time. He had a wonderful career, despite the fact that he was a bleeder, suffered a hairline fracture, was laid low for several months by a severe virus, and twice was stopped by quarter cracks. He met Unbridled six times and beat him four times, but Unbridled won the Derby and Breeders' Cup Classic. Summer Squall ran 20 times, won 13 races (nine stakes) and earned $1,844,282.
Our Preakness hero was a splendid stallion but not a terribly fertile one. He produced 1999 champion 3-year-old male and Horse of the Year Charismatic, who managed the Kentucky Derby victory we could not achieve. He also sired several champions, one of whom was the Dogwood filly Storm Song.
When Summer Squall was a yearling, I started feeding him peppermints. He loved them. And he certainly recognized me as the main peppermint supplier. He would literally hold up a paddock parade if he saw me in the area. He had a signal for when he thought it was time for more peppermints; he would cock his right leg up to his chest.
When he retired to stud, for many years I would visit him in his paddock at Lane's End near Versailles, Ky. I loved it when I would walk up to the fence. He might be on the far side of the four-acre paddock, but when I yelled "Hey, Pops," he would look up, gallop across the field to where I was standing, hike up that right leg, and peer impatiently at me.
When Anne and I last saw him in 2009, he still came over, but it took him a while. There was much more sway to his back, there was gray around his muzzle, and his eyes told the inevitable story. They had that rheumy, opaque, vacant look of an old man in a rest home, one whose time had come. And indeed it had. A few weeks later I got a call from Lane's End. Summer Squall had died.
One of the charms of horse racing is that a large, half-ton animal—through his courage, class, and ability to get from one point to another faster than some other large half-ton animals—can change your life. Several good horses changed mine, but Summer Squall changed it most wonderfully and in the most significant way. He put Dogwood Stable on the map, and me too.
---
Credits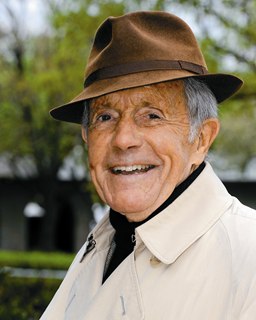 Cot Campbell
W. Cothran (Cot) Campbell, president of Dogwood Stable, Inc., in Aiken, S.C., is credited with popularizing the partnership concept in Thoroughbred racing. He is the author of three books: Memoirs of a Longshot, Rascals and Racehorses, and Lightning in a Jar. Campbell, a member of the Jockey Club, has received the Eclipse Award of Merit, Joe Palmer Award, John W. Galbreath Award, Clay Puett Award, and has been Honor Guest of the Thoroughbred Club of America. Dogwood has campaigned 80 stakes winners, two Champions, two Classic winners, and a Breeders' Cup winner. Dogwood won the 2013 Belmont Stakes with Palace Malice, currently co-owned with Three Chimneys Farm. The multiple grade I winner is preparing for his 2015 campaign.
Online Features Editor: Claire Novak
Editorial Director: Eric Mitchell
Designer: Kimberly Reeves
Visuals Director, Photographer: Anne M. Eberhardt
Digital Assets Coordinator: Kevin Thompson
Copy Editor: Tom Hall