April 23, 2014
Early this season on a brisk but sunny afternoon, Pat Day visited an empty stable area on his way to the track chapel at Churchill Downs. Horses for the spring meet had not yet arrived, and the Louisville backstretch was eerily quiet.
As a few members of the Churchill maintenance crew passed in an old white pickup truck, the driver spotted Day, stopped, and yelled out the window.
"Baby Hands! I haven't seen you in a long time."
Day smiled and returned a wave. Many people, and a lot of horses, know his hands well — no jockey during Day's time was better at communicating with Thoroughbreds through the bridle. His patience as a reinsman was at times unnerving for owners, trainers, and bettors, even though they knew Day usually had saved just enough horse to get the job done. As Pat Forde, then a reporter for the Louisville Courier-Journal, penned in 1995, "He is so patient he could watch a faucet drip for days."
John Asher, vice president of racing communications at Churchill Downs, recalled one afternoon many years ago when Day and his mount, on the lead on the far turn, were passed by three or four rivals. Day guided his runner to the outside in the stretch; the horse rallied and blew by those that had passed him. Mike Battaglia, the Churchill announcer at the time, removed his headset and threw it to the ground. "Now that's just being cute," he said.
Clever to his fans and lethal to his rivals, Day used his natural instincts to reach the top of the game. The 1991 Hall of Fame inductee won the Preakness Stakes (gr. I) on five occasions and took the Belmont Stakes (gr. I) three times, in addition to his lone Kentucky Derby (gr. I) triumph in 1992 aboard Lil E. Tee. He also earned numerous honors for excellence on the racetrack including four Eclipse Awards and the George Woolf Memorial Award, the latter bestowed by his peers. He led all other riders by number of victories five times, led the nation in earnings twice, and at the time of his retirement in 2005, held the all-time record for earnings compiled by a jockey — $297,941,912 — a mark just recently surpassed by John Velazquez.
Through it all, racetrack riding titles piled up — particularly in Kentucky, where Day, now 60, has made his home for years. He topped the standings at Keeneland a remarkable 18 times in the fall and still holds the all-time meet record of 45 wins. In addition to 12 consecutive titles at Oaklawn Park in Arkansas, he won four spring meet riding titles in Lexington. To this day, almost 10 years after his retirement, he remains the most popular jockey ever to ride there.
And then there's Churchill, where Day won 2,481 races — 155 of them stakes. He is the all-time leading rider at the Louisville oval, the only human at the legendary facility to have a statue near one of the entrances. The city and its racing fans love him and have embraced him as one of their own; he still lives in the area with his wife, Sheila. As fellow rider Robby Albarado once told the Daily Racing Form, "He could probably run for governor in Kentucky and win; that's how popular he is there."
"Pat is deeply interested in his community and continues to play a strong role in the community throughout the year," said Asher, who has known the jockey for decades. "When people around here think about racing, they think about Pat Day.
"He has a great ability to make you feel like you're the only person in the world. He has been a great ambassador for racing, and his life continues to amaze."
There was a time Day called his success in the saddle "natural talent." At 4-feet-11-inches tall he easily tacked between 100-110 pounds throughout his career, and therefore avoided the struggle to maintain weight that many other riders face. He was also fortunate enough to evade serious injuries. Early on, in fact, victories came so easily that Day struggled to find satisfaction in his accomplishments. He questioned his purpose in life until one fateful day in January 1984, when he finally recognized — or wholeheartedly accepted — that his innate ability was a gift from God.
Revelation, however, rarely comes without a journey.
On New Year's Eve in 1982, Day, who was riding at Fair Grounds Race Course in Louisiana, was deadlocked with Angel Cordero Jr. for most wins on the season. The lead-up to the final card of the year had been fraught with dramatics: On Dec. 30, Day rode four winners at Fair Grounds while Cordero was shut out at Aqueduct, but the hardscrabble Puerto Rican traveled to the Meadowlands on the night of the 30th and rode four winners. The next afternoon Day had several mounts lined up, but his plans changed when he was thrown from the gate in the first race and barely recovered in time to ride the winner in the last. Meanwhile, in New York, Cordero landed two victories at the Big A and had the lead.
Day mulled whether to charter a plane for a two-hour trip to catch the evening card at Delta Downs; he would need two victories under the lights to win the title. The only available flight was a single-engine craft, and with heavy rain falling and strong winds blowing, the journey would not be for the faint of heart.
"I told (pilot) Emilio (Camp) I'd just as soon tie Cordero as not make it back," Day recalled. "But he said, 'I have a wife and two kids at home, and if I get on that plane, we'll make it.' "
Make it they did. Day rode two winners that night and secured his first of three consecutive national leading rider championships. His first stop when he left the racetrack was the liquor store, and by the time he got back to Fair Grounds for the victory party his wife Sheila was throwing in his honor, he was three sheets to the wind.
The following year brought more success, as Day won 453 races for a 26% clip; his mounts earned $6.58 million, easily clear of his closest competitor. He was on a roll, but it wasn't as satisfying as he expected — and again he celebrated the title with what he calls "a drug and alcohol-induced stupor."
"They told me I had a good time," Day said. "I really don't remember."
What he does remember was a nagging, unsettling feeling. From the outside it seemed as if he had it all together — financial security, good marriage, an eye-catching career — but he often found himself looking to the sky, repeatedly asking the same questions:
"What else is there? Why am I here?"
It wouldn't take long before he found the answer. Day was in Colorado with his wife visiting family in January 1984 when he had to fly to South Florida to ride. It was a typical evening before another day of work; a comfortable hotel room and a bad night of television. Channel-surfing, Day stumbled across an evangelical program hosted by Jimmy Swaggart, watched for a few minutes, turned off the TV, and fell asleep.
When he awoke — the sleep felt like hours but was really only minutes — Day began life all over again.
---
Patrick Alan Day was born Oct. 13, 1953, in Brush, Colo., a wiry and fiercely competitive kid who had an outdoors bent from the start. He grew up on a small farm, skiing and snowmobiling in the winter, hunting and fishing in the summer. His father, Mickey Day, owned a body and fender repair service in Eagle — a sleepy town of about 900 near the ski lodges of Vail in central Colorado — and was a tremendous horseman in his own right.
"My father was the most righteous man I've ever been around," Day told the Louisville Courier-Journal in 1995. "He was a man of his word. My mother (Carol) and father were people of integrity. They walked the walk, not just talked the talk. When I grew up, I kind of took a walk on the wild side… I kind of think of myself as one of those Popeye punching bags, the ones that are built heavy on the bottom and light on the top. I would bounce one way or the other way, but I'd always bounce back to dead center. I'd like to think that's in part due to the way I was raised."
An athlete from the get-go, Day joined his high school wrestling program and built an impressive 77-7 record in four years, clinching a state championship during his junior season and finishing as the runner-up in both sophomore and senior divisions. After he graduated high school, Day's adrenaline-junkie nature and his physical location led him to try his hand at another local sport — bull riding. This was not a successful career move, but in the course of his rodeo travels and after stints on an oil rig, at a gasoline station, at a ski resort, and as a plumber's helper, he met a number of people who suggested he consider becoming a jockey. And so, at 19, having never seen a horse race, Pat Day decided to leave home to pursue the career that would make him famous.
On the advice of a friend, Day traveled to California in January 1973 to work under esteemed West Coast trainer Farrell Jones and farm manager Gene Cummings. The intent was to learn all aspects of horsemanship from the ground up, and then begin riding in races, but Day only lasted one month and the stay could have been even shorter. He had no desire to work on a farm from sunup to sundown, waiting years until he could finally ride, but when he did get on horses during his brief tenure, something seemed to click between them.
"I was an absolute natural," Day said. "When I was in California, I thought, 'If this is what it takes to be a jockey, I don't want to do it.' Looking back, I know now the information I would have received had I spent three or four years there. I wish I had that knowledge today."
Not long after quitting his farm job, Day ended up at Las Vegas Downs with Steve Talbot, who worked as a clerk of scales on the Arizona fair circuit and who helped him land employment galloping horses and working on the starting gate. After a few months Karl Pew took the young rider under contract and he headed to Prescott Downs, an Arizona bullring, for the summer.
On July 29, 1973, Day captured the final race of the afternoon — a $2,000 claiming event with a purse of $600 — aboard a 4-year-old runner named Forblunged to earn his first victory. He had to settle for a black-and-white photo-finish picture after the track photographer's camera got wet from rain and malfunctioned in the winner's circle, but he didn't care; he was going to make it. In late 1973 and early 1974 at Arizona's Turf Paradise, Day was leading apprentice and third-leading rider for the first meet, and leading rider for the second meet. He was too good for the Southwest circuit, that much was quickly becoming clear.
Day certainly maximized what he did know; from 1974-76 there were successes in Illinois, Louisiana, and New Hampshire, and he started to appear on the national radar.
"That boy," trainer Jack Van Berg told the Form after a victory at Louisiana Downs in the late 1970s, "could parachute out of a plane these days and land on a winner."
Next came what Day called "finishing school" — he had just gotten married to his first wife and traveled to New York to ride in 1976-77, part of a cutthroat colony that included Angel Cordero Jr., Jorge Velasquez, Ron Turcotte, and the up-and-coming Steve Cauthen — all future Hall of Fame members. Riding in New York honed his skills, but his business wasn't as strong as he would have liked. Although he walked every barn every morning at Belmont Park and stayed at the track through the last race each day, a good start didn't produce the desired results. He lost some good mounts when Rokeby Stable's trainer, Elliott Burch, took ill, and any momentum he gained by riding on the major circuit began to slip away. The setback almost led to a very early retirement.
"My fledgling marriage began to come unraveled, and I became unraveled," Day said. "I did win the Jockey Club Gold Cup (gr. I, in the fall of 1976) with Great Contractor and went to California to ride him, but when I came back to New York, I wasn't able to focus.
"It all came apart; 1977 was a complete fiasco. I got divorced. In 1978 I went back to Sportsman's Park, and my thought process was this: I left a mess behind in New York, but I'll ride the meet in Chicago, cash checks, and then get on a Greyhound bus and go home to Colorado."
Still, greater forces were at work in his life. Day met his current wife, Sheila, the sister-in-law of Midwest rider Ray Sibille. She offered moral support and encouragement. They were married in June 1979 and decided to make the Midwest their home, with Day riding in Kentucky, Arkansas, and Illinois. His career took off, and he was once again flying high — in several ways. Things were good on the racetrack, but not necessarily in his soul.
Day's conversion changed all that. He and his wife, only several years into their now 34-year marriage, began to live a different lifestyle.
"We knew we were being called, but we didn't know what it was," Sheila Day said. "We made the commitment and backed away from drinking and partying. At the time our friends took offense to it, but even today we're on the best terms with them. They finally understood — Pat was such a good example for all those years."
Larry Melancon, a Churchill mainstay for decades, frequently competed against Day on the racetrack. He was one of a group that included Day, jockey Sam Maple, and others who were instrumental in the launch of the racetrack chaplaincy program.
Melancon, a Christian, said he saw a change in Day in 1984. They forged a long-lasting friendship.
"You have people that walk the talk, and he's one of them," Melancon said. "We used to run together, going to churches and sharing our testimony. If you go through something, he's someone you can talk about it with, pray with. We got to be close and still are. He's just really genuine."
Perhaps 1984 was a bit rough on Day in terms of how those who had known him for years now perceived him — as a Christian not afraid to share his faith. But he wasn't distracted, and that certainly showed in his day-to-day racetrack routine. If anything he was more focused, literally and figuratively. As he puts it: "The scales were removed from my eyes."
It was only fitting that later that year, Day would make history — and his career would move to an entirely different level, thanks to a horse named Wild Again.
---
Early in the spring of 1984, a 4-year-old colt arrived at Fair Grounds for the New Orleans Handicap (gr. II). With victories at Louisiana Downs and Evangeline and a couple of allowance events at Santa Anita, Wild Again understandably didn't grab much attention leading up to what would be his 13th start. He had just shipped back almost cross-country from Southern California, and his connections needed a rider. At Fair Grounds, Day would first unite with the horse he believes laid the groundwork for the rest of his riding career.
Wild Again, at 10-1, bagged his first stakes score in the $200,000 New Orleans Handicap with Day aboard for the first time for owner Bill Allen's Black Chip Stable and trainer Vincent Timphony. Two races later, horse and rider combined to win the Oaklawn Handicap, another $200,000 stakes, this time at 8-1.
It was odd, then, that the week of the inaugural Breeders' Cup at Hollywood Park, Day was a man without a horse. Fellow rider Eddie Maple was named on two mounts, Wild Again and the preferred Track Barron, who was cross-entered in the Breeders' Cup Sprint (gr. I). When Track Barron's connections opted for the $3 million Breeders' Cup Classic (gr. I), Maple had his horse, and Wild Again — who had been supplemented to the race for $360,000 — had no rider.
"I was looking for the clerk of scales to have him page Mr. Timphony to contact the jocks' room," Day said. "As I was walking out, Mr. Timphony and Mr. Allen were walking into the room to see if they could secure my services. So I got the mount on the Wild Again."
There may have been a time when Day would have considered such a development the result of him being in the right place, right time, but the 1984 Breeders' Cup came about eight months after his spiritual awakening. Yes, Day was in the right place at the right time, but he believes it was all part of a bigger plan, one for which he takes no credit.
Coming off a third-place finish as the heavy favorite in an $18,000 allowance race at Bay Meadows, Wild Again was dismissed at 31-1 in the eight-horse Classic field. Day gunned him from the gate in the 1 1/4-mile event and, in patented fashion, nursed the colt on a short lead. They won by a head after surviving interference in a three-horse photo with Angel Cordero Jr. on favored Slew o' Gold and Laffit Pincay Jr. aboard Preakness winner Gate Dancer.
That's a powerful statement from a guy who won 8,803 races to be the fourth-leading jockey of all time by number of victories.
"It was the greatest contribution to my racing career," the jockey recalled. "Winning that race, in that fashion, catapulted my career. It opened up so many opportunities on top horses that were contenders in the major races.
"By the grace of God, I was able to take full advantage."
The jockey's involvement in the racetrack chaplaincy introduced him to Mike Spencer, a former Oaklawn chaplain with whom he developed a lasting alliance. Pat and Sheila Day didn't have children of their own — a situation that was weighing on their hearts when Spencer called Day while the jockey was in Arkansas for the Oaklawn meet in 1987, urging him to come to his house as quickly as possible. Spencer had come in contact with an expectant teenager who wanted to give her child up for adoption, and the Days agreed to adopt the girl, who would be named Irene after Sheila Day's mother. The whole process took less than a week.
"That was a Saturday," then Courier-Journal columnist Rick Bozich wrote in April 1987. "The baby was born three days later. Two days after that, Irene Elizabeth Day was delivered to her new parents. 'Five days to parenthood,' Day said. 'If that isn't a miracle, I don't know what is.' "
If you were to tell Pat Day the circumstances surrounding his daughter's adoption were pure coincidence, he wouldn't laugh at you. But he would take the time to tell you about the true source of the gift.
---
Over the next 15 years, Day had his share of Breeders' Cup successes, winning 12 total races including three more editions of the Classic and two of the Distaff. But the one race he wanted the most, the Kentucky Derby, eluded him. Beginning in 1982, the jockey built a record streak of 20 consecutive shots at the race. He finished second by a neck with Forty Niner to Winning Colors in 1988, missed to Sunday Silence aboard odds-on favorite Easy Goer in 1989, and chose Summer Squall over Unbridled only to wind up second to the rival he could have ridden in 1990. In 1987 he had the choice of riding Alysheba or the favorite, Demons Begone; Alysheba won it for Chris McCarron, but Demons Begone bled badly and Day had to pull him up on the backstretch. These were all more highly regarded racehorses than his eventual winner would be, but as patient as Day was in the saddle, he is more so when it comes to life and faith — and true to form, the circumstances that produced his first Derby win were scripted perfectly.
Statistics show that when Day rode a horse trained by Lynn Whiting, he won a third of the time. The trainer-jockey duo had piled up a few hundred wins by 1992, many of them at Oaklawn, where Whiting was a fixture, and at Churchill Downs. In early November 1991, Day rode a 2-year-old colt named Lil E. Tee for Whiting in his first start around two turns beneath the Twin Spires. The youngster, by At the Threshold, just failed to last in the 1 1/16-mile allowance event. He returned a few weeks later at Churchill to win by three lengths with Day aboard.
Owned by Cal Partee and bred in Pennsylvania by Larry Littman, Lil E. Tee was a $25,000 2-year-old auction purchase who appeared to be rapidly improving in the winter of 1992 in Arkansas. He finished third in the Southwest Stakes in early March and in mid-April just missed winning the Arkansas Derby, then grade II, when Pine Bluff beat him by a neck.
Between those races Whiting shipped Lil E. Tee to Turfway Park in Kentucky for the Jim Beam Stakes (gr. II), which he won comfortably from off the pace with Day in the saddle for the fifth consecutive time. At the time Whiting was pleased with his runner's progress, and though he knew Day had a strong enough reputation to have opted for another horse in the Kentucky Derby, the trainer urged the rider to stay with Lil E. Tee. Day thought Lil E. Tee was a good runner, just not necessarily the one who would give him his sought-after Derby score. But because of his strong relationship with Whiting, he agreed to retain the mount.
"I had ridden him four times before the Jim Beam; he was a difficult horse because he didn't want to settle," Day recalled. "And once he made the lead, he really didn't put forth a lot of effort."
Day never was one to be nervous while riding, even in the Kentucky Derby, though he did say his belief in the Lord provided a stabilizing effect that brought everything together on the racetrack. In a race in which juvenile champion Arazi was the heavy favorite of 18, 16-1 shot Lil E. Tee required every bit of that calm and patience, and Day was in a zone he still can't quite describe.
"You have to be through it to really get a handle on it," he said. "It's not just another race, but once you're in the gate, and it opens and the race begins, you have to approach it like any other day. The change comes when you cross the finish line in front.
"I was just content and comfortable leaving the results in His hands. It's hard not to get caught up in it, but by the grace of God I was able to enjoy it. Once we broke from the gate, I was locked in and focused."
Relaxed throughout the early going, Lil E. Tee made his move from 10th-place at the three-quarter mark with four runners still to reel in coming off the final turn. He required persistent urging from Day after taking the lead, but edged away in the final sixteenth to win by a length over fellow longshot Casual Lies, with Dance Floor third and Arazi a dismal eighth. Day, wearing a microphone for the broadcast network, broke into jubilant post-race praise, his heartfelt expressions reaching the world.
After the victory aboard Lil E. Tee, Day walked over with the rest of the connections to the infield winner's circle. Looking up toward the Twin Spires, he was mistaken as having addressed his fans in the grandstand.
"He had come back after the race and jumped off the horse onto the turf," Asher recalled. "People thought he was acknowledging the cheers. He was actually addressing an audience of one."
Several years ago upon Day's retirement, Whiting reflected on his long relationship with the rider. He is one of many who have been touched by Day.
"He was the top of the line," Whiting said. "They tore up the mold when they made him — he's the genuine article. He's a friend, and I guess you have to say that time marches on, but I know he'll be missed (in the saddle) by a lot of people, and I count myself as one of them."
Lil E. Tee finished fifth in the Preakness, thus ending that year's hopes for a bid at the Triple Crown. He did return in 1993 off an allowance score at Oaklawn to take the Razorback Handicap (gr. III) with Day in the irons, but never won another grade I. Day would win many more major stakes but not another Derby, though he did come close. In 1999 he directed Menifee from far back to miss by a neck to Charismatic.
---
In 2004 Day began to feel a nagging soreness in his hip. He decided to ride the Keeneland fall meet and made it through the Breeders' Cup at Lone Star Park in November. Then, because he had mobility, he tried riding at Gulfstream Park over the winter — but pushing his luck did not go well. One day when he had four mounts and won with two, he couldn't make it to the airport because of the pain. Returning home, he found he had a torn labrum. His doctor, David Raborn, told him the injury was operable but the procedure should be done by a top doctor in Colorado. The late-April operation was successful and the jockey returned with renewed enthusiasm, but his lengthy career soon gave way to the Lord's plans.
On June 18, 2005, just a few months after his comeback from hip surgery, 51-year-old Day rode the John Gunther and Don Winton-owned Two Trail Sioux to victory in the Fleur de Lis Handicap (gr. II) at Churchill Downs. If Wild Again was the horse that served as an unofficial starting point for the growth of Day's riding career, and if Lil E. Tee brought him to the pinnacle with success in the Kentucky Derby, the 4-year-old filly was the one who definitively ended things — through no fault of her own.
Two Trail Sioux led early in the 1 1/8-mile event, almost lost her advantage in the stretch, and surged back to win by a length. Day describes the victory with disturbing imagery, likening the feeling he had when he crossed the wire to a hospital patient's monitor when it flatlines.
"About 40 yards away I knew we were going to win the race," Day said. "Driving to the finish line, I said, 'Yeah! We're back. I'm able to compete at the highest level.' And then there was nothing. It was like death. I rode in more than 40,000 races and never had one with no emotion.
"I believe it was the Lord telling me it was time."
Day completed the spring meet at Churchill with what he called "an unsettled spirit." Soon after, he attended the funeral of longtime friend Dr. Alex Harthill and recalled a breathtaking sunset that evening. He wanted to remain in horse racing but realized it wasn't his call; the feeling in his heart and soul was telling him otherwise.
"I got down on my knees and cried out to God to rekindle the flame," Day said. "That was my plan, but I told Him, 'I will do what you want me to do.' It's as if He picked me up and held me — it lasted for three days."
The jockey drove around the Kentucky River Palisades, soaking in creation and the presence of the Lord.
"I felt a tapping on my shoulder," he recalled. "I was white-knuckled, but then my mouth opened. 'It's time, isn't it?' I asked. And when I said those words, it was done. It was time to close the book on my riding career. It was time to get fully immersed in spreading the Gospel and winning souls for Christ."
Asher, the Churchill communications man, got the call from Day requesting a press conference at the Louisville track. He said he wasn't stunned, even though the jockey had successfully returned from major surgery and was riding at his usual level of prowess. After years of interacting with Day, he knew where the decision was coming from.
"As with everything else in his life, it wouldn't be his decision," Asher acknowledged. "He had gotten a message delivered — in no uncertain terms — that it was time to take the next step and do something else."
Three years earlier Sheila Day had founded Mom's Closet Resource Center, a Christian-based organization in Louisville that assists single mothers struggling with finances and who may be in need of higher education to help them become self-sufficient. She had a heart for single moms, but the vision for the non-profit came through a letter from her pastor, Rev. Bob Cherry of Northeast Christian Church. The letter said Cherry had a "Kingdom Assignment" for her and asked her to pray about it. At a subsequent service at the Palace Theater in Louisville, anyone who had received a letter was asked to come on stage. Of the 3,000 in attendance, 100 had received letters; they each were given $100 and told to pray and plant the money in the community. Sheila asked for donations and raised about $15,000. In two years Mom's Closet had 14 mothers (and a waiting list for more) and 35 children enrolled in what it calls a "life plan."
"God opened my eyes to what society does — it puts labels on people," Sheila said. "I wanted to help single moms."
Sheila had help from her husband in developing the ministry, but in 2005 Pat Day said he found out why the Lord had told him to walk away from riding. If he had struggled with the decision in the year or so before, he had no doubts after his experience in the Palisades.
"When he retired, Pat told me, 'You've been taking care of me for 25 years; now it's my turn,' " Sheila said. "He literally took over the household — he paid all the bills, did the wash — to give me the freedom to focus on Mom's Closet. For the past nine years I've had some medical problems, and Pat has never wavered. He has walked through everything with me; he took on the role I had for 25 years. You want to talk about a man of his word? He was serious when we flipped sides. He's quite a remarkable guy. I've never been around a person like him, one that can walk away from something he was so good at with such peace."
Day also used his time to take on other projects. He became the ambassador and spokesman for the Race Track Chaplaincy, which is based in Kentucky. It wasn't uncommon then, and isn't now, for Day to speak at events and give his testimony. A few times in his life, including right after his 1984 awakening, he even considered leaving the sport to become a full-time minister. He was led instead to a personal ministry he carried out during the next two decades on the racetrack and in the almost 10 years that have followed his retirement.
"I missed the camaraderie (of the racetrack) and the thrill of victory, but I had such a strong sense of purpose to share the Gospel," Day said. "Everything else pales in comparison to saving one person in the knowledge of Jesus Christ. What the Lord had impressed upon me then continues today."
Though he does some trail riding now, Day has no desire to work horses at the track. Each morning he feeds his pets, spends time reading the Bible and praying, visits with his wife, and checks his email. Day doesn't look much different than he did 10 years ago, and weighs in at 118 pounds, barely over riding weight. Still, a regular at Starbucks coffee houses, he said he has cut back on the caramel macchiatos. It's usually just regular coffee now.
Day may not realize the impact he has had on the racetrack and in people's lives. Sheila said that on a 10-day cruise in the Mexican Riviera this March, he was recognized by a number of people on the ship. At a Starbucks in Frankfort, Ky., earlier in March, four businessmen walked in and immediately identified him. Some interactions lead to discussion; others don't. But Day never ducks a chance to take a chance.
"I try to be open and sensitive to opportunities," Day said. "My fervent prayer as I leave the house everyday is to be a positive influence on everyone I come in contact with. I remember Wayne Lukas saying in an interview, 'Live every day as if it's your last, because one day you'll be right.' "
Day speaks to individuals and groups whenever he can, with a focus on his testimony and the Christian walk. He isn't as active in the Race Track Chaplaincy of America as he was right after his retirement, but he has a heart for those who populate the backstretch, particularly grooms and hotwalkers, many of whom live there.
"Let's bring church to them if they can't get off the track," Day said. "The numbers bear this out. It's not like investing in stock; when you invest in ministry, you may see results for a good while. How can they hear the message of the Gospel if we don't tell it? It's absolutely vital."
"When people think of Pat, they think of his skills and accomplishments in racing," Churchill chaplain Ken Boehm said. "But for the chaplaincy a greater light from Pat shines in his love for the Lord. No one like Pat uses his celebrity status to lead people to an understanding of the Lord. People can't think of Pat without thinking about his faith, and that opens a door for the chaplaincy. He finds opportunities to share the Gospel with people inside and outside of the industry."
Boehm has known Day for about 25 years.
"He sure does enjoy the status he has achieved in racing, but I know it's more important to him to be an ambassador for the God we serve," the chaplain said. "Pat opens channels. When he steps into a room it changes the feeling in the room. People want to listen to what he has to say; there are no hidden agendas.
"I've been with him countless times and never have seen him turn anyone away. For us personally at Churchill, Pat goes in the community to talk about the chaplaincy, which can lead to volunteers and contributions. It's delightful to see how it spreads."
Human nature dictates a strong, perhaps smothering, reliance on self. Day, however, readily gives credit for his success to agents Jim Read, Fred Amie, and Doc Danner, and to Spencer, Sheila, and others. And then there's the credit he gives to the Lord. With a direct but humble attitude, he loves sharing that experience.
"Special things happen when people are around him," Asher said of Day. "If you listen to him speak, if you don't believe in a higher power going in, you'll at least think about it when you leave.
"The power just flows through him."
---
---
Close
Credits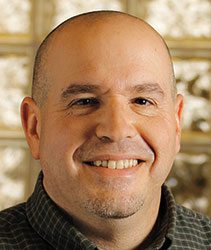 Tom LaMarra
Tom LaMarra, a native of New Jersey and graduate of Rutgers University, is online content editor for The Blood-Horse. LaMarra, who began working as news editor for The Blood-Horse in 1998, started at newspapers in New Jersey and Pennsylvania after graduation as an editor and reporter with a focus on municipal government and politics. He also worked at the Daily Racing Form and Thoroughbred Times before joining The Blood-Horse. LaMarra, who has lived in Lexington since 1994, has won various writing awards and was recognized with the Old Hilltop Award for outstanding coverage of the horse racing industry. He likes to spend some of his spare time handicapping races.
Online Features Editor: Claire Novak
Designer: Kimberly Reeves
Visuals Director, Photographer: Anne M. Eberhardt
Multimedia Producer: Scott Tracy
Digital Assets Coordinator: Kevin Thompson
1992 Kentucky Derby Footage: Churchill Downs/ABC Sports. Special thanks to the Kentucky Derby Museum.