April 21, 2015 • Photos By Anne M. Eberhardt • Text by Glenye Cain Oakford
This is a season of regeneration at Calumet Farm, Lexington's sprawling 91-year-old Thoroughbred nursery. In the three years since billionaire landowner Brad Kelley's Calumet Investment Group paid $35.9 million for the operation, Kelley has pumped money—and horses—into restoring a property many consider the crown jewel of the Bluegrass. Mares and foals dot the wide pastures again, there are eight residents in the red-trimmed stallion barn, and Calumet runners circle the training track every morning before cooling out in shedrows that were once home to greats such as Citation and Whirlaway. The extraordinarily reclusive Kelley has revealed little about his plans for this most public of Thoroughbred properties. But one goal is clear: to breed Triple Crown runners and, hopefully, winners.
Credits
Anne M. Eberhardt
Anne M. Eberhardt is the Visuals Director for Blood-Horse and has been an equine photographer for 30 years. Her images have appeared in publications worldwide and can be seen regularly on BloodHorse.com and in The Blood-Horse, The Horse and Keeneland magazine. She helped produce multiple Eclipse Award-winning longform pieces in 2014, along with one that earned the Wilbur Award for Digital Communications: Multimeda. Anne is also a multiple winner of the American Horse Publications Annual Awards. She lives near Lexington with her family.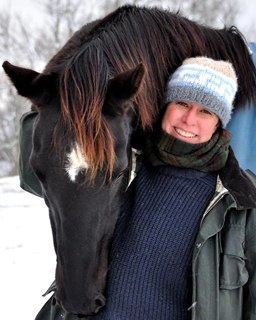 Glenye Cain Oakford
Freelance writer and video journalist Glenye Cain Oakford is the author of The Home Run Horse and co-author of Champions and The Iroquois Hunt. Her awards include the 2012 audio/multimedia Eclipse Award and the 1997 Bill Leggett Breeders' Cup Writing Award. In 2009 she was a John H. Daniels Fellow at the National Sporting Library, where her study focused on the mutual language that working pack hounds and their huntsmen develop. A lifelong horsewoman, Oakford lives in Lexington, Ky., with her husband, two horses, and three dogs.
Editorial Director: Eric Mitchell
Online Features Editor: Claire Novak
Visuals Director, Photographer: Anne M. Eberhardt
Designer: Kimberly Reeves
Digital Assets Coordinator: Kevin Thompson
Copy Editors: Tom Hall, Ian Tapp