Hollywood Park Race Report: The Legend Continues
by Craig Harzmann
Date Posted: 6/2/2002 8:54:08 PM
Last Updated: 6/4/2002 4:04:54 PM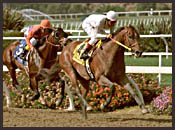 Kona Gold holds off No Armistice in the Los Angeles Handicap.
Photo: Benoit

Published in the June 8 issue of The Blood-Horse
He left the game last fall not a vaunted warrior but a beaten soul, worn-down by the effects of his own excellence. For Kona Gold, the $107,500 Los Angeles Handicap (gr. III) on June 2 was more than just a comeback. It was a shot at redemption. Kona Gold's surprising slump last year had come as a shock to his fans, a loyal brotherhood accustomed to his die-hard consistency. Despite his popularity, it also prompted hushed rumors that time had finally caught up with the Java Gold gelding. Some figured that finally, at seven, the flame had become a dying ember. To others, the talk stung. "It's like somebody picking on your kid," said jockey Alex Solis, who treats Kona Gold like one of his own. "You know how special they are, and it hurts. It's sad when everybody jumps off the boat when he just ran two bad races." The late-season letdown, at least to trainer Bruce Headley, was devastating--yet it wasn't entirely unexpected. Though carefully managed, Kona Gold had been racing all-out under heavy imposts for months. It was bound to take its toll eventually. The breaking point, Headley feels, came in last October's Ancient Title Breeders' Cup Handicap (gr. I), when Kona Gold, beneath a career-high 127 pounds, tried hard but couldn't hold off Swept Overboard. "I think it doesn't make too much difference until you get up past 121," said Headley, expounding on a weighty topic. "That's when a pound makes a difference. It's like a weightlifter that can lift 150 pounds. You put five more pounds on, he can't budge that thing. "The Ancient Title was a real hard race on him," he recalled. "When he left the gate, he had to struggle and work. I think that 127, looking back, probably stripped him. It strained his whole body. After that he looked like he really started tailing off." Still, he seemed enthusiastic enough each morning, giving Headley nothing but positive vibes heading into the Penske Auto Center Breeders' Cup Sprint (gr. I). But after a dull seventh at Belmont--the worst performance of his life--then another loss, this time in the Frank J. De Francis Memorial Dash (gr. I) at Laurel, the signs were evident. Kona Gold appeared stale and disinterested, in dire need of some time off. So Headley took his 2000 champion sprinter home, pulled his shoes, and turned him loose in a backyard pasture of bermuda grass and clover. There, Kona Gold spent the better part of a California winter relaxing and rejuvenating. He had sunshine and shade. He put on a thick winter coat. He was simply a horse, and Headley was content to let him idle as long as he needed. "I had no time limit," he admitted. "I was waiting for him to tell me by his actions and his personality. It took about three months. Towards the end he was really wild." A similar move in the past had worked wonders for old-timers like Son of a Pistol, Lakota Brave, and Softshoe Sure Shot. Though Kona Gold kept quiet through the first few weeks, the vim gradually found its way into his system once again. When Headley started getting serious with his batch of 2-year-olds, putting them through their first paces outside the paddock, Kona Gold's competitive grit hit overdrive. Race this one. Challenge that one. Cut the corner, zip across the grass, and threaten another one. By late January, he was already back in his Santa Anita digs. A mere glimpse told Solis all he needed to know. "When he left, you could see it in his eyes. He didn't have that spark, and he wasn't shining bright like himself," Solis recalled. "You could see the disappointment in his eyes. When he came back it was like, 'Whoa!' You could see the fire in his eyes again." The message was clear. His confidence was fully restored. He was eating well and training easy, tearing up the track with his typical zeal. Though eight, he was the same old Kona. And that, of course, meant the customary issues with weight. When the assignments for the Los Angeles Handicap were ultimately released, Hollywood racing secretary Martin Panza had Kona Gold at 125 pounds. It was the exact impost he had carried over six months earlier at Laurel. Headley was seeing red. "He's got three things against him," the trainer said. "It's hard for a horse to win off a layoff. He's older--everybody says he's lost a step--and he lost three times, so he should have gotten a break. You put on weight for doing good, you take off weight for doing bad. The handicapper's trying to kill him." The great ones, however, seem to overcome it all, and the six-furlong Los Angeles was quintessential Kona. Though Hombre Rapido and No Armistice easily cleared the favorite down the backstretch, a staggering half in :43.64 sealed their fate. Solis put Kona Gold in gear on the turn, and about a furlong later, it was over. Kona Gold roared to the lead with such authority that Solis wrapped up well before the finish, saving something for imminent battles. Kona Gold ran 1:08.72 anyway. No Armistice, carrying 116 pounds, edged Komax (114) for second, 11?4 lengths back. It's a story you never tire of hearing. With unflagging patience and the dedication of a solid barn crew, Headley, who co-owns the champ with Andrew and Irwin Molasky, has finessed Kona Gold into one of the greatest sprinters the sport has seen. Just one other horse, in fact--the legendary Native Diver--can boast a Los Angeles win at age eight. And Headley, for one, sees no reason Kona Gold can't have a say at this year's Breeders' Cup. It would be his unprecedented fifth appearance in the Sprint. "It's not how fast, it's if you last," he'll tell you, boiling his style down to a simple creed. For Kona Gold, it's made all the difference. (Chart, Equibase)



Copyright © 2015 The Blood-Horse, Inc. All Rights Reserved.