Slew: 'His Influence Will Be Felt By This Breed Forever'
Date Posted: 5/7/2002 6:06:10 PM
Last Updated: 5/8/2002 2:36:24 PM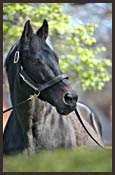 Seattle Slew, last surviving Triple Crown winner who died Tuesday.
Photo: AP/Breck Smither

Trainer Billy Turner said the late Seattle Slew stood alone in comparison to racing's other Triple Crown winners. "He was undefeated. He set track records. He did everything he had to do." Yet Turner said some people resented the horse who won the 1977 Triple Crown, just four years after Secretariat."All of a sudden, Slew came along and you had a certain number of reporters and fans who didn't like Slew because he was threatening the king," Turner said. "It was very interesting. It just made Slew even greater."Turner, who trained the 1977 Horse of the Year until his first career defeat in the Swaps Stakes at Hollywood Park just three weeks after Seattle Slew's sweep of the Triple Crown, shared his memories during a conference call Tuesday afternoon, hours after news broke that racing's last living Triple Crown winner had died.Also participating were Dr. Jim Hill, who picked Seattle Slew out of the 1975 Fasig-Tipton summer yearling sale for $17,500 and was a co-owner; jockey Jean Cruguet, who rode Seattle Slew for 13 of his 17 lifetime starts; Dan Rosenberg, president of Three Chimneys Farm, where Seattle Slew stood at stud for a majority of his breeding career; and Carl Pascarella, the CEO of Visa, the Triple Crown sponsor that recently filmed a television commercial featuring Seattle Slew."I'm just trying to remember all the great times and the good things and the terrific life this horse had," recalled Hill, "and what kind of effect this horse had on so many people in and out of the racing industry, and what kind of effect he had on the industry itself."Hill said he was involved with the racing career of Seattle Slew's sire, Bold Reasoning, whom he thought was "an unbelievably good horse. He overcame a lot of difficulties in putting together a good racing record before he went to stud...When I saw Seattle Slew, there was something about him. He was imposing. He wasn't pretty, but he was all there...legs like telephone posts, big strong bone and flat kind of knees. He had the look of a real athlete."Turner said he knew he had something special on his hands when Seattle Slew was an unraced 2-year-old breezing in company for the first time at Belmont Park. "I sent an older filly along with him, so he'd have something to go with," Turner said. "I just wanted Slew to go along with her...we were only going to go a quarter mile and thought he might get really rolling. He broke off with the filly...looked over and saw he had competition, and he was gone, he was on his way. It was so obvious that this horse could do things so easily, that when he took off it didn't even look like he was even trying."Seattle Slew's most impressive race, Turner said, was the Kentucky Derby, when he got off to a bad start, then bulled his way to the lead after an extremely fast opening quarter-mile. "Then the horse went on and the rest was history," he said. "To overcome a first quarter like that and go on and win, my reading of the Derby and the things that have happened in it, no one has been able to do that and win the Derby. Slew was able to. That's why I say it was a remarkable race."Cruguet said the deceased champion put him and Turner "on the map" forever. "All he wanted to do was run," the French-born jockey said. "All he wants to do is go go go.""Seattle Slew was fiercely competitive, unbelievably strong and unbelievably intelligent," said Rosenberg. "Maybe those are the three attributes (that made him so great). I had an owner who said to me one time, 'I've never had a Seattle Slew that didn't try.'""I got the phone call this morning, telling me that it was over," Rosenberg said. "Although it was not unexpected, I think all of us felt a profound sense of loss...This is a very, very rare kind of horse and his influence will be felt by this breed forever."Being around him was a great pleasure and a great privilege," Rosenberg added. "Everything he ever did in his life he did with class and professionalism."Pascarella of Visa said that "racing fans and the entire industry have lost a national treasure." He said the advertisement featuring Seattle Slew probably would run just once or twice. "It might be fitting to run them on Preakness and Belmont day as a tribute to him."



Copyright © 2015 The Blood-Horse, Inc. All Rights Reserved.