MRLS Monitoring Underway; No Solution Yet
by Kristin Ingwell Goode
Date Posted: 3/28/2002 4:31:11 PM
Last Updated: 3/29/2002 3:23:49 PM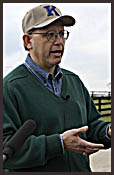 Dr. Jimmy Henning, who heads the MRLS monitoring team.
Photo: Anne M. Eberhardt

On Thursday the press had the opportunity to see the soil and plant testing that began Feb. 21 as part of the monitoring program created in response to Mare Reproductive Loss Syndrome. There are no new findings to report, but even if sampling fails to reveal what caused 550 late term abortions and 3,000 early fetal losses last year, it provides a baseline for normal conditions in Kentucky for future years of research.Dr. Jimmy Henning, who is spearheading the University of Kentucky's research into the syndrome, said research seeking the cause of MRLS continues. "I wouldn't say any theory is leading right now," he said. "We'll accept anything that's proven."Two of the three members of the sampling team, Wayne Long and Andrea Reinowski, were on hand Thursday at a farm in Woodford County, Ky. (farm officials requested its name not be published) to collect soil and plant samples. Their tools included a device which looked like a small pogo stick with half of the base's cylinder cut out to collect soil, typical garden shears, and pre-labeled paper bags to transport samples to the laboratory. Long and Reinowski took seven sets of samples from a large paddock usually occupied by pregnant mares. Long drew 1-2 inch deep samples of soil at all seven spots, while Reinowski clipped leaves of white clover, grasses, and other vegetation at each sample site. Long and Reinowski (and fellow team member Cindy Peterson) turn their samples over for testing of microbial populations in the soil, presence of micotoxins, mineral content, and overall composition. Long, an extension associate with degrees in agronomy and biology, said researchers have shared some of the findings with him, but he is not closely involved in the evaluation process. Thirteen farms are serving as sample sites; 12 horse farms and one hay farm. The fields where samples are taken were chosen either because the horses in them last spring exhibited symptoms of MRLS, or because they currently house horses at risk for the syndrome. Long said he hasn't seen anything abnormal this year. Although his education is in plant science, he said he spent 16 years as agriculture manager for a Central Kentucky Thoroughbred Farm, and dealt with symptoms of MRLS last year. Even though a cause is still unknown, Long said he and the other team members have notified farm owners of all poisonous plants they have observed during their testing.



Copyright © 2015 The Blood-Horse, Inc. All Rights Reserved.