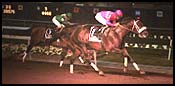 "This one means more than all the others," Bacon said in emotional acceptance remarks. "She was the best thing that ever happened to me in the racing business."
          
Raced by Bacon before being lost for $70,000 in a claiming race, Say Florida Sandy was the 2-year-old champion of 1996, the champion sprinter and champion older horse in 1998 and the sprint champion of 2000.Owned by John Rotella and trained by Juan Serey, Say Florida Sandy made 16 starts last year, compiling a record of 6-5-1 and earning $615,420 in purse money. At $1.77 million, he is the leading state-bred career money earner. Say Florida Sandy won the Hollie Hughes for state-breds at Aqueduct in February, the Grade III Bold Ruler at Aqueduct in April, the grade II True North at Belmont Park in June, the Grade III Philadelphia Park Breeders' Cup Handicap in July and the Paterson Handicap at the Meadowlands in September. He was narrowly beaten in the grade I Carter and the grade II Tom Fool.

M. Anthony Ferraro was voted the outstanding trainer, a rare honor for a trainer based at Finger Lakes. Ferraro developed Shesastonecoldfox, bred by Dennis and Deborah Petrisak, into the 2-year-old filly champion. Among Ferraro's five stakes winners was Smokeisabandit, was a finalist for the 2-year-old male award. Ferraro's father, Mike, was the winner of the award the first two years it was presented by the breeders.

Mr. And Mrs. Gerald Nielsen were named the Breeders of the Year. Gerald Nielsen was voted the NYTB president in January.The Nielsens bred the male turf champion, I'm All Yours, owned by Anstu Stables, as well as the runner-up in the 2-year-old male division, Roman Dancer, and the 3-year-old filly runner-up Along Came Mary. I'm All Yours and Roman Dancer, are half-brothers out of the mare Phalanopsis. 

Other award winners were: 2-year-old male, White Ibis, bred by William Garbarini and Michael T. Martin; 3-year-old male, Personal Pro, bred by CBF Corporation;; 3-year-old filly and turf female, Ransom's Pride, bred by Chester and Mary Broman; older female, Critical Eye, bred by Herbert T. Schwartz; steeplechase horse, a new category, Thors Thor, bred by Amherst Stable.