Jersey Carnage: Supplement Gone, Dates in Jeopardy
by Linda Dougherty
Date Posted: 2/13/2002 12:09:11 PM
Last Updated: 2/14/2002 2:44:32 PM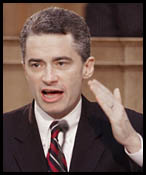 New Jersey Gov. Jim McGreevey.
Photo: Associated Press

An expected purse supplement of $6 million for the New Jersey horse racing industry from the state legislature won't be forthcoming as expected, Gov. Jim McGreevey said Feb. 12. That has raised the question as to whether Monmouth Park and Meadowlands can support even 120 days of Thoroughbred racing, 21 less than required by law.Faced with more than a $2-billion state deficit, McGreevey froze or eliminated most of the discretionary spending bills approved in a last-minute flurry of activity by the outgoing Republican administration in early January."We have extended and expanded the existing freeze on new appropriations," McGreevey said. "That will save the state over $435 million -- but at a cost. It will include cutbacks and freezes, some more painful than others, in a whole host of projects, including $6.7 million that had been authorized for dam repairs; $3.5 million for the museum at the Battleship New Jersey; $1 million from mobile video recorders for police vehicles; $800,000 from higher education student assistance; and a $6-million subsidy for the horse racing industry.""This is just devastating," said Barbara DeMarco-Reiche, lobbyist for the New Jersey Thoroughbred Horsemen's Association. "But we can't say, 'Why us?' because it happened to everybody."The Thoroughbred industry was to have received $3.9 million of the $6-million supplement. That number was well below the $11.7 million the industry received in 2001. Now that the amount has been reduced to zero, horsemen and officials at the New Jersey Sports and Exposition Authority, which operates Monmouth Park and Meadowlands, are in a quandary."Our intention is to maintain the quality of last year's Monmouth Park meet," said Bob Kulina, vice president of Thoroughbred racing for the NJSEA. "We know the direction we went in last year was the right one."Kulina said Monmouth would more than likely distribute close to the $300,000 per day in purses as announced the week of Feb. 4 even though no supplement money is available. It isn't known what that would do to the fall Thoroughbred meet at Meadowlands."We are going to make every effort to continue what our plans were for Monmouth Park this year," said Bruce Garland, executive vice president of racing for the NJSEA. "Monmouth is our strength, and we're going to build on its foundation, to build on our strong meet last year. There is no doubt in my mind that we are going to have another highly successful meet this season."The elimination of the purse supplement puts the amount of live racing dates into question once again. On Jan. 30, the New Jersey Racing Commission reduced the amount of 2002 Thoroughbred dates from 141 to 120, which caused the horsemen to file an appeal in the Appellate Division of the state Superior Court."We'll all have to sit down (with the horsemen) and consider what our options are," Garland said. "We should be thinking about it, because quality racing dates and purse levels are all connected."Garland met Feb. 11 with Dennis Drazin, counsel for the New Jersey THA. "I would call the meeting very productive," Garland said. "At the time we met we had learned that the purse supplement was history. Hopefully this cooperative spirit will continue."Stakes purses at the Monmouth will be $3.4 million, highlighted by the $1-million Haskell Invitational Handicap Aug. 4. The Reeve Schley Stakes, a $100,000 event for 3-year-old fillies, was discontinued this year when it was moved to non-graded status.The money was shifted to the United Nations Handicap, one of only two grade 1 races in New Jersey. The United Nations purse will be a $500,000 this season; it carried a purse of $400,000 in 2001.



Copyright © 2015 The Blood-Horse, Inc. All Rights Reserved.