Five Derby Also-Rans Take Aim at Preakness
by Frank Angst
Date Posted: 5/16/2013 5:30:38 PM
Last Updated: 5/18/2013 10:50:12 AM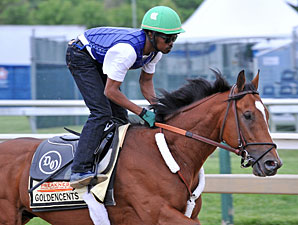 Goldencents will try to win the Preakness after coming up short in the Derby.
Order This Photo
Photo: Rick Samuels
The connections of five horses who finished behind Orb in the Kentucky Derby Presented by Yum! Brands (gr. I) hope their starter can become the 20th horse since 1973 to win the Preakness Stakes (gr. I) after coming up short in the Derby.
The Kentucky Derby winner has fared very well in the Preakness over the previous 40 editions, registering 15 victories, but 19 Derby also-rans have been able to bounce back.
Preakness winners who came up short in the Derby include horses who were favored in Louisville only to come up short there, before bouncing back in the Preakness. Six horses fall into this category including Lookin At Lucky , Point Given , Timber Country, Prairie Bayou, Hansel, and Snow Chief.
Of course none of this year's Derby horses looking to knock off Orb will fall into this category as Orb was sent off as the 5-1 favorite in the Louisville classic.
With large fields in the Derby, especially in recent years, plenty can go wrong in terms of racing luck—including bad luck of their own making. Just a few of these horses who bounced back with Preakness wins include Lookin At Lucky, who was mugged early after breaking from the rail; Point Given, who got caught up in a torrid early pace battle; and Tabasco Cat, who may not have liked the sloppy Derby track when Go for Gin pulled the upset.
Another type of Derby also-ran who wins the Preakness is the horse rounding into form. Curlin was making only his fourth career start when he finished third in the 2007 Derby but he found his best stride in the Preakness to run down Derby winner Street Sense . When Afleet Alex finished third in the 2005 Derby, he may have still have been recovering a bit from a lung infection and missed training earlier in the year. He would register impressive victories in the Preakness and Belmont Stakes (gr. I).
This year every Derby also-ran in the Preakness field has the ready-made excuse of the sloppy Churchill Downs track. This excuse may best fit Goldencents who raced on an off-track for the first time in his career in the Derby.
Goldencents challenged for the early Derby lead but faded to 17th. This week jockey Kevin Krigger acknowledged that once it became clear the Into Mischief colt wasn't handling the surface, he didn't ask much of Goldencents. Goldencents' trainer Doug O'Neill won last year's Derby and Preakness with I'll Have Another .
"It was a great feeling last year being the hunted, but a hunter's not bad," O'Neill said, later adding that Goldencents didn't like the Churchill surface. "I think it was kind of a demanding track, and it just wasn't to our liking. I think we're going to see a much better result Saturday."
The top Derby finisher in the Preakness field other than Orb is Gold Mark Farm's Mylute, who rallied from 18th when steadied early to finish fifth. Itsmyluckyday will also try to bounce back from a 15th-place Derby finish.
Racing Hall of Fame trainer D. Wayne Lukas may have a pair of Derby horses with some level of excuses. Will Take Charge was rallying in the Churchill stretch when he had to stop because of a fast-fading Verrazano . Oxbow placed sixth in the Derby, the best finish of any horses who challenged for the lead early in that fast-paced affair.
While acknowledging that all of the Preakness horses may need Orb to regress, jockey Gary Stevens said Oxbow's ability to engage the field early gives him confidence.
"I think the thing I was most impressed with him at the Derby, that he was the only one of the top six horses that was part of that heated battle early on at those fast fractions that stuck around to the end of the race," Stevens said. "I'm of the opinion that he's the type of horse that will sit off of a couple of horses like he did in the Derby, but he's not going to want to be too far away. So a lot of it depends on what type of pace he may be setting if he's in front, or the horses that are in front of him."
Horses who lost Kentucky Derby but won Preakness since 1973

Year
Preakness winner
Derby finish, Derby odds, Preakness odds
Derby winner, odds
2011
Shackleford
4th, 23-1, 12-1
Animal Kingdom, 20-1
2010
Lookin At Lucky
6th, 6-1*, 2-1
Super Saver, 8-1
2007
Curlin
3rd, 5-1, 3-1
Street Sense, 9-2*
2005
Afleet Alex
3rd, 9-2, 3-1
Giacomo, 50-1
2001
Point Given
5th, 9-5*, 2-1*
Monarchos, 10-1
1996
Louis Quatorze
16th, 13-1, 8-1
Grindstone, 5-1
1995
Timber Country
3rd, 3-1*, 9-5*
Thunder Gulch, 24-1
1994
Tabasco Cat
6th, 6-1, 7-2
Go for Gin, 9-1
1993
Prairie Bayou
2nd, 4-1*, 2-1*
Sea Hero, 12-1
1992
Pine Bluff
5th, 10-1, 7-2*
Lil E. Tee, 16-1
1991
Hansel
10th, 5-2*, 9-1
Strike the Gold, 9-2
1988
Risen Star
3rd, 5-1, 6-1
Winning Colors, 3-1*
1986
Snow Chief
11th, 2-1*, 5-2
Ferdinand, 17-1
1985
Tank's Prospect
7th, 11-1, 9-2
Spend a Buck, 4-1
1984
Gate Dancer
4th, 18-1, 9-2
Swale, 3-1
1976
Elocutionist
3rd, 10-1, 10-1
Bold Forbes, 3-1
1975
Master Derby
4th, 5-1, 23-1
Foolish Pleasure, 9-5*
1974
Little Current
5th, 22-1, 13-1
Cannonade, 3-2*
*favorite
Copyright © 2015 The Blood-Horse, Inc. All Rights Reserved.