Thunder Gulch Rises to Top of 2001 Sire List
by Evan Hammonds
Date Posted: 1/8/2002 3:41:09 PM
Last Updated: 5/7/2002 8:47:47 AM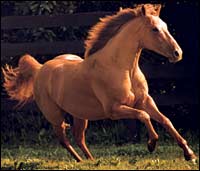 Thunder Gulch takes a romp in his paddock.
Photo: Tony Leonard

Published in the Jan. 12 issue of The Blood-Horse
The rise of Thunder Gulch from champion 3-year-old male to leading sire has been meteoric to say the least. Just six years removed from a championship season as North America's top sophomore, and with just three crops of racing age, the son of Gulch has made it to the apex of the sire charts. Thunder Gulch's racing career was one of iron will and iron body, the chestnut winning seven stakes--four grade Is including two classics--in his 3-year-old campaign under the tutelage of Hall of Famer D. Wayne Lukas for owner Michael Tabor. Help to reach the summit as a sire came in the form of another shining chestnut 3-year-old. It would be a son from his second crop, Point Given, who would top the earnings standings and hoist Thunder Gulch to the leading sire's title. But Point Given would do his father one better at three, winning five grade Is including two classics. "Thunder Gulch danced every dance," said Lukas. "He not only went through the Triple Crown series, but the Florida series, then the Triple Crown, then the Swaps, and then the Travers. He was consistent, strong, and hickory-tough." As a 9-year-old in 2001, Thunder Gulch ties Broad Brush in 1994 as the youngest and only sub-10-year-old sire to lead the general sire list in the last 25 years. Thunder Gulch's title comes after his progeny earned $7,905,539 in 2001, a far cry from Storm Cat's 1999 benchmark of $10,355,446, and the lowest leading total since Cozzene led the list in 1996. However, he still had more than $1 million on his closest pursuer, Rahy, who had $6,768,393. As a third-crop sire, Thunder Gulch's total more than doubles his nearest rival, Go for Gin, with $3,672,354 in 2001 earnings. Thunder Gulch's title also came without the benefit of a Breeders' Cup winner, although his 4-year-old Spain did run second in the Distaff (gr. I). In the post-Breeders' Cup era, Thunder Gulch becomes just the seventh sire to be named leading sire without a Breeders' Cup victor to his credit. He joins a "Who's Who" with that distinction: Storm Cat ('00), Deputy Minister ('97), Alydar ('90), Mr. Prospector ('87), Buckaroo ('85), and Seattle Slew ('84). Thunder Gulch has the now-proven Mr. Prospector/Northern Dancer nick that changed the course of Thoroughbred racing and breeding at the end of the 20th century. He is a son of 1988 sprint champion Gulch (by Mr. Prospector), himself the sire of 45 stakes winners and a leading sire. Gulch, North America's second leading sire by earnings in 1995, currently stands for $50,000 at Lane's End Farm in Kentucky. After covering his first book of mares at Ashford Stud near Versailles, Ky., in 1996 for a reported $40,000 fee, Thunder Gulch was sent for shuttle duty in Australia. He pulled the same double duty in 1997 and '98 while standing for $40,000 in North America, but he did not return to Kentucky for the '99 season. Instead he stood at East Stud in Japan under a lease agreement reached after Ashford refused offers to sell the stallion. His first crop came to market in the summer of 1998 and was more than warmly received, as he was the leading first-crop sire at the Keeneland July sale. His average of $531,250 had not been reached since the heat of the '80s auction market when Assert posted a $581,250 average in 1985. In 2000, Thunder Gulch covered 64 mares at a $25,000 fee before again heading to Australia. Before the 2001 breeding season, his fee was announced at $25,000; however, on the heels of Point Given's rise at two and his near Breeders' Cup Juvenile (gr. I) score, and Spain's Distaff triumph, Thunder Gulch's fee was raised in increments, starting at $30,000, and eventually reaching $75,000 by season's end. Last year, he covered a North American record 216 mares before heading to Australia. "His demand got to a manic point," said Aisling Cross, director of sales for Ashford Stud. "He bred big numbers, but he wouldn't have been so busy if there wasn't the demand. Also, he lost some mares to MRLS (mare reproductive loss syndrome), and as a result, any mare that lost her foal was able to be bred back to him if she got back in season. If she couldn't get back in season, the mare's owner could use a substitute. One reason he got so many mares was because he had a lot of one-covers at the end of the year." Cross reiterated Thunder Gulch is highly fertile and should have more than 150 of those mares in foal. He returns to Kentucky a conquering hero and will stand the 2002 season for $80,000. As a dual-hemisphere progenitor, he has sired 405 foals, 22 of which have become stakes winners (5.4%). In 2001, Thunder Gulch had a total of 14 stakes winners--eight in the Northern Hemisphere, and six in the Southern. Of his seven North American stakes winners, all are females with the exception of Point Given. Four of his seven North American stakes winners competed at the highest level, winning graded stakes. "He doesn't have a sex bias. His success has been 50-50--he can sire a top horse or a top filly," Cross said. "He was a highly underrated racehorse. He's a tough horse and he had that will to win. His progeny have that as well. They want to race. Like Veil of Avalon, she's like a terrier--she wants to win." Point Given's larger-than-life 2001 campaign casts a wide shadow over the racing year, as he won a total of five grade I races--a record four in a row that carried purses of $1 million or more for The Thoroughbred Corp. After winning the Santa Anita Derby (gr. I) in April, he threw in his lone loss of the year with a fifth-place finish in the Kentucky Derby (gr. I). Invisible Ink, another son of Thunder Gulch, finished second at Churchill Downs. From there, Point Given was a runaway train, winning the grade I Preakness (Thunder Gulch was third in the '95 running after winning the Derby and before taking the Belmont), Belmont, Haskell Invitational, and the Travers before being retired to stud. His earnings for the year: $3,350,000. Thunder Gulch's versatility in the breeding shed should be noted. Just as he is able to sire a horse with the massive size and stature of Point Given, he is also able to get a feminine, yet lethal, filly like Spain. Spain, the 2000 darling of the Breeders' Cup Distaff, just missed by a head in defending her title in 2001--taking Unbridled Elaine to the final jump. She did win the La Canada Stakes (gr. II) and placed in four other graded events. She earned $837,705 in 2001 under Lukas' care for The Thoroughbred Corp. "He can breed a classic-distance horse and brings a toughness to the breeding shed," Lukas said. "Thunder Gulch was extremely correct. I see a lot of his qualities in Spain. She is extremely well-balanced." Thunder Gulch's other graded winners in 2001 were Tweedside and Mystic Lady. Tweedside won the 12-furlong Coaching Club American Oaks (gr. I), and the Sands Point Stakes, both at Belmont Park, while Mystic Lady won six stakes in 2001 at five different racetracks. A 3-year-old (of 2001) chestnut out of Diane Suzanne (a full sister to Irish classic winner Fourstars Allstar), Mystic Lady won five graded events, including the grade II Cotillion Handicap and Fantasy Stakes, as well as the Jersey Derby (gr. III) over colts. Another stakes winner is the "terrier"--Veil of Avalon. Bred in Kentucky by Barronstown Stud and Orpendale, owned by John Newsome, and trained by Christophe Clement, Veil of Avalon won the Solo Haina Handicap over nine furlongs of Calder turf on Nov. 26. Thunder Gulch's photo, on the cover of the Jan. 12, 2002, issue of The Blood-Horse, was taken by equine photographer Tony Leonard, who can be reached at http://www.tonyleonard.com.



Copyright © 2015 The Blood-Horse, Inc. All Rights Reserved.