Animal Kingdom Has Workmanlike Drill
by Claire Novak
Date Posted: 10/26/2012 12:12:15 PM
Last Updated: 10/28/2012 1:54:05 PM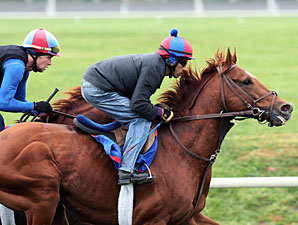 Animal Kingdom working at Keeneland on October 26.
Photo: Keeneland/Coady Photography
On a cool morning Oct. 26 at Keeneland, 2011 Kentucky Derby winner Animal Kingdom turned in a workmanlike breeze preparing for his upcoming start in the Nov. 3 Breeders' Cup Mile (gr. IT) at Santa Anita Park.
The five-furlong move on the turf in company with stablemate Badleroibrown was caught in 1:02 3/5 by Keeneland clockers. Team Valor International's 4-year-old son of Leroidesanimaux recorded a gallop-out in 1:16 1/5 after splits of :12, :25 1/5, :38 3/5, and :50 4/5 "around the dogs."
Animal Kingdom, who has not raced for trainer Graham Motion since easily winning a Feb. 18 turf allowance at Gulfstream Park, broke off a few lengths behind his workmate and commenced a long-striding move to the outside exiting the backside. He approached the quarter pole on even terms with his company, the two moving in tandem down the stretch before Animal Kingdom drew clear by about a length in the final furlong with exercise rider David Neva sitting chilly in the saddle.
"I thought it was great, just what I hoped they would do," Motion said. "I wanted him to do something within himself, which I think he did. I think it was perfect. When we work him at Fair Hill, he's been going up and down a pretty stiff uphill on the steeplechase course there, and I think he'd done enough of that. He just needed a maintainance work."
Rafael Bejarano will ride Animal Kingdom for the first time in the Breeders' Cup Mile.
The chestnut is to ship to Santa Anita Oct. 30 for his matchup with a field that includes top domestic Mile contender Wise Dan and the European mile star Excelebration. He arrived at Keeneland from Fair Hill Training Center in Elkton, Md., Oct. 22 as part of Motion's stopover plan en route to California.
"I thought it would be good for him to come here and have a transition before going to California...and also to get him kind of mentally prepared," the trainer explained. "I think horses when they train in training centers get a little laid back, and sometimes they need to be more focused and taken away from his paddock and all that...I just thought this was good for him."
Animal Kingdom spent time on the sidelines for a stress fracture of the illium that developed three weeks after his February victory, knocking him out of contention for this year's edition of the Dubai World Cup (UAE-I). The injury did not require surgery and healed with 30 days of stall rest, and Motion resumed training the colt in June with a breeze schedule enacted Aug. 21.

When asked what made him confident about bringing his charge back off the layup in the World Championships, Motion said the quality of the horse and his sensible nature inspired confidence despite the challenge.
"I'd be afraid to do it with some horses, but he's got such a remarkable attitude," Motion said. "I think physically, he's much more imposing (than when he won the Derby). He was always a big, strong horse, but now he's even bigger and stronger. I wouldn't say he's changed a huge amount, but mentally and physically he's definitely grown up like you'd expect him to. I'm surprised, actually, that he hasn't become more of a handful. He's always had a pretty good attitude...he's a pretty kind horse to be around for a 4-year-old stallion."

Animal Kingdom, bred in Kentucky by Team Valor out of the Acatenango mare Dalicia, enters the Breeders' Cup Mile with a 4-3 record from eight starts with earnings of $1.9 million. His race in February was his first since finishing sixth in the 2011 Belmont Stakes (gr. I) after running second to Shackleford in the Preakness (gr. I) by a half length.
"Everything's gone without a hiccup, which is amazing, really," Motion remarked. "He hasn't missed a work, he hasn't missed a week. If anything had gotten in the way, I wouldn't have done this, but it's just kind of just happened very naturally and he's just gotten us here. I feel like he's done a lot of work and it's kind of hard to come back and find a race for a Derby winner.
"At this stage of his career, he's a very good horse, he's the best horse I've ever trained, and it's a great opportunity to take a shot in this race."
In California Friday, Amazombie had his final major drill as he prepares to defend his title in the XpressBet Sprint (gr. I). The 6-year-old son of Northern Afleet completed five furlongs in 1:00 3/5 on the dirt at Santa Anita Park.
"He went good," trainer Bill Spawr said of the California-bred gelding he co-owns with partner Tom Sanford. "He went in a minute and two-fifths, the last quarter in 23 (and) three (fifths), he galloped out (six furlongs) in (one) 13 and two or three."
Amazombie attempts to rebound from his fourth-place finish as the 4-5 favorite in the Santa Anita Sprint Championship (gr. I) Oct. 6 and become the second back-to-back winner of the Breeders' Cup Sprint. Midnight Lute won in 2007-08.
Tim Conway Stakes winner Merit Man (Juvenile Sprint) worked five furlongs on Santa Anita's main track Friday in 1:04 1/5, nearly two seconds slower than his 1:02 3/5 drill Oct. 19, but Bob Hess Jr. was not concerned.
"The horse is incredibly lazy," the trainer said. "I worked him in the dark (Oct. 19) and he galloped around there like a clown in 1:02 and two (fifths). Today, it looked slow, but he followed a slow horse (stablemate Diamond Flush, 1:05 1/5), and my rider was told to stay in behind throughout until the end, and then blow by, which is what he did.
"I loved the fact that he was aggressive throughout, pulling throughout and blew right by, so that's all positive. I'm just trying to get him to show a little more enthusiasm (by working in company). He never has, but today he did."
Workouts on Oct. 26 by horses pre-entered for the Breeders' Cup are listed below.
| | | | | | |
| --- | --- | --- | --- | --- | --- |
| Horse | Track | Surface(condition) | Distance | Time | Rank |
| Almost an Angel | Keeneland | turf (firm) | 5f | 1:04.40 | 6/6 |
| Alpha | Greentree | Tapeta (fast) | 4f | :49 | 3/5 |
| Amazombie | Santa Anita Park | dirt (fast) | 5f | 1:00.60 | 2/12 |
| Animal Kingdom | Keeneland | turf (firm) | 5f | 1:02.60 | 3/6 |
| Atigun | Keeneland | Polytrack (fast) | 5f | :59.40 | 1/8 |
| Brown Almighty | Keeneland | turf (firm) | 5f | 1:02.60 | 3/6 |
| Delegation | Churchill Downs | dirt (fast) | 5f | 1:02.60 | 3/6 |
| Dynamic Sky | Churchill Downs | dirt (fast) | 5f | 1:02.20 | 15/61 |
| Eldaafer | Monmouth Park | dirt (fast) | 5f | 1:00.00 | 1/5 |
| Emcee | Greentree | Tapeta (fast) | 4f | :47.40 | 1/5 |
| Flashy Ways | Hollywood Park | Cushion (fast) | 5f | 1:00.80 | 3/31 |
| Fortify | Greentree | Tapeta (fast) | 4f | :48.60 | 2/5 |
| Grassy | Hollywood Park | Cushion (fast) | 6f | 1:14.60 | 2/6 |
| Great Attack | Keeneland | turf (firm) | 5f | 1:02.40 | 2/6 |
| Marketing Mix | Hollywood Park | Cushion (fast) | 5f | 1:00.40 | 1/31 |
| Merit Man | Santa Anita Park | dirt (fast) | 5f | 1:04.20 | 22/24 |
| Pool Play | Churchill Downs | dirt (fast) | 5f | 1:02.80 | 25/61 |
| Questing | Greentree | Tapeta (fast) | 4f | :49.80 | 5/5 |
| Spring in the Air | Churchill Downs | dirt (fast) | 5f | 1:03.00 | 31/61 |
| Spring Venture | Churchill Downs | dirt (fast) | 5f | 1:01.20 | 4/61 |
| Summer of Fun | Keeneland | turf (firm) | 5f | 1:02.20 | 1/6 |
| Summit County | Churchill Downs | dirt (fast) | 5f | 1:01.40 | 7/61 |
Copyright © 2015 The Blood-Horse, Inc. All Rights Reserved.