Jockey Jose Valdivia Jr., Southern California's Rising Star
by Lenny Shulman
Date Posted: 12/26/2001 1:55:26 PM
Last Updated: 12/26/2001 9:33:25 PM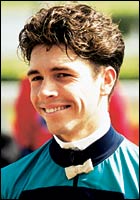 Jockey Jose Valdivia, rising star in Southern California.


From the Dec. 29 issue of The Blood-Horse
Jose Valdivia Jr. is a rising star in the bright constellation that is the Southern California riding colony. His recent win aboard Val Royal in the Breeders' Cup Mile (gr. IT) showed the rest of the world what two continents have already learned--Valdivia, 27, is a profound talent who is carrying forth the grand racing tradition of his family. The native of Lima, Peru, is a son of the first jockey to win 1,000 races in his native land, which prompted Fred Hooper to offer him a chance to come to the United States to ride in 1974. Hooper, of course, had the eye to bring a young Panamanian to the States in 1966--a guy named Pincay. One of Valdivia's uncles is famed West Coast turf rider Fernando Toro, and another is Juan Suarez, Peru's leading trainer the last few years. Senior taught junior how to ride when the youngster was 10, giving him a horse to take care of and gallop, instilling in him a love of the horse. "I've always had somebody pointing out the good and bad things I was doing," Valdivia said. "My dad taught me the most and he's always looked out for me." Valdivia left Peru for Florida at age 14, and after outgrowing a severe case of asthma, began exercising horses for New York trainer P.G. Johnson, who kept a string in Florida in the wintertime. "He liked my enthusiasm, and told me if I wanted to ride I should come up to New York and he would give me a push," Valdivia said. The rider thought of that conversation while he was attending college in Florida in 1994. "It was one of those things where you're young, opportunity knocks, and who knows what lies ahead. But I knew if I didn't try I'd regret it the rest of my life. I can't say enough about P.G. He was a man of his word." Valdivia arrived in the big town with a duffle bag slung over each shoulder. Johnson began riding him that summer, and told the apprentice he'd get him an agent when the Aqueduct inner track opened in December. Just days before that, however, Valdivia tore knee ligaments while working a horse, and went back to Florida to rehab. By the time he returned to New York the following spring, Ramon Perez was the leading bugboy and Valdivia's opportunity to gain mounts was limited. California had the aura of being a center for fine jockeys, and Valdivia figured he'd find out if he had the skills to compete with the best. His uncle, Toro, took Jose under his wing. They'd sit together each night watching race replays, the youngster soaking up the veteran's knowledge. Apparently Toro was a good teacher. When trainer Tim Pinfield shipped allowance winner Big Jag north to Bay Meadows in 1998 to run in his first stakes, regular rider Rene Douglas decided not to go, and Valdivia got the mount. The 5-year-old gelding won the California Sprint Championship Handicap, and followed up with wins in the California Cup Sprint and the On Trust Handicaps. In 1999, Big Jag and Kona Gold engaged in a rivalry that will not soon be forgotten by California race fans. Kona Gold struck first, winning the El Conejo Handicap. But less than a month later, Big Jag turned the tables, defeating his rival by a head in the Palos Verdes Handicap (gr. II), and five weeks later, by a half-length in the San Carlos Handicap (gr. II). In each contest the two warriors ran eyeball-to-eyeball down the stretch in their own personal match races. Kona Gold ended up second, and Big Jag third, in the Breeders' Cup Sprint (gr. I) that year to Artax. "That rivalry was out of this world," said Valdivia. "Because they were sprinters and so quick, you didn't get a chance to enjoy much except the last part, but it was fun because Alex (Solis) always wanted to beat me and I felt the same way. And the two horses knew they were good and had to outrun one another. Big Jag was a very intelligent horse and knew when he had won. When he got beat he was mad at himself. I love that the exceptional horses seem to have that extra personality that separates them." Another exceptional horse ridden by Valdivia is El Cielo, who at seven captured three of five starts in 2001, including a repeat win in the grade III Morvich Handicap coming down the hill on Santa Anita's unique 61?2-furlong turf course. El Cielo, in fact, has won nine times in his career over that layout, unmatched in modern times. Ironically, Douglas took off El Cielo after his first win over the course, which features a tricky right-hand turn and a brief crossover on dirt. Valdivia has been aboard for the next eight. "He's just a machine," said the rider. "I can put him on the front end, in the back, mid-pack, and it doesn't matter how quick or slow the fractions are. He's an unbelievable horse, a horse that will not let you beat him. In the Morvich this year we hooked up with a nice horse of Frankel's, Speak in Passing. We were going by and the other horse came back on, and I could just tell my horse was stretching out his neck, his ears pinned back, and he was not going to let that horse go by. We held on and broke the course record. He has tremendous ability and a lot of heart." El Cielo, a gelding by El Prado, remains in training for 2002, having already banked $661,375 from 13 wins in 20 starts. "You really have to time it with El Cielo," said trainer Craig Dollase, "and Jose fits him like a glove. He rides him to a 'T' every time. He's a heads-up rider, a strong finisher, and he's got a good clock in his head. He follows instructions perfectly, and he's a good guy too. I think he's one of the up-and-coming riders." Heading back to New York for the 2001 Breeders' Cup World Thoroughbred Championships was an emotional experience for Valdivia. He had not been back since leaving for California six years earlier. "I considered it a homecoming," he said. "I am proud I started in such a high place as New York, and going back I was among friends I hadn't seen in years. With the (9-11) attack, the atmosphere was very emotional, and we wanted to show the world we were proud to be Americans. I was so excited." In pre-race ceremonies, in addition to the small American flag each rider carried, Valdivia added the colors of his father's native land, Peru, in one hand, and his mother's native country, Chile, in the other. And the excitement only grew as he anticipated his mount on Val Royal, trained by Julio Canani. "I kept telling people I was going to win," Valdivia said. "They kept talking about the 12 hole, this and that, and I said it doesn't matter. Every time I get on this horse he does something different that impresses me and boggles my mind. Once I hit the quarter pole and turned him loose, it was just a matter of how much we were going to win by. I felt like jumping off him right then, but I was thinking I'd better cross the wire first, and not do something stupid and have the horse drop me. "God, you could hear the huge crowd as we were coming down the lane, and all the guys are screaming and getting after their mounts and I'm screaming after mine at the top of my lungs. Once we passed the wire it was great. Everyone's dream is to win a race like that, and to do it in only my second Breeders' Cup, so early in my career, it was out of this world. The feeling still hasn't sunk in. I go back and watch the replay once in a while, and I win every time." Valdivia and his wife, Renee, have been married just over a year, and are treating themselves to a Hawaiian vacation this holiday season. "My goal is to be a Bailey, a Stevens, a McCarron, a big money rider," Valdivia said. "I want to have my foot well in the door so I can take time off for family without it affecting my business. I want to be able to do both things right."



Copyright © 2015 The Blood-Horse, Inc. All Rights Reserved.