Auction Year in Review: Huge Hit
by Deirdre B. Biles
Date Posted: 12/21/2001 1:56:14 PM
Last Updated: 7/29/2002 2:02:57 PM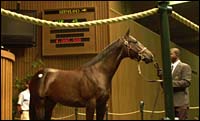 Saint Ballado colt brought 2001 top yearling price of $4-million.
Photo: Anne M. Eberhardt

From the Dec. 29 issue of The Blood-Horse
North America's Thoroughbred marketplace suffered a big setback in 2001. To put it in perspective, the decline was bigger than anything recorded from the mid-1980s through the early 1990s, when the industry suffered a disastrous slump that sent investors fleeing from the horse business. Between 2000 and 2001, gross revenue for the four major categories of auction horses--weanlings, yearlings, 2-year-olds, and broodmares--plunged 21.8%, from an all-time high of $1,069,193,033 to $835,800,114. After the market started going south during the 1980s, the biggest loss of gross in a single year was 20.1%, when total receipts plummeted from $643,486,101 in 1985 to $514,125,153 in 1986. Measured another away, gross revenue declined by $233,392,919 between 2000 and 2001. Between 1985 and 1986, it fell by $129,360,948. The latest setback in the fortunes of commercial breeders followed eight consecutive years of growth. But everybody knew the good times wouldn't last forever. By 2000, many of the business trends suggested the long and profitable upswing was about to hit a downdraft. Gross revenue rose in 2000 by only 8.3% compared to the 20.9% surge in 1999. Stud fees were soaring, causing breeders' profits to shrink. Pinhookers were struggling. Buyers were increasingly selective. And people complained the supply of horses was overwhelming demand. To make matters worse, the American economy was losing steam. But nobody--except maybe a very talented psychic--could have predicted two catastrophes in 2001 that rocked the Thoroughbred marketplace in unexpected ways. The first occurred in the spring, when mares in Central Kentucky and other states started losing their fetuses and newborn foals began dying. Named mare reproductive loss syndrome by scientists, the problem wiped out more than 30% of Kentucky's 2002 Thoroughbred foal crop and killed at least 516 foals of 2001, according to one study. Its immediate effect on the auction industry was to reduce the number of pregnant mares and weanling prospects for the fall breeding stock sales. Then, on Sept. 11, terrorists struck, hijacking commercial airliners and slamming them into the World Trade Center and the Pentagon. Keeneland officials stopped the September yearling sale for a day. But that was a minor inconvenience compared to the aftershocks that sent the American economy into a nosedive, created a flood of uncertainty about the future, and pushed the nation into a war. All those adverse conditions discouraged the type of discretionary spending that Thoroughbred auctions need to thrive. By every statistical measure, North America's marketplace was a loser. The number of weanlings, yearlings, 2-year-olds, and broodmares offered slipped by 6.1%, from 27,492 to 25,815, while the number sold fell by 9.4%, from 20,407 to 18,480. The average price dropped 13.7%, from $52,393 to $45,227. Consignors, meanwhile, became increasingly dissatisfied with the prices for their horses. The buy-back rate increased from 25.8% in 2000 to 28.4% in 2001. Even the top of the market, which had flourished in recent years, lost strength. The number of horses sold for individual prices of $1 million or more fell from an all-time high of 110 in 2000 to 73 in 2001. No major category of auction horse escaped the downward spiral, but yearlings were damaged less than any other group. Their declines in number sold (5.5%), gross revenue (8.9%), and average (3.6%), were the smallest. However, their median decreased by 21.7%. Hit hardest by MRLS, broodmares were the loss leaders in gross revenue (41.2%) and average (32.9%), while suffering less severe setbacks in number sold (12.3%) and median (27.8%). Weanlings experienced the biggest slumps of any group in number sold (17.6%) and median (30%). Their gross and average fell by 37.3% and 23.9%, respectively. Gross, average, and median also dropped for weanlings in 2000, and those declines convinced more breeders to hold on to their foals and sell them instead in 2002 as yearlings. For 2-year-olds, the number sold and gross slipped by 10.2% and 17.9%, respectively, while the average declined by 8.5%. The median's 5% setback was the smallest in the four major categories of sale horses. In the final analysis, all the statistics combined sent a clear message about the financial health of the Thoroughbred marketplace in 2001. The once robust auction industry had weakened significantly, and there was little hope for a quick recovery. 2000 Auction Review: Mixed Messages



Copyright © 2015 The Blood-Horse, Inc. All Rights Reserved.