Emma's Encore Stuns Victory Ride Field
by Blood-Horse Staff
Date Posted: 7/7/2012 5:51:44 PM
Last Updated: 7/10/2012 11:02:18 AM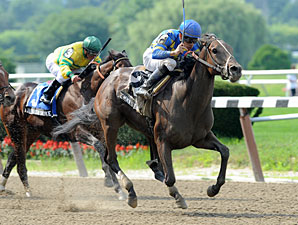 Emma's Encore rolls by them all late to win the Victory Ride Stakes.
Order This Photo
Photo: Coglianese Photos
Jockey Junior Alvarado and Emma's Encore took advantage of a blistering early pace to post a stunning 39-1 upset in the Victory Ride Stakes (gr. III) at Belmont Park July 7 (VIDEO).
The Victory Ride was widely viewed as a one-horse race. Undefeated Agave Kiss went off at prohibitive 3-10 odds in the six-horse field as the New York-bred filly sought to extend her undefeated race streak to seven.

As expected, Agave Kiss, who had never been behind at any call in her six previous starts, took the lead under Ramon Dominguez while closely pursued by Jamaican Smoke and Javier Castellano. The favorite set a scorching first-quarter-mile fraction of :21.46 but was soon passed by Jamaican Smoke as they rounded the turn in the six-furlong sprint.

Turning for him, Jamaican Smoke continued to lead, stopping the timer in :44 for a half, while being pursued by Tu Endie Wei, who had also passed a tiring Agave Kiss.

After Tu Endie Wei engaged Jamaican Smoke nearing the eighth pole with five furlongs completed in :56.19, Emma's Encore was urged along by Alvarado and mounted a sustained drive that resulted in the filly taking the lead within the final sixteenth of a mile.

Emma's Encore continued on for a 2 3/4-length triumph in a final time of 1:08.89, with Jamaican Smoke holding off Tu Endie Wei for second. They were followed by Sea Island, Agave Kiss, and Gypsy Robin.

With such a prohibitive favorite finishing out of the top three, the payoffs for show were huge. The winner paid $80.00, $26.00, and $61.00, with Jamaican Smoke worth $7.60 and $18.60, and $25.60 for Tu Endie Wei.

The winner, trained by the masterful 83-year-old Allen Jerkens for owners Brenda Mercer and Peter A. Berglar, is a Florida-bred daughter of Congrats from the Wild Again mare French Opera. Bred in Kentucky by Equest Thoroughbreds, Emma's Encore was a $2,000 Keeneland September sale yearling in 2010.

The Victory Ride marked the first stakes triumph and third win in nine starts for Emma's Encore, who has earned $162,958. It was the third win for the filly in six starts since being turned over to Jerkens.

"I saw her break (on the television monitor), and then I couldn't find her because I didn't have the energy to walk out here," Jerkens said. " I finally made it. I thought I was going to pull a Walter Brennan. Remember that movie ("Kentucky," released in 1938)? He died when he got to the winner's circle.

"(Agave Kiss) just went so fast. It's not speed favoring today, is it? A couple of times this meet, for some reason, jockeys go head and head and I don't know what it is. It's so nice to be back and win one. (Owner Brenda Mercer) sent her to me, I never knew the lady before, and then after she won she sold a half interest to Mr. Berger. I guess he's pretty happy now, too. I know I am."

Jerkens credited assistant Fernando Abreu for his ability to get the filly to overcome some problems.

"She worked very well, and she'd been doing well, and (my assistant Fernando Abreu has) been working real hard with her. She's a little bit off behind, and we have to keep trying to keep her sound and feeling good. She got shut off a lot of times at Gulfstream and still ran by them at the end. She showed class that day and then we made a mistake and ran her in that mile-and-an-eighth race (the grade II Gulfstream Park Oaks). It looked like this was a mistake, too, till now. I was being optimistic when I picked this race."

Jerkens said he would consider the Prioress (gr. I) at Saratoga on Aug. 4 as the next start for Emma's Encore and possibly the Aug. 25 Test Stakes (gr. I).

"I was so confident in the filly. (Chief) said, 'There's going to be a lot of speed in the race'," Alvarado said in reference to Jerkens' nickname. "She broke really good, really sharp and got herself comfortable. By the five-sixteenths pole, she started to pick it up and I said to myself, 'Wow, they're going to have to be running today for her to get beat' because she picked it up right away and gave me a nice, good kick."

"It wasn't her day today," trainer Rudy Rodriguez said of Agave Kiss.

"We made the lead but got pressed a lot harder than I wanted, but turning for home she just seemed like she wasn't herself today," Dominguez said. "She was pretty energetic, even galloping out, but I'm sure the fractions weren't helpful at all."

Copyright © 2015 The Blood-Horse, Inc. All Rights Reserved.