Churchill Downs Cancels Racing for June 28
by Blood-Horse Staff
Date Posted: 6/26/2012 9:30:22 PM
Last Updated: 6/27/2012 12:59:47 PM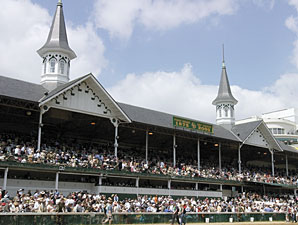 Photo: Anne M. Eberhardt
Churchill Downs has canceled live racing for June 28 because of predicted triple-digit temperatures.
Nine races will be lost. The Kentucky racetrack is scheduled to wrap up its spring meet June 29-30 and July 1. Post time June 29 is set for 2:45 p.m. EDT, June 30 at 6 p.m., and July 1 at 12:45 p.m.
Churchill president Kevin Flanery said officials consulted with National Weather Service forecasters before making the decision to cancel racing the afternoon of June 28, and would continue to do so while assessing the status of the three remaining racing programs during what forecasters predict will be several days of extreme heat in the region.
"Our first priority on any day at Churchill Downs is the health and safety of the human and equine participants in our sport, and Thursday's forecast called for a triple-digit, possible record-high temperature under an afternoon sun," Flanery said. "We know how important these races and their purses are to our owners and trainers, but the health and safety issues convinced us this was the proper call for Thursday's program."
Copyright © 2015 The Blood-Horse, Inc. All Rights Reserved.