NYRA Getting Pounded by New York Officials
by Tom Precious
Date Posted: 5/16/2012 1:23:46 PM
Last Updated: 5/17/2012 1:17:13 PM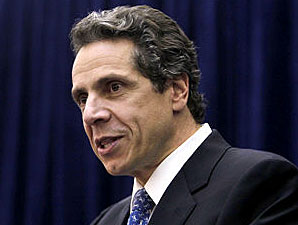 Gov. Andrew Cuomo
Photo: AP Photo
Top state officials continued to pound the New York Racing Association, a day after regulators suggested its exclusive franchise to operate the state's major Thoroughbred tracks could be in jeopardy.
"It doesn't have the public trust and it hasn't earned the public trust either," said Gov. Andrew Cuomo.
"We know there will be major changes (at NYRA). What they are at this point are still being discussed," added Senate Majority Leader Dean Skelos, a Long Island Republican.
NYRA's troubles since revelations officials there may have covered up a higher-than-permitted takeout level on exotic bets—costing bettors more than $8.5 million—have only worsened the past week.
On May 15, in a scathing letter that has become the talk of the state Capitol, a top fiscal adviser to Cuomo and his state racing board chairman threatened the possible end of NYRA because of the takeout scandal and the subsequent handling of the matter.
Regulators are upset the NYRA board moved quickly to replace its ousted president, Charles Hayward, with chief operating officer Ellen McClain. They noted the moves were made before investigations have been completed by both the racing and wagering board and the state Inspector General's office into which NYRA executives or board members may have known the takeout levels were illegally boosted for 15 months after the expiration of a state law governing the rates.
In Syracuse Wednesday, Cuomo noted, "There's no doubt that NYRA has been a long-troubled agency." He said decades of problems stretch at least back to when his father, Mario Cuomo, was governor.
He said NYRA's lack of "public trust" is "what we have to change," and that its business "could" be an important economic engine for the state.
"But NYRA has had significant issues for many, many years," Cuomo said.
The possible changes are many, including a move by the state to change the composition of the NYRA board to put state-selected individuals in charge of the racing group. Also discussed is possibly ending NYRA's exclusive franchise to operate Aqueduct Racetrack, Belmont Park, and Saratoga Race Course.
State sources say such a dramatic move stripping NYRA of its franchise could throw the whole matter into the courts if NYRA, as many expect, challenged any such attempt. Also in question, lawmakers say, is the status of the land at the three racetracks. NYRA a couple years ago gave up its claim on the racetrack lands in return for the franchise that expires in 2030.
It is still uncertain whether whatever remedies the state may have in mind gets done before conclusion of the 2012 legislative session, which is now scheduled for the end of June.
The state May 15 had also stopped revenue sharing payments to NYRA from Genting New York's Aqueduct casino; officials said the halted payments will not affect purse or breeding fund deposits by Genting.
After Cuomo's critical comments May 16, sources floated a May 1 letter from Sabini to NYRA Chairman C. Steven Duncker calling on the board to have personnel in place to replace Hayward and Patrick Kehoe, the NYRA general counsel who was fired with Hayward.

The letter from Sabini came a day after Hayward and Kehoe were placed on administrative leave, which the NYRA board later followed up with their formal firings.

To NYRA supporters, the Sabini letter appears to provide backing for the NYRA board's decision this week to fill the posts formerly held by Hayward and Kehoe.

"Given this action," Sabini wrote of the administrative leaves for the two executives, "the (state racing) Board must know who will be serving in these critical positions in the interim. He said the state's oversight of NYRA must "continue unabated, and having personnel in these two positions is critical in the board's performances of its regulatory responsibilities." Sabini called on NYRA to immediately provide an "interim operational plan," including who will take over the functions of chief executive officer and general counsel.

The suggestion that he directed the hiring of a new president and general counsel "is entirely false and inaccurate," Sabini said in response Wednesday.

He noted his letter asked for an interim plan, not permanent replacements for Hayward and Kehoe, who had not been fired when he sent the letter to Duncker. He noted that Duncker never provided any of the information he sought about an interim plan for NYRA.

"To be clear, the Racing and Wagering Board never directed Chairman Duncker—or anyone on the NYRA board – to hire or appoint a new president or general counsel," Sabini said.

Besides making McClain the new president this week, NYRA tapped Kenneth Handal as its new secretary and acting general counsel.

In its first response to the May 15 letter from regulators threatening its franchise agreement, NYRA said its hiring of McClain and Handal was done by the board having "exercised its business judgment as a private, not-for-profit corporation to appoint a president and secretary." NYRA noted that the state—either Sabini's racing board or Megna's franchise oversight panel—has any legal role in naming NYRA officers.

NYRA said its move was done to ensure a "professional management" team is in place to operate "a complex business which has a significant economic impact on New York State. The NYRA Board has a fiduciary obligation to exercise its business judgment to protect the best interests of racing and the income stream that pari-mutuel wagering provides to the state."

It noted the May 1 letter from Sabini calling on NYRA to come up with an interim management plan. "This letter (from Sabini) contained no indication of any concerns or limitations with respect to these appointments. The NYRA Board acted to name a President and Secretary without any knowledge of any concerns by either the Franchise Oversight Board or the Racing and Wagering Board," NYRA said today.

Significant in today's NYRA response is that it is the first time the racing group has sought to take on state officials' criticism since the takeout scandal erupted. Until today, NYRA had sought to portray an eagerly cooperative stance with the state.

NYRA termed as "flawed'' the thinking by state officials that they should have been consulted or had a role in NYRA's hiring of a new president and counsel. "This reasoning would effectively paralyze the corporation based on innuendo. The Inspector General's investigation is ongoing and there should not be a rush to judgment until a final report is issued, and due process is provided,'' NYRA said.

Shortly after the May 1 Sabini letter was circulated today by people close to NYRA, the New York Thoroughbred Breeders released a statement saying that it is "catastrophic" that VLT revenues are being withheld by the state "at precisely the time when Thoroughbred breeding and racing industry is starting to skyrocket."

"The NYTB phones have been ringing off the hook with out-of-state callers who are now skittish about participating in the NY breeding program, and jobs recently been created at farms all over the state are under immediate threat," the group said.

"Make no mistake, without the VLT money, neither NYRA nor any other operator will be in business. There will be no racing in New York," the group added.

The breeding group went to the third-rail of racing threats in New York: damage to the always-successful Saratoga summer meet. They said a hit on VLT proceeds will, among other effects, turn Saratoga Springs "into a ghost town."

But Sabini, who is also chairman of the New York Breeding and Development Fund, reiterated a claim state officials made a day earlier with The Blood-Horse that the money being withheld from the Aqueduct casino proceeds is only money due NYRA—and does not affect breeding and purse payments are required by state law. The fund is a state entity that is charged with distributing over $40 million in various incentive payments each year.

Sabini dismissed the public worries of the breeders group, saying breeding and purse awards are not being affected by the diversion of Aqueduct proceeds from NYRA to the state lottery division. He said the dispute will also have no effect on the Saratoga meet. He noted that 6.5 percent of the net win from VLT machines at lottery is going to purses, with another 1 percent to breeding funds.

"The actions by the state in regards to NYRA's continued failure to act in the best interest of racing do not in any way impact these revenue streams,'' Sabini said.

"New York State has been and continues to be a welcome and prosperous home for the Thoroughbred industry," Sabini said in a statement. "The actions of New York State with regard to NYRA will have absolutely no impact on the state's Thoroughbred breeding program or the purses that are supplemented by Video Lottery Terminals at Aqueduct. Additionally, these actions will not prevent world-class racing from taking place at the Saratoga Race Course this summer."

Copyright © 2015 The Blood-Horse, Inc. All Rights Reserved.