Godolphin, Coolmore, Magniers Take Home Cartier Awards
Date Posted: 11/15/2001 2:31:08 PM
Last Updated: 11/16/2001 2:58:06 PM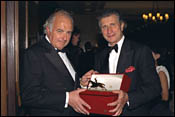 Coolmore's John Magnier (left) receives award from Arnaud Bamburger of Cartier.
Photo: Racenews

From Racenews
Frankie Dettori paid tribute to Fantastic Light, who was voted Horse Of The Year as well as taking the prize for top Older Horse at the prestigious Cartier Racing Awards at the Four Seasons Hotel in London's West End on Wednesday, November 14, 2001.Godolphin's star, who has now retired to stud, beat off Sakhee, Galileo, Mozart and Banks Hill for the Horse Of The Year award. Dettori said: "I'm a lucky so and so to have ridden such a good horse. He's like a good friend leaving school - everybody goes their own way and unfortunately he's going to have a better life than me right now! "I'm very lucky to ride such great horses for a wonderful team like Godolphin. The people who looked after Fantastic Light kept me away from him in the mornings in case I tried him a little bit harder to see how good he was! But it didn't need telling to anybody how good he was." Dettori was wearing a pair of sunglasses and added: "If you guys are trying to guess whose sunglasses they are, they're not John Magnier's! The reason I have got them on is that I had one of my eyes lasered yesterday and the bright lights are upsetting me. "I would like to say well done to John Magnier and Coolmore for making a good rivalry, which has made each other a better team throughout the world, not just in England."Simon Crisford, Godolphin's racing manager, added: "On behalf of Sheikh Maktoum, the Godolphin team would like to thank Cartier and the readers of the Daily Telegraph for voting Fantastic Light the Horse of the Year. He proved himself to be a fabulous international campaigner, winning six Group One races in four countries. Fantastic Light has been an unbelievable horse for our stable this year and last year as well. And with his great moments on the racetrack, including that epic battle with Galileo in Ireland and of course the Breeders' Cup, I think that it's wonderful that he receives this award tonight. We've been absolutely delighted with his performances throughout the whole season and he retires to stud a great racehorse and we will remember his courage, his class and his willingness to win on the track. Thank you."Coolmore Stud supremo John Magnier collected the Daily Telegraph Award of Merit and various admirers including Manchester United manager Sir Alex Ferguson, one of over 300 guests at the glittering awards dinner, paid tribute to him."When you meet someone whose successful you want to know more about them and what makes them successful," said Ferguson. "And there's an ordinariness about John that makes you think there must be more than this. But he's so humble with his feet on the ground and you realize that's it."Tim Vigors, one of the original Coolmore founding partners, added: "I'm immensely proud of what John has achieved with Coolmore. When I took over Coolmore from my father in the 60s, I had a vision of what I wished to accomplish and John has succeeded in doing that and much more. He is a man of great kindness and generosity and I am delighted that he is receiving the Cartier Award of Merit, particularly as I had a very personal involvement, having started the awards with Cartier and seen them grow into the most prestigious racing awards in Europe. I wish John every success in the future and I raise my glass to health and happiness to John and Sue and all the family."Simon Crisford said: "I would like to pass on Sheikh Mohammed's personal congratulations to John Magnier and his team on the award he has received tonight, but we will be trying to beat you even harder next year! It is fitting recognition for his immense contribution to worldwide racing."After collecting his award, Magnier said: "I do feel humbled to be here, because I shouldn't be here -- there's so many other people as Sue (Magnier) has told you. When I was growing up I wanted to be like Sir Alex Ferguson and I feel very humbled after listening to Tim. Thank you very much to Cartier and the Daily Telegraph."Magnier's wife Sue had earlier collected the 2-Year-Old Colt award for Johannesburg, who beat Rock Of Gibraltar, Landseer and Zipping, and the 3-Year-Old Colt award, which went to Galileo, having seen off Mozart, Golan and Noverre. Katie Magnier, the couple's daughter, collected the Sprinter award for Mozart, with Nuclear Debate, Cassandra Go and Imperial Beauty also shortlisted.Sue Magnier said: "I decided if I don't speak now I never will. Because I've never spoken in the past and probably never will again! I would like on behalf of Michael (Tabor), Aidan and Anne-Marie (O'Brien), John and all the team at Coolmore and Ballydoyle to thank everyone at Cartier for giving us these prestigious awards tonight. I am definitely the least qualified of all the people just mentioned to be accepting these awards. It is thanks to the dedication and loyalty of all the people who make up the stud and office team that have made 2001 a year which we will never forget. We have been so lucky and will really never forget the thrills we have had. John and I would particularly like to thank Aidan a million times for his tireless dedication and Anne-Marie for her patience and lack of any hope of taking a holiday. Unlike something we read in the press this week saying he takes a couple of weeks, I can guarantee that he doesn't take a day off -- let alone two weeks. Also to Mick Kinane for the many memorable moments - and to Johnny Murtagh and Jamie Spencer who added to them, although Mick probably wishes they hadn't! And to Seamus Heffernan, Paul Scallan and Colm O'Donohue who have also ridden many winners for us. Also to Pat (Keating) and everybody who travel the horses, who seem to be tireless. There are also many faces behind the scene at Ballydoyle and Coolmore who do not have a high public profile but are just as important as those up front and I would like to take this opportunity to thank them all as well. Again many thanks to Cartier and especially Mr Bamberger and also to the Daily Telegraph for a memorable evening."Queen's Logic was voted top 2-Year-Old Filly ahead of Silent Honour, Sophisticat and Gossamer. Bruce Raymond, racing manager to Queen's Logic's owner Jaber Abdullah, said: "Mr Jaber Abdullah would like to thank Cartier and the Daily Telegraph for this wonderful award for his filly."When Jaber was in the paddock before her last two wins he got very nervous about watching his filly race. I asked him leaving the paddock both at York and Newmarket whether he wanted to go to Sheikh Maktoum's box to watch the race. He said he hadn't eaten for two days and hadn't slept so couldn't stand the journey there and would like to watch the race from the rails on the big screen. After she won both races he threw his racecard on the ground, shouted, jumped up and down and prayed to his God and then said please take me to the winner's enclosure because I don't think I can find the way there! He's very pleased and delighted. He is a funny man and very humble and well deserves this award."Breeders' Cup Mare And Filly Turf heroine Banks Hill was named top 3-Year-Old Filly at the expense of Imagine, Aquarelliste and Lailani. She is owned by Prince Khalid Abdullah, whose racing manager Teddy Beckett said: "We're still hoarse from Belmont at the moment! It's absolutely fantastic to be here and thank you very much to Cartier, Harry Herbert and the Daily Telegraph. Prince Khalid is very sorry he can't be here, he's in Riyadh. When he won the Breeders' Cup he could not believe his eyes and when I told him he had a good shot at picking up an award tonight he could not believe his ears. He's very grateful for this and we're thrilled to have such an exciting filly."Continued...



Copyright © 2015 The Blood-Horse, Inc. All Rights Reserved.