Rapid Redux Items Donated for R.A.C.E.
Date Posted: 2/4/2012 5:59:50 PM
Last Updated: 2/4/2012 6:05:30 PM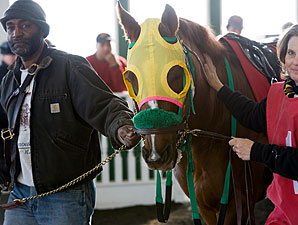 Rapid Redux
Photo: Jim McCue, Maryland Jockey Club
David Wells, the trainer of record-setting horse Rapid Redux, donated items of Rapid Redux to the R.A.C.E. Fund organization to be auctioned off to help raise funds for racehorse retirement and rehabilitation.
"I am glad to be able to help the R.A.C.E. Fund raise funds to help thoroughbreds in need," Wells said.
The president of the R.A.C.E. Fund, Marlene Murray, visited Rapid Redux along with R.A.C.E. Fund Participating Rescue Equine Angels founder Pam Vivirito, and Wells presented Murray with the items.
"We are thrilled to receive these items to help us raise funds for racehorse retirement and we thank David and Rapid Redux for helping and bringing awareness," Murray said.
Wells donated autographed win pictures, a limited print of Rapid Redux signed by him, Penny Chenery, and owner Robert Cole, and also horseshoes that were worn by Rapid Redux.
"We will sell these items online but have not determined an exact date of when the auction will be held yet," Murray confirmed. "We will announce when the auction will take place at a later date."
The R.A.C.E. Fund is a 501 C 3 non profit organization that was established in 2004 to help Thoroughbred racehorses. You may visit their website at www.racefund.org or send any inquiries to info@racefund.org
Copyright © 2015 The Blood-Horse, Inc. All Rights Reserved.