Jones: Havre de Grace to Run Again in 2012
by Ron Mitchell
Date Posted: 10/30/2011 12:04:57 PM
Last Updated: 11/1/2011 11:47:58 AM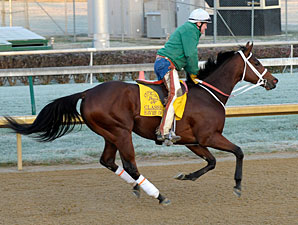 Havre de Grace galloping at Churchill Downs 10/30/2011.
Order This Photo
Photo: Anne M. Eberhardt
Rick Porter's Havre de Grace, the 4-year-old filly seeking to earn a Horse of the Year title with a victory in the Breeders' Cup Classic (gr. I), will remain in training in 2012, according to trainer Larry Jones.

"Rick has every intention to run her next year," trainer Larry Jones said Oct. 30 after accompanying the daughter of Saint Liam--Easter Bunnette, by Carson City, off the track following her gallop at Churchill Downs. "She has not shown any indication that she is any different than she has been."

Havre de Grace, bred in Kentucky by Nancy S. Dillman, has won or placed in all 14 career starts. The striking bay filly has eight wins, four seconds, and two thirds, with career earnings of $2,196,175. This year, the filly has five wins and a second in six starts, highlighted by a victory over older males in the Woodward Stakes (gr. I). Finishing second in that Saratoga race was Flat Out, likely favorite for the Classic on the basis of his impressive victory in the Jockey Club Gold Cup (gr. I).

Jones, who plans to send Havre de Grace to the track Oct. 31 for her final preparation for the Nov. 5 Classic, said his charge could not be doing any better.

"She is doing really well and acting like she is feeling better than she ever has in the past two weeks," Jones said. "I don't know if it is the cooler weather, but she is very lively and acts like she is ready to do something."
Jones said there were several factors behind why he and Porter, whose stable campaigns under the name of his Fox Hill Farms, opted to run Havre de Grace in the Classic rather than the Nov. 4 Ladies' Classic (gr. I), for which she was also entered.

First, Jones said, Porter was concerned about what effect it would have on Havre de Grace if she were to draw the inside post position for the 1 1/4 mile Classic. Jones said even if they drew that post, it is not as detrimental to start from that hole than it is when a horse draws the rail for the Kentucky Derby Presented by Yum! Brands (gr. I). With the large field that contests the Derby each year, Churchill Downs uses two starting gates, meaning the number one post is sandwich down against the rail. With the Classic limited to 14 horses and only one gate, the inside post position is farther out from the rail.

The main reason to run Havre de Grace in the Classic, however, was to allow the filly to showcase her ability on the sport's biggest stage, Jones said. Also, the Classic was the goal all year for the filly, assuming she was still doing well at this time of the year.

""At the start of the year, we wanted to get her in position for Horse of the Year because we felt like she had a shot. I have had some fast fillies, but she is just special. This horse is special and we wanted her to be in a position to show everyone else she's as special as we think she is," said Jones. "The Classic is supposed to be the showcase event…"

Jones said he will not be asking much of jockey Gabriel Saez when he goes out on the track Oct. 31 to work Havre de Grace, noting that she's "still not a wonderful work horse," especially when working alone.

By being in contention for Horse of the Year awards, Havre de Grace seeks to follow in the footsteps of Rachel Alexandra and Zenyatta, the two top females who have won racing's biggest honor the last two years.
Copyright © 2015 The Blood-Horse, Inc. All Rights Reserved.