Saratoga Market Chatter: Stocks and Horses
by Deirdre B. Biles
Date Posted: 8/7/2011 6:16:08 PM
Last Updated: 8/8/2011 10:23:39 PM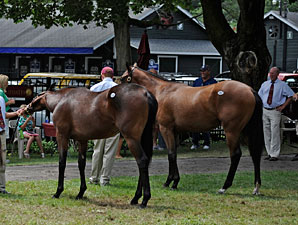 Fasig-Tipton Saratoga Sale.
Photo: Skip Dickstein
There's plenty to talk about at the Fasig-Tipton Saratoga select yearling sale in upstate New York. The fancy boutique auction attracts wealthy shoppers and well-bred horses, and both groups are interesting topics of conversation.
In addition, there's been a lot of discussion about the recent series of financial setbacks outside the Thoroughbred industry, including a scary stock market plunge. Their effects on the sale are on just about everybody's mind. Read what people had to say prior to the two-night auction's start Aug. 8:
Bill Farish, Lane's End: "I hope the stock market has a good day Monday (Aug. 8). It continues to be a little bit of a feeling out period for everyone, but people are cautiously optimistic coming into this sale. They think that the numbers being down a bit will help the market a little bit. We'll see.
"I don't think what happens in the stock market affects the major buyers much, but I think it might affect the second-tier buyers who may want to let things settle down a little bit."
Meg Levy, Bluewater Sales: "I was very happy with the (Fasig-Tipton Kentucky) July (select yearling) sale as far as how the yearling market started off. I was very happy to see some of the more regional buyers participating.
"New York in general has a good feel to it and it's nice to see everybody at the races and everything else. With the financial market going (as badly) as it is, this sale is really going to be the key to the rest of the year. To me, it will really be the indicator of how the first couple books of the (Keeneland) September (yearling) sale are going to go.
"Saratoga is a small sale and I hope demand will meet supply more. I've seen plenty of people around here, so I'm cautiously optimistic. I'm here to hopefully to get horses sold for reasonable prices."
Craig Bandoroff, Denali Stud: "Obviously, if you had your preference, you would wish it (the stock market plunge) would have waited until October. The world is in a funny place right now and it has to concern you because we're not selling anything here that anybody has to have.
"But sometimes people say, 'You know what, I've got money, I'm fed up with all this stuff, I'm going to go have some fun, and this is what I like to do.' And let's not forget about the bonus depreciation; there are some serious tax incentives to buy yearlings right now. We've got to stay positive."
Tom VanMeter, VanMeter Sales: "As always, you've got to bring the right ones up here. They've got to withstand the (intense) scrutiny that they go under and they've got to vet perfectly. For horses that pass all the tests, I think the sale will be good.
"I would prefer that we weren't having a big sell-off in the stock market the week before we're going into this, but it's something out of our control. The team at Fasig-Tipton has worked hard to get the buyers here and get the horses here, so hopefully we'll be all right."
Headley Bell, Mill Ridge Sales and Nicoma Bloodstock: "Fasig-Tipton has done an excellent job to bring in some quality pedigrees and individuals. It gives you a chance as a buyer to find quality. But it's also a confined and condensed market.
"I might be one of the only people who considers it positive what's going on. To me, it's a cleansing that's necessary and it takes drastic measures to deal with a drastic situation. The last three years have been a means to get to now and I'm more encouraged now than not. While it hurts, I consider us that much further along in the process and that's a good thing."
Stuart Morris, Dapple Stud: "I think it's going to be a good sale. For me last year here, most of the horses that I saw that were (stabled) around my consignment and in my own consignment that were solid, legitimate horses from $150,000 to $300,000 or $400,000 were very well received. They had a lot of action and sold very well. That trend continued through the rest of the year, I thought, and this July (at the Fasig-Tipton Kentucky select yearling sale), the market was very good. The average was down a touch, but not too far, and the median was up $10,000."
Kerry Cauthen, Four Star Sales: "I think it's going to be a good, solid Saratoga sale. The one variable out there right now is the stock market hiccup. But I think there are a number of people who have been standing on the sidelines and they're getting a little bit more anxious to put their hands up. The price of the horses is within a more reasonable range."
Matt Lyons, Woodford Thoroughbreds: "I'm always positive. I brought good horses up here and I'm hoping for a good sale. Hopefully, the supply meets demand. There are probably only going to be about 150 horses offered and the race meet is going well. I guess it (the stock market plunge) affects everybody. But hopefully the people here understand that that's the way it goes; it's an up and down situation and they're here to buy horses anyway."
Copyright © 2015 The Blood-Horse, Inc. All Rights Reserved.