Churchill Downs' Lehr Looking for Sunshine
by Ron Mitchell
Date Posted: 5/4/2011 9:19:39 AM
Last Updated: 5/5/2011 9:52:10 AM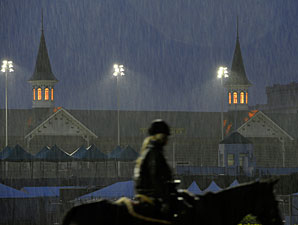 Churchill Downs morning rain.
Photo: Anne M. Eberhardt
Like most Louisvillians, Butch Lehr is hoping that the monsoon-like rains that have inundated the Kentucky city have ended for awhile.

After all, according to Lehr, the track superintendent at historic Churchill Downs, some 5-6 inches of rain fell during a 72-hour period ending mid-day Tuesday, May 3. That was on top of the record 14 inches recorded in Louisville during the month of April.

The weather is a concern to Lehr and other track maintenance professionals because of the effect it can have on the grass course and the main dirt track, especially leading up to big race events like the May 6 Kentucky Oaks (gr. I) and the May 7 Kentucky Derby Presented by Yum! Brands (gr. I).

Despite all that precipitation, Lehr said problems have been at a minimum, most notably the inability of horses to be able to train over the grass course.

"We were prepared for this because we did a lot of work on both tracks over the winter," Lehr said. "All of the drains below the turf course have been open to allow it to all drain off. And we feel that the main track now has the right sand mixture."
During the Tuesday, May 3, race card—the second day of racing during the spring meet—turf races were switched to the main track. The main track was labeled sloppy, while sealed, throughout the day.

While not being able to train on the grass course is an inconvenience to horsemen and could cause some horses to miss vital workouts, Lehr said trainers have been understanding, especially since they know it's more important to be able to save the grass course for racing and not training when there has been this much precipitation.

Lehr, who said he and his staff "watch the (weather) radar non-stop," likes the forecast for the next several days but may not like the Derby Day prediction. According to the National Weather Service, on Wednesday, clouds will part to reveal mostly sunny skies, with a high temperature in the low 60s. Thursday is even better, with mostly sunny skies and a 70 degree high. Oaks Day will be partly cloudy with a high temperature of 68. Then, when the crowd gets to Churchill Downs on Derby Day, they will be facing a 50% chance of rain, with scattered thunderstorms possible and a high of 73.

Lehr said there is a silver lining to all the rain that has fallen in Louisville over the last month, mainly the savings from not having to water the track using Churchill Downs' equipment.

"We like some rain because it means we don't have to use our water trucks," he said.
Copyright © 2015 The Blood-Horse, Inc. All Rights Reserved.