Rainbow 6 Carryover to be Dispersed
by Blood-Horse Staff
Date Posted: 4/13/2011 1:49:08 PM
Last Updated: 4/14/2011 10:09:39 AM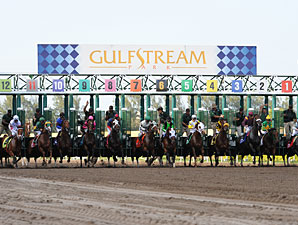 Photo: Coglianese Photos
Gulfstream Park will disperse any carryover of the 10-cent Rainbow 6 on Saturday, April 23. The current carryover of the Rainbow 6 is $1.17 million. Gulfstream's final day of live racing will be April 24.
Timothy Ritvo, Gulfstream's vice president of racing, said the decision to disperse the carryover April 23 was made because Gulfstream's final day of racing falls on Easter, a day when all New York betting outlets and Kentucky tracks are closed.
"We want to give all our bettors that have supported Gulfstream racing and the Rainbow 6 throughout the meet the opportunity to take part in any carryover dispersal," Ritvo said. "We believe the best way to give everyone an equal opportunity to play the Rainbow 6 and be part of the final carryover is to disperse the money on Saturday, April 23. We will also conduct the same bet on Sunday, April 24, and disperse that pool as well."

Copyright © 2015 The Blood-Horse, Inc. All Rights Reserved.