BHA Fines Trainer Aidan O'Brien
by Blood-Horse Staff
Date Posted: 12/22/2010 3:42:54 PM
Last Updated: 12/23/2010 2:54:46 PM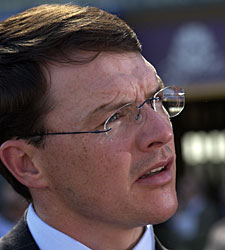 Aidan O'Brien
Photo: Anne M. Eberhardt
The British Horseracing Authority has fined Irish trainer Aidan O'Brien in connection with an incident involving Cape Blanco at York racecourse in May, according to a release.
According to the BHA, O'Brien was fined a total of £10,400 (US$12,268), of which £9,000 ($10,616) was for "acting in a manner prejudicial to the conduct and/or good reputation of racing" and £1,400 ($1,651) for "failure to obey stewards".
O'Brien was initially charged with "acting in a manner prejudicial to the conduct and/or good reputation of racing." He reportedly instructed his employee Pat Keating not to have the horse ridden to where the BHA veterinary officer and the senior racecourse veterinary surgeon were present following the colt's victory in the Totesport Dante Stakes (Eng-II) in mid-May for owners Sue Magnier, Michael Tabor, and Derrick Smith.
During a disciplinary hearing, O'Brien admitted to "acting in a manner prejudicial to the conduct of horseracing in Great Britain" after the charge was amended, as well as charges of encouraging and/or causing Keating to refuse to comply with two instructions given by the York stewards.
The disciplinary panel Dec. 22 concluded that no penalty was levied against Keating since when he refused to obey the stewards he was "acting under the direct instructions of O'Brien."
While it noted that it has opted to impose a fine rather than suspension, the Panel added that any similar breach of rules by O'Brien would warrant a stiffer penalty.
"The Panel has considered very carefully whether the proper approach on this occasion would be to deal with the issue by imposing a period of time during which horses entered in races in Great Britain by Aidan O'Brien were not allowed to race," read a statement from the Panel. "The Panel has determined on this occasion that it is proportionate in all the circumstances to deal with the matter by way of a financial penalty and have determined that a fine of £9,000 is appropriate in all the circumstances."
Copyright © 2015 The Blood-Horse, Inc. All Rights Reserved.