Sunland Park Rule Changes Approved
by Blood-Horse Staff
Date Posted: 5/26/2010 12:34:55 PM
Last Updated: 5/27/2010 8:48:37 AM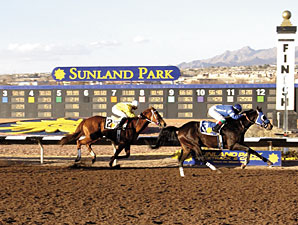 Photo: Sunland Park
On May 19, the New Mexico Racing Commission approved several key rule changes that were advocated by Sunland Park as part of its application to the National Thoroughbred Racing Association Safety and Integrity Alliance for accreditation.
The changes represent sweeping reforms for New Mexico racing and bring the state into substantive compliance with the Racing Commissioners International Model Rules for regulation of therapeutic medications and proscription of certain practices, such as the use of alkalinizing substances.
In addition to the new rules regarding medication regulation, rules were also enacted May 19 pertaining to mandatory use of approved safety vests and helmets by all riders and helmets by all assistant starters. Sunland Park is now eligible for full Alliance accreditation pending the successful completion of an independent security assessment. The assessment is expected to take place later in the year, after the Sunland Park barn area re-opens.
On May 13, Sunland Park was granted provisional accreditation by the Alliance after the track was found to be in compliance with the majority of standards set forth in the Alliance code. The Alliance withheld full accreditation of the New Mexico racetrack, however, pending further upgrades in the specific areas of pre-race veterinary inspections; uniform medication regulations; safety equipment and cushioned riding crops; testing for alkalinizing substances; and independent security assessment and training. Once all standards have been satisfied, a racetrack may be awarded full Alliance accreditation.
"This is exactly how the process is designed to work," said Mike Ziegler, executive director of the NTRA Safety and Integrity Alliance, in a statement. "We are proud that we were able to work cooperatively with Sunland Park who, in turn, advocated for these important reforms with New Mexico's racing regulators."
"Bringing Sunland Park to a level of uniformity with other tracks that have received full accreditation by the Alliance is a matter of great importance to us," said Harold Payne, general manager of Sunland Park, in a release. "Our horsemen and the New Mexico Racing Commission share that sense of urgency on behalf of the human and equine athletes who compete at our facility."
"The New Mexico Racing Commission is committed to the goal of adapting our rules and regulations to the best-practice suggestions recommended by the NTRA for racetrack accreditation to conform to the highest standards in animal welfare, jockey safety, and sporting integrity," said India Hatch, deputy director of the New Mexico Racing Commission, in a statement. "We hope that, ultimately, all New Mexico tracks can be accredited."
Copyright © 2015 The Blood-Horse, Inc. All Rights Reserved.