Pedigree Profile: Franny Freud
Date Posted: 4/13/2010 1:41:52 PM
Last Updated: 4/14/2010 10:40:30 AM
By Les Brinsfield
Rarely does a New York-bred filly win a grade III stakes at Keeneland. The pedigree of Franny Freud would make a poster child for clever linebreeding. The winner of the April 7 Beaumont Stakes (gr. II), bred in New York by Anthony Grey, is by Freud out of the D'Accord mare Frankly Fran.
Franny Freud is 2x2 to inverted equivalents Storm Cat and D'Accord, who offer sex balance to boot. The first gives a son of Northern Dancer over a mare by Secretariat. The second features a male line of Secretariat over a Northern Dancer mare. Chieftain adds a third Bold Ruler and Hula Girl a third Native Dancer; thus Discovery is in Franny Freud's pedigree six times through nine generations.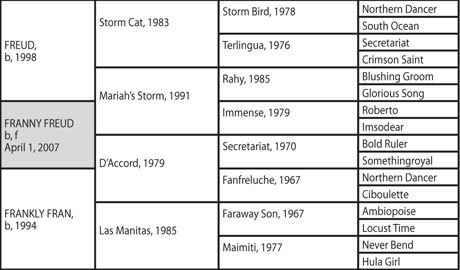 Spy Song in the dam pulls double duty. He is the sire of Crimson Satan in Storm Cat, and makes Frankly Fran a natural target for Storm Cat. His second function is to provide Domino to the buildup of Discovery. Discovery carries a five-eighths sister to Domino in Lady Reel and has five lines of the Domino family while Domino only has the same three as Lady Reel via Lizzie G., their second dam. Spy Song is 3x3 to Peter Pan, a Belmont-winning son of Belmont-winning Commando, he by Domino.

However, the thing that makes Franny Freud a poster child is that Imperial Hill, the fifth dam of our starlet, is a three-quarter sister to Somethingroyal, she the dam of Secretariat. This tail-female influence nets a triple to Imperatrice as well as a clever and rarely seen pattern. Finally, consider this: Spy Song is doubled to Peter Pan and descends from his female family. Franny Freud is doubled to Secretariat and descends from his female family.

The zinger is Peter Pan and Secretariat both descend, via far different paths, from a mare by Alexander born in 1790. A reunion or sorts.

Pedigree analyst Les Brinsfield, who may be contacted at pedigrees@gmail.com, operates the Web site pedigreegroup.com
Copyright © 2015 The Blood-Horse, Inc. All Rights Reserved.