Five Questions: John Asher
by Evan Hammonds
Date Posted: 2/16/2010 4:43:54 PM
Last Updated: 2/18/2010 1:51:02 PM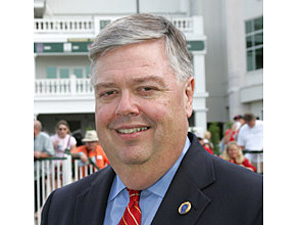 John Asher, vice president communications, Churchill Downs.
Photo: Courtesy of John Asher
John Asher, vice-president of communications at Churchill Downs, has worked in the Thoroughbred industry for more than 20 years.

As a radio journalist at WHAS-AM and WAVE-AM in Louisville he earned five Eclipse Awards for "Outstanding National Radio Coverage in Thoroughbred Racing." He joined Churchill Downs in January 1997 and has served in his current position since March 1999.

In one of the many capacities of his job, he oversees public relations efforts under the Twin Spires and cranks out hundreds of releases about Churchill Downs and the Kentucky Derby. One of his latest releases came Feb. 14 following the close of the first Kentucky Derby Future Wager pool of 2010.

With win and exacta wagering, the pool handed $466,048 during its three day run. In the previous 11 editions of the KDFW, the wagering was open for four days.

While the total figure for Pool One was off only 2.6% from last year's initial pool, last year's Pool One did not offer exacta wagering. In all, the wagering was down 24.9% from the peak year of 2005 that handled $620,362.

The total three-pool record handle of $1,665,990 also came in 2005. Last year's total of $1,236,299 was off 25.8%.
Pool Two of the KDFW takes place March 5-7, while Pool Three will be held March 26-28.

Seeking answers as to the health and status of the KDFW, we asked John Asher five questions:

The total of the first pool this year was off 2.6% from last year's initial pool, which didn't offer the exacta wager. So, based just on the win pool, wagering was off 19.4% from 2009. Can you shed some light as to why the pool was down in 2010?

"First off, comparing a win pool without internal competition from the exacta pool is not exactly comparing apples-to-apples. The creation of the exacta pool changed the dynamic of the wager. Prior to the introduction of exactas, you only had one choice—a win bet. So it was predictable and completely understandable that the win pool would shrink when another option—one with a potential to produce a significantly larger bang for your buck—was introduced. So I would suggest that overall pool size remains the more accurate tool for comparison.
"Beyond that, let's take a look at overall wagering in the U.S. The Thoroughbred Economic Indicators for January 2010 released by Equibase a few days ago showed wagering at U.S. tracks was down more than 12% from the same month in 2009. On top of that, there was snow on the ground in every state in the country during our three-day pool— including significant amounts in our home market. The tough winter could have had a negative impact, yet the pool total was off less than 3%. Considering those factors, a slight decline in the overall betting total looks like up to me."

The pools have usually been four-day affairs and this year it was tweaked to a three-day format (Feb. 12-14). Was this a factor?

"Aside from the years that a big player like our old friend 'The Lone Star Plunger' dropped $50,000 or so in the first minutes of a four-day pool, business levels were never spectacular for the opening Thursday of a four-day pool, and the earned media value has diminished as the wager has become more established. But expenses for the pool—satellite time, etc.—have not declined. So this year the committee that oversees the Derby Future Bet decided to narrow the pool to three days in an attempt add a little spark and keep an eye on costs.

"My gut feeling is the shorter pool had no negative impact on overall play—and think the added sense of urgency could benefit the wager in later pools and the long run. But last week there were still bettors lined up at noon on Friday to place their future bets in the pool's opening minutes. That's timing that makes no sense to most horseplayers, but I truly love those early bettors for their annual display of dedication to the game! But business was brisk on Friday's opening day. A total of $105,905 was wagered on that day and, in most years that is comparable to most Thursday-Friday combined betting totals."

The first pool is off 24.9% from its peak in 2005. Is there anything Churchill Downs is looking at to help pique interest in the KDFW?

"One effort to do that was last year's introduction of exactas and I believe that segment of the KDFW will continue to grow. To me, it's a daunting prospect to look at that sweeping exacta will-pay grid with 24 betting interests in search of some value. But I believe exacta play will grow—especially if we continue to get payouts like last year's second and third pools that saw the favored "all others," in the form of Mine That Bird, on top of the completely logical Pioneerof the Nile for winning mutuel of $256.80 and $554.60 in Pools Two and Three. If you just bet the chalk this year you've got some interesting possibilities.

"Take Buddy's Saint over Lookin At Lucky , and you've got a $95.80 payout for $2. If you take Buddy's Saint, the 10-1 third choice in Pool One, with William's Kitten, a stretch runner at 54-1 who fits the profile of a longshot that could hit the board on Derby Day, the payout would by $730.

"Remember that the biggest win payout in KDFW history was $188 for a $2 Pool One bet on Funny Cide in 2003. The popularity of the KDFW exacta figures to grow if there's a four-figure payout this year, which is entirely possible. We discuss every year the possibility of expanding the number of individual wagering interests in the bet, but that prospect has been limited by current mutuel hardware and the cost of upgrading hardware across the country to accommodate a larger number in the pool. To many critics, that seems like an easy call to make, but these things are never as simple as they seem. Some larger players have also shared their concerns that the Future Bet would be less attractive to them if the number of betting interests was significantly expanded.

"Our goals were three-fold when it was created in 1999. We wanted to offer bettors a new product that they would enjoy and embrace; we hoped to kick-start public discussion about the Derby and generate new debate and media coverage earlier in the year; and we hoped to make a little money. I would suggest all three goals were achieved in that first year and are still being met 12 years later.

"But we want to expand the wager's reach, so we'll continue to look at options for future growth. We've discussed proposition wagers—trainer vs. trainer, horse vs. horse, and stable against stable. But remember that this is a pari-mutuel wager, not a race book proposition. There must be a winner and 84 cents of every win wager goes back to the bettors—which is why the mutuel field, or all others, makes the KDFW work."

In racing, the average favorite wins about a third of the time. In the 11 years of the KDFW, "all others" has won five times, good for 44%. A lot of the horses in the early pool won't make it under the Twin Spires May 1? Is the first pool too early in the Derby trail season?

"A lot of horses in every pool—including the third one about a month out from the Derby—fail each year to make it into the Derby starting gate. But that's part of the allure of any future bet, bet it our pari-mutuel wager or a bet in a Las Vegas book. The potential reward should justify the increased risk, and the Churchill Downs Derby Bet, from its first day, has always been a wager in which the buyer has been advised to beware. But the long-range aspect and the risk-reward ratio—along with the fact that the bet is just plain fun—continue to make it attractive. So I do not think February is too early.

"Each pool has a different nature. Pool One is always the 'all others' show—the mutuel field has been favored in each of the wager's 12 years because the picture is so murky that early. But Barbaro, one of the most dominating Derby winners in history, returned $40.20 in Pool One back in 2006 and Fusaichi Pegasus paid $27.80 in the opening pool of 2000, which looks pretty good compared to the $6 your got for your $2 on Derby day. Personally, I'd love to see an even-longer range pool—I've always dreamed of a pool on the closing weekend of our fall meet to correspond with the Kentucky Jockey Club (gr. II) and Golden Rod (gr. II) on 'Stars of Tomorrow' day at Churchill, and the Remsen (gr. II) and Demoiselle (gr. II) in New York. That would let bettors take a real lively shot six months out. That's just my thought and some regulatory hurdles—not to mention technical issues—would have to be cleared to offer a pari-mutuel bet that carries over from one year to another. But we are thinking about those things and new wrinkles we could add.

"I love the February start for the first pool. It generally comes right after the Triple Crown nominations have been released and the racing world—and one would hope a segment of the general public—is just starting to think about the first Saturday in May."

It snowed about six-eight inches in Louisville on Monday. Will the streets be cleared by your opening day, April 24? When was the last time it snowed on Derby day?

"My on-site experience in the Kentucky Derby dates to 1982, when Gato Del Sol rolled home and I was a rookie radio reporter in Louisville. The only time I ever thought I saw a snowflake—and this has been backed by many others—was the morning of the 1989 Kentucky Derby. I saw snowflakes early that Derby morning, and then witnessed something more remarkable and inexplicable that afternoon. I saw Sunday Silence beat Easy Goer in the mud that day—which is not the inexplicable part. The still-baffling part of that is that these two great horses—among the most talented individuals of the last 50 years—took 2:05 to complete a mile and a quarter. It's the most staggering Derby-winning time I've witnessed and adds credence to the adage that time matters 'only if your in jail.'

"I don't think we'll have to worry about snow on May 1 for Kentucky Derby 136—though I'm not sure I'd bet on that. Maybe that's an idea for a Kentucky Derby Future Wager proposition down the road."

Copyright © 2015 The Blood-Horse, Inc. All Rights Reserved.