Better Late Than Never for Ohio Derby
by Tom LaMarra
Date Posted: 9/29/2009 5:50:31 PM
Last Updated: 10/3/2009 1:48:31 PM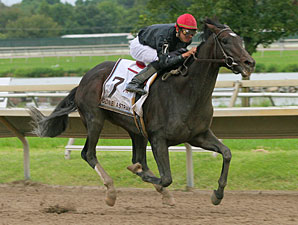 Pennsylvania Derby winner Gone Astray has been installed as the 8-5 morning-line favorite for the Ohio Derby.
Photo: Alyssa Spakowski/EQUI-PHOTO
The Ohio Derby (gr. II), returned to the Thistledown stakes schedule only six weeks ago upon order of the Ohio State Racing Commission, has drawn a field of 13, including the winner of a $1-million race in his previous start.
Phipps Stable's Gone Astray , winner of the Pennsylvania Derby (gr. II) in his last start, has been installed as the 8-5 morning-line favorite for the Ohio Derby, which will be run Oct. 3 in conjunction with the five-race Best of Ohio championship series for state-bred runners.
The 1 1/8-mile Ohio Derby, which will be run for the 75th time, carries a purse of $150,000, the minimum allowed for grade II status. The race had been bagged earlier in the year to maintain overnight purses at Thistledown, but the OSRC ruled five racing days would be cut to restore the only graded stakes in Ohio.
Several Ohio Derby entrants, including Gone Astray, were cross-entered in the $500,000 Indiana Derby (gr. II), to be held the same day. Entries for that race will be drawn Sept. 30.
Hoosier Park, which hosts the Indiana Derby, has a barn under quarantine; strangles was suspected but no positive tests have come back. A horse in quarantine died of colitis, so one barn remains under restriction. Results of a second round of tests on the quarantined horses are expected Oct. 6, track officials said.
The quarantine has altered training hours but has caused no disruption in racing.
Hall of Famer Shug McGaughey, who trains Gone Astray, told Thistledown officials the colt by Dixie Union has trained well for his next start. Gone Astray won the Pennsylvania Derby at Philadelphia Park Casino & Racetrack by almost 10 lengths.
McGaughey said Gone Astray would race at Thistledown and not be entered in the Indiana Derby. Eddie Castro, who rode Gone Astray in the Pennsylvania Derby, has a return call.
Castro, one of the top riders on the East Coast, has attracted local interest. He has a mount in all five Best of Ohio races.
"The Philadelphia race was his first stakes victory, but we thought last year that he could run with the good horses," McGaughey said. "He's got plenty of stamina in his pedigree. Two-turn racing is what he needs."
Join in the Dance, runner-up to Gone Astray in the Pennsylvania Derby; Arlington Classic winner Giant Oak; and Gallant, winner of the Prince of Wales Stakes (Can-I), also are entered in the Ohio Derby.
Todd Pletcher, who trains Join in the Dance, has entered King of the Roxy in the $75,000 Best of Ohio Sprint. The 5-year-old horse returned to the races this year after a more than one-year layoff to win the Don Bernhardt Memorial Stakes at Ellis Park and the Honey Jay Stakes at Thistledown in his only two starts this year.
King of the Roxy is a former Ohio horse of the year.
The Ohio Derby is scheduled as race eight on a nine-race program with post time of 5 p.m. EDT. The Best of Ohio events are carded as races three through seven.
$150,000 Ohio Derby (gr. II, Race 8, 5:00 p.m.), 3-Year-Olds, 1 1/8 miles
PP. Horse, Jockey, Weight, Trainer
1. Fonda Ronda Won (KY), C P Pilares, 115, J P Shuman
2. Gone Astray (KY), E Castro, 121, C R McGaughey III
3. Join in the Dance (KY), O Mojica, 115, T A Pletcher
4. Perfect Start (MI), D L Parker, 115, C J Williams
5. Petch (KY), P Teator, 115, S K Girten
6. Karama (FL), V Lebron, 115, K Gorder
7. Hoopoe (KY), E Oro, 115, N P Zito
8. Ice Road (KY), C A Emigh, 115, M R Matz
9. Weslinn (FL), L A Gonzalez, 115, G S Bennett
10. Fundy (KY), R B Homeister, Jr., 115, H Pitts
11. Giant Oak (IL), E Razo, Jr.., 115, C M Block
12. Gallant (ON), C Fraser, 121, M E Casse
13. War Fighter (FL), H Villa-Gomez, 115, J Ness

Copyright © 2015 The Blood-Horse, Inc. All Rights Reserved.