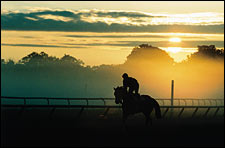 Saratoga CalendarBy Victor E. Zast
Published in The Blood-Horse magazine
The Saratoga of 2000 was wet and cold. It was weather for whiskey, and dank cranky days for bundling up in a blanket and sitting inside, not a summer for strolling through the people who picnic on the lawn where chilled white wine and ice cold beers go down like meteors.This is not the weather of August in Saratoga Springs, N.Y. August days should be sunny and still, intense with the thirst of a man escaping a sauna, weather for people who sweat out the races, with the longshot chance of an electrical storm lurking in every afternoon, and now and then, an earsplitting boom of thunder in the lodgepoles and strikes of white in the yellow bruised skies beyond the harlequin roofs of the grandstand.Last summer's rain was constant and predictable, a disconcerting condition for horseplayers who have learned to expect an upset. It looked like tinsel and sounded like distant applause; it smelled like linen, laundered and pressed, with the peaceful effect of lavender or mind-clearing linden blossom. The scent of rain is healthy for sentimentalists, and so is Saratoga.In itself, a walk on the backstretch is a meditation. The dawn is a time to reflect, and the air is dense with reminiscence. I can hear the staccato of horse's hooves without the hurrah of the crowd overwhelming it. The riders whistle and chirp like crickets in a tree. Two-year-olds skim the slop, the steam shooting from their nostrils like from locomotives. This is the Saratoga of my dreams, the Saratoga of postcards, those glossy snapshots of horses jogging out of the mist with heat rising mystically from their flanks.I began coming to Saratoga as a college student. I would hitchhike from Buffalo on weekends, back when riding with strangers was something you'd do. I'd bunk with Tommy Amello at the Gideon Putnam Hotel. Well, not exactly the Gideon Putnam. My bed was a cot in a row of rooms which was built for the transient workers at the edge of the property.Tommy and I would start each day at the trackside kitchen, then end each day on the 11th tee, beneath a cluster of pines that shelters the par three. We worked as fill-in bartenders for fancy gatherings that were held in the Hall of Springs restaurant, a cavernous echo-filled room with toilets in every corner, the residue from when this emporium was known for its curative waters.I met an ambulance driver who let us lie hidden in the back as he drove through the gates and onto the track. That's how we gained admission to the clubhouse, and come to think of it, it wasn't so different from the flash of a horse owner's pass as I stroll through the gates today.We wore brush cuts and saddle shoes and buttoned-down shirts with Rooster brand ties, and we languished like people who belonged, in the boxes of the barons of the Turf, their impressionable daughters the object of our flirtation; such long, carefree, sunny days, with plenty of laughter, and nothing to lose but a two-dollar wager. It was only at night, when we met them by accident in honky tonk bars like Jack's or King's or the Tally-Ho, the night-clubs long removed from anyone's thoughts by the wrecker's ball, places which made Siro's seem like a country club, that they'd shun our friendship -- Thoroughbred girls, embarrassed to admit that they had consorted by day with teasers like Tommy and me.The ordinary patrons of these establishments were stablehands from the horse farms in Aiken and Ocala, accents as thick as barbecue sauce, and gin-addled jockeys and exercise boys. Their women were tall and luscious and made-up, the red lipstick contrasting brilliantly with their jet-black hair and glittering gold jewelry. The music played loud and long and was Motown, and cigarette smoke blanketed the space like napalm, relief from the pollution of caste.This is the way I remember it, and there is a lot to remember. For 40 of my 55 summers, I have journeyed to Saratoga. Wide-eyed, penniless, married, striving, satisfied -- those are some of the phases I've passed through. Yet the changes in me are not reflected in the changes that have come to this hallowed place of pilgrimage. At least it seems that way, as I take in this climate of constancy.I notice that all three entrances and admission gates have been modernized. But to the legions of first-timers, and to those whose myopic attention lies beyond, the changes are barely noticed. Time collapses. The people wait in line, like they always have done, their heads buried in the fine print of the "Pink Sheet," early at 10 a.m. to wish for a spot within sight of the action.In the old days, it was a sprint for the free seats, and there were plenty. You ran to the sections of the grandstand held back for squatters, and you marked your spot with a newspaper. I used to wait in line with Ted and Dorothy McClellan -- she a pleasant lady who liked to play longshots, and he a patient man whose gentle words were placed carefully between her rambling sentences like commas.Waiting here perched on folding lawn chairs which we bought at the hardware store in Menands, none of us spoke of their son Lefty, my closest friend, and what he might be doing just then, a second lieutenant in the quartermaster's corps, bagging bodies in Vietnam. Such things were better left unsaid, the concept of beshert: the more you talk about something the less likely it is to happen.And, so today, I think of these gates as the site of a weekly coming together of friends, a familiar place where emotions soared gloriously at the mere knowledge that the passing of the week was good and without incident, and that whatever would be lost in the next few hours was simply money. It is a soothing thought, good for a guy who lives his life as a series of tests.Perhaps a more noticeable change can be found in the infield. No longer can anyone voice the complaint that he missed a stride in a contest like Jaipur and Ridan, or Alydar and Affirmed. For racing fans who can't scam a seat close to the finish line, there now stands a large digital TV screen which captures the action in pixilated larger-than-life images.Unlock your jewelry, Marylou. Video surveillance has come full blown to Saratoga!In 2001, the sprawl of electronics will flourish. All the tote boards have been rebuilt and the televised action will leap from the infield across the long expanse of the stretch. Does this mean that another slice of charm has been whittled away for the sake of progress? I think not, but time will tell, won't it?And speaking of the passage of time, was it really 37 years ago when I stood to watch a race from where these scoreboards now stand? On Saturdays, the groundskeepers would open a path to the infield so people could congregate there. I viewed the Whitney being won by Gun Bow from this vantage point, arriving late from a swim in Lake George, Soupy Campbell and I reveling in the thrill of the feat, wondering how different our fun might have been if we had managed a proper seat among those more fortunate.Continued . . .