Keeneland Schedules Handicapping Contest
Date Posted: 2/27/2009 4:25:05 PM
Last Updated: 2/28/2009 11:47:54 AM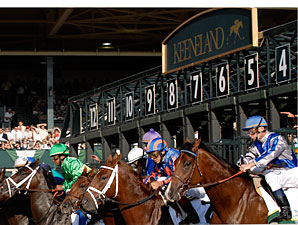 Photo: Anne M. Eberhardt
From Keeneland
On April 19, Keeneland will host the "Grade One Gamble," a live money handicapping contest that will send three people to the 2010 DRF/NTRA National Handicapping Championship in Las Vegas.
The "Grade One Gamble" will be limited to players who pay a $3,000 entry fee of which $1,800 must be wagered on Keeneland's nine-race program. The contest will be limited to 30 players.
In addition to three berths in the national handicapping contest, the winner will receive $15,000. There will be $8,000 paid to second, $4,000 to third, $2,000 to fourth, $1,500 to fifth and $1,000 to sixth. Players retain the balance of their live bankroll.
Registration will be on a first come, first served basis by phone, beginning at 10 a.m. (ET) March 2. Players should call Karen King at (859) 288-4260 to enter. Entries close at 4 p.m. March 27, unless the maximum number of entries and six "also-eligibles" have been reached prior to that time.
"Keeneland takes great pride in hosting horseplayers from around the country at a variety of handicapping contests throughout the year," said Jim Goodman, Keeneland simulcasting operations and marketing manager. "While competing against a small, select group of handicappers, the 'Grade One Gamble' will provide a high-end experience for those players seeking to earn a berth in the DRF/NTRA National Handicapping Championship."

Copyright © 2015 The Blood-Horse, Inc. All Rights Reserved.