Wanderin Boy Tops Balanced Cigar Mile
by Blood-Horse Staff
Date Posted: 11/27/2008 5:12:22 PM
Last Updated: 11/28/2008 4:32:40 PM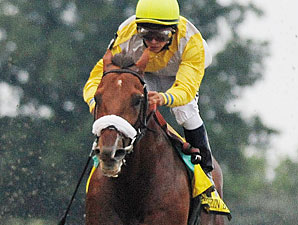 Wanderin Boy tops the 20th running of the grade I, $300,000 Hill 'n' Dale Cigar Mile.
Photo: Skip Dickstein
Stone Farm's Wanderin Boy tops the 20th running of the grade I, $300,000 Hill 'n' Dale Cigar Mile at Aqueduct Nov. 29 as Hall of Fame trainer Nick Zito attempts a rare double: winning graded stakes with 7-year-olds on consecutive days.

On Nov. 28, Zito will be at Churchill Downs to saddle Tracy Farmer's favored Commentator, a two-time winner of Saratoga's grade I Whitney, in the grade II Clark Handicap.

"(Winning both races) would be a great way to end the year. What can I say? Wanderin Boy is a treasure... He has always answered every challenge. Every grade I race, Wanderin Boy has been right there. And of course, Commentator is the ultimate treasure. The difference is that Wanderin Boy is a horse and acts like a professional, older horse. Commentator is a gelding who thinks he's a 4-year-old colt. I've always said that Commentator may be the only 7-year-old gelding who will take a bite out of you if he gets a chance."
As flashy as Commentator is, Wanderin Boy has proven himself to be a reliable workman, with a 1-1-2 record from four starts this year. His races are well-spaced and he is always a threat. Although Wanderin Boy has raced at several tracks, the Hill 'n' Dale Cigar Mile will be his first start at Aqueduct. A son of Seeking the Gold, he has also raced at various distances and has a 1-2-1 record from four starts at a mile.

The new face in the Hill 'n' Dale Cigar Mile is A and R Stable's Monterey Jazz, who shipped in from California on Wednesday to add luster to an already shining group. He will present horseplayers with the following problem: Can a horse who has not raced since April 26 step up to win his first grade I?

Admittedly, trainer Craig Dollase offers a biased opinion.
"We've wanted to run in the Cigar Mile from the start," Dollase said. "After the Texas Mile, he injured his hind foot. We gave him some time off on the farm and just let him be a horse again. The rest did him good. He came back here and he hasn't missed a beat. He's been training great and he looks terrific. The one-turn mile is right up his alley and we're excited about the race. It is a great race."
In the Texas Mile, a grade III dirt race at Lone Star Park, Monterey Jazz dominated with an eight-length victory in 1:35 1/5 in his first start outside of California, where most of his starts were either on turf or synthetic surfaces.

Charles Fipke's Tale of Ekati won the grade I Wood Memorial here in the spring, and then snapped a four-race losing streak by winning the grade II Jerome Handicap in the slop at Belmont Park. Jay Em Ess Stable's Arson Squad won the grade II Meadowlands Cup, and Stronach Stable's Harlem Rocker won the grade III Withers here in the spring. Vinery Stable's Kodiak Kowboy enters Saturday's race off his victory in the grade III Sport Page Handicap at Belmont Park.

Undefeated in two starts at Aqueduct, Marc Keller's Bribon takes a big step up for trainer Bobby Ribaudo. Bribon, a 5-year-old gelding, has two wins and a pair of seconds in four tries at a mile.

"The distance is right, the surface is right, and now is the right time to take a shot in a graded stakes race," Ribaudo said. "We know we are in a little bit over our head, and that horse from California (Monterey Jazz) will be tough, as will the others. But we have the right situation for us and it's now or never."

With Alan Garcia committed to ride Visionaire, Rajiv Maragh will ride Bribon in the Hill `n' Dale Cigar Mile.

Already a grade I winner thanks to his victory in Saratoga's King's Bishop, Team Valor International's Visionaire put in one of the more memorable Aqueduct finishes of 2008 when he rallied to nip Texas Wildcatter in the grade III Gotham on the inner track. Trained by Michael Matz, he comes out of a disappointing race in which he ran last as the post-time favorite in Belmont Park's sloppy grade II Jerome Handicap.
"(Jockey Alan Garcia) said he didn't respond," Matz said. "I don't know if something wasn't to his liking. He had run well in the slop before. I just don't know."

The final piece to this particularly intriguing puzzle is Edward P. Evans' Storm Play, an unbeaten son of Smart Strike who has won at Aqueduct, Belmont, and Saratoga. He will be making his graded stakes debut here for trainer Jimmy Jerkens.

The field for the 20th running of the grade I Hill 'n' Dale Cigar Mile:
Post, Horse Name, Age, Sex, Weight, Jockey Name
1, Visionaire (KY) , 3, Colt, 116, Alan Garcia
2, Arson Squad (PA) , 5, Gelding, 119, Garrett K. Gomez
3, Harlem Rocker (ON) , 3, Colt, 115, Eibar Coa
4, Bribon (FR) , 5, Gelding, 114, Rajiv Maragh
5, Tale of Ekati (KY) , 3, Colt, 116, Edgar S. Prado
6, Monterey Jazz (KY) , 4, Colt, 118, David Romero Flores
7, Storm Play (VA) , 3, Colt, 114, Cornelio H. Velasquez
8, Wanderin Boy (KY) , 7, Horse, 118, John R. Velazquez
9, Kodiak Kowboy (KY) , 3, Colt, 116, Ramon A. Dominguez


Copyright © 2015 The Blood-Horse, Inc. All Rights Reserved.