Churchill Cuts Purses 10% for Fall Meet
by Blood-Horse Staff
Date Posted: 11/8/2008 7:56:15 AM
Last Updated: 11/9/2008 2:03:06 PM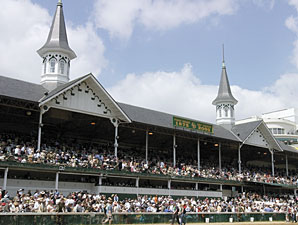 Photo: Anne M. Eberhardt
Churchill Downs, for the second time, has cut purses for its fall meet. Among the casualties is the grade II Clark Handicap scheduled for Nov. 28.
"Soft business levels stemming from the nation's economic slowdown and the unresolved negotiations with horsemen over distribution of the Churchill Downs simulcast signal to national advance deposit wagering prompted Churchill Downs to announce a 10% reduction in overnight purses for the remainder of its fall meet, and reductions in purses for two of the meet's major stakes," the track said Nov. 7.
Overnight purses will be cut effective with the Nov. 12 racing program, which will be drawn Nov. 8. In addition, the Clark Handicap purse will be reduced by $100,000 to $400,000, and the Nov. 27 Falls City Handicap (gr. II) purse by $50,000 to $150,000.
A reduction of some stakes purses and the cancellation of two stakes was announced Aug. 29. Almost $1 million was trimmed the first time around.
The Churchill Downs simulcast signal has been blocked from national ADW outlets since the beginning of the spring meet this year. Those outlets include TwinSpires.com, the official ADW site for Churchill Downs Inc.
The Kentucky Horsemen's Benevolent and Protective Association and Kentucky Thoroughbred Association have withheld permission to allow distribution of the track's simulcast signal to various ADW platforms.
"The soft economy has led to a decline of wagering dollars industry-wide and resulted in purse reductions at tracks across the country," CDI senior vice president Kevin Flanery said in a statement. "The inability to distribute simulcast signals to national ADW platforms has placed additional pressure on purses at Churchill Downs. We apologize to our customers for this inconvenience and will continue to work to obtain the horsemen's consent to distribute the Churchill Downs simulcast signal to those sites."
Copyright © 2015 The Blood-Horse, Inc. All Rights Reserved.