Sale Talk: Reacting to a Down Market
by Deirdre B. Biles
Date Posted: 9/21/2008 4:39:36 PM
Last Updated: 9/24/2008 8:51:33 AM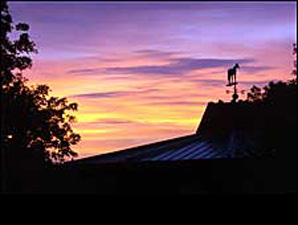 Photo: Anne M. Eberhardt
Prices for horses continued to fall during the second week of the Keeneland September yearling sale in Lexington and there was more bad news on a national and world level as the financial crisis in the United States worsened, which negatively affected the economies in other countries.
Following are the reactions of some of the participants in the September auction to developments inside and outside the Keeneland sale pavilion:
Randy Hartley, Florida pinhooker: "If you've got a bad horse, it's tough. But if you've got a good horse, it does well. It's a good sale, and that's amazing to me with the economy and the stock market the way they are. The good thing about this business is that it's an international market, so you get all kinds of buyers from everywhere. A lot of these guys have to have horses to make a living, and it's the only thing they know how to do."
Chris Brothers, Hidden Brook: "We're actually getting more horses sold than we were earlier in the sale. The earlier books (in the sale catalog) scare a lot of people off; the pedigrees scare a lot of people off. But the yearlings in books four to six are really anybody's kind of horses and they appeal to everyone. You also have a more diverse crowd to buy the horses. There is a bigger buyer pool. You have people from other states (besides Kentucky). Some the Europeans are still here, and the Russians are here."
Pope McLean Jr., Crestwood Farm: "We predominantly breed to our own stallions, so we'll continue to support them. We might cull a mare or two and kind of tighten up our operation, but I think it's going to be business as usual for the most part. It's going to be interesting to see what a lot of the farms are going to do with their stud fees.
"Most of our clients haven't said a whole lot yet about their plans. In light of what the market's doing, it might shake some of their confidence. But some of them have been through a downturn before, and they view it as an opportunity to buy mares."
Crystal Fernung, Journeyman Stud: "I think it (a downturn) is inevitable. This market gets to a saturation point every 10 or 15 years and this happens. It's part of the process.
"You should try to buy the best horse you can afford, not just try to get the best deal, like two for the price of one."
Brent Fernung, Journeyman Stud: "I think some of what is going on will be good for the industry. I would tell people to look for value. I think what everybody needs to do is look at their mares and make sure their mares are worth the effort they're putting into them."
Brereton Jones, Airdrie Stud: "In any business that you're in, you've got to use some common sense and focus on the cost effectiveness of all of your decisions. That's the basis on which America was built, and that's the basis on which America will survive.
"I was driving around Lexington a couple of years ago and I remember remarking to someone, 'How do all these people afford all these big houses? Can this be possible?' Now the chickens have come home to roost, but we can't overreact to that. That's the main thing. We just need to get back to common sense and back to the basics, and then just stay on that road."

Copyright © 2015 The Blood-Horse, Inc. All Rights Reserved.