Minor Sends Brunetti Plan for Hialeah
by Jim Freer
Date Posted: 9/17/2008 8:43:54 PM
Last Updated: 9/18/2008 10:36:56 AM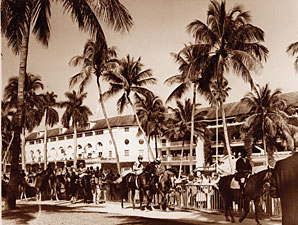 Hialeah, circa 1965.
Photo: Blood-Horse Library
Technology entrepreneur Halsey Minor has sent Hialeah Park owner John Brunetti a plan on the potential cost of rebuilding and operating the race track.

On Sept. 17 Brunetti said he will meet with several of Minor's advisors Sept. 18 to review the plan, which Minor said "is the size of a phone book." The study was prepared by a certified valuation analyst, an architect and several other advisors who joined Minor in visiting the Hialeah, Fla., track last month.

Minor will not be at the meeting. He hopes to meet with Brunetti during the week of Sept. 22 to discuss a possible sale of the track that last held races in 2001. Neither Brunetti nor Minor have a timetable on when Minor might make a formal offer.

But Minor's pursuit of the historic track is going more smoothly than his May 22 purchase of a historic piece of art.

Auction house Sotheby's sued Minor Sept. 3 for $16.8 million in a federal court in New York City, claiming he has not made any payments on his $9.7 million purchase of Edward Hicks's "Peaceable Kingdom" and on two other paintings. Sotheby's said the price of "Peaceable Kingdom" was a record for American folk art.

Minor told The Blood-Horse that several days after the purchase he learned of reports that the painting's previous owner, jeweler Ralph Esmerian, owed money to Sotheby's prior to the auction. Minor said he has not made any payments because Sotheby's failed to disclose that had it an interest in the painting--through a loan it had made to Esmerian with the painting as collateral.

A Sotheby's spokeswoman in New York did not return a phone call. On Sept. 3, officials of the auction house told Bloomberg.com that Minor had not made payments "because he was owed money by others." Minor disputed that allegation.

Minor maintains that Sotheby's role in the auction "was like your bloodstock agent selling you a horse without telling you he has an interest in it, and also taking his commission."

Sotheby's told Bloomberg.com that the loan to seller Esmerian had been "widely reported." The auction house said it feels it maintains full compliance with New York State rules on disclosure of such loan arrangements. Minor said he is preparing to file a counter-claim in the Sotheby's suit.

Minor, 43, is the founder of CNET Networks. In 2004 Fortune magazine estimated his net worth at $286 million. He owns several Thoroughbreds including filly Dream Rush, who won four graded stakes as a 3-year old in 2007.

On July 22, Minor first said he had contacted Brunetti about his interest in buying Hialeah Park. Minor and Brunetti met twice in August. For more,read this.

Brunetti received Minor's analysis of rebuilding Hialeah over the Sept. 13-14 weekend.

"I did not authorize it (Minor's report) and I can't talk about it until I find out what it is supposed to purport," said Brunetti, who has owned Hialeah Park since 1977. "I have started reviewing it. It is voluminous. I will have questions for his advisors."

Brunetti added: "Obviously, he is very interested. I have told him that in some ways I don't think he understands this business. But I want to cooperate, and find out how his people came to some of the assumptions."

Minor said his advisors' analysis includes the cost of rebuilding a grandstand, a first-year operating plan, an appraiser's valuation and architectural renderings of barns and other premises that would need to be rebuilt. Minor, who paid for the study, would not identify his advisors. He said they provided independent, third-party analysis.

He said he feels he and Brunetti need a detailed analysis of "what it would take to rebuild Hialeah as pretty as it was on its prettiest day" and "develop an operating plan that would have sustainable profitability."

Hialeah Park's buildings and ground still bear heavy damage from 2005 hurricanes.

Brunetti and Minor have both estimated it would cost at least $30 million to refurbish and rebuild the grandstand and remainder of the property. Minor said he is prepared to spend that money and take about three years for a restoration.

In 2007, Miami-Dade County's appraised valuation of the 206-acre property was $17.1 million. Brunetti said he pays about $1.5 million a year in taxes and maintenance for the property, using cash flow from his real estate development business.

Hialeah Park opened in 1925 and was known for its landscape and architecture, as well as star-quality winter racing. But during the 1990s it became difficult for Brunetti to compete with better-funded Gulfstream Park and Calder Race Course. Since 2002, Florida has not assigned racing dates to the three South Florida tracks. Without exclusive dates, Hialeah stopped holding race meets.

In 2003, the Florida Division of Pari-Mutuel Wagering revoked Hialeah's permit. A state law allows the Florida DPMW to take that action if a Thoroughbred track does not hold live meets for two consecutive years. Hialeah appealed that decision to a Florida administrative agency. It maintained that the lack of exclusive dates made it unlikely that it could have a profitable meet, thus not justifying revocation of its permit.

After losing the appeal, Hialeah sued the Florida DPMW in 2004. The track lost that case in a Miami-Dade County circuit court and in a state appeals court, which returned it to the Miami court. Lawyers are preparing to take new discovery on the case.

Some racing and political officials believe Brunetti has little if any chance of gaining the Florida Legislature's approval for a new permit.

Minor said: "Some people whose opinions I respect have said that if I can buy Hialeah, getting a license would be no problem."

If Minor clears those hurdles, he likely would face the issue of running head-to-head against Magna Entertainment's Gulfstream or Churchill Downs' Calder. But Minor is steadfast in his quest to buy, rebuild and re-open Hialeah.

"The next step is for me and John to meet again," he said. "I am 100% confident that John wants to see this track running again. I think he would love to see Hialeah Park in the hands of someone who loves racing like he does."



Copyright © 2015 The Blood-Horse, Inc. All Rights Reserved.