Saratoga Offers Boutique Yearling Market
by Deirdre B. Biles
Date Posted: 8/2/2008 9:46:59 PM
Last Updated: 8/3/2008 7:46:18 PM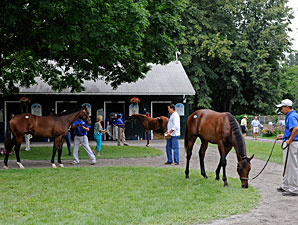 Yearlings at Fasig-Tipton's Saratoga select auction.
Photo: Anne M. Eberhardt
If the massive Keeneland September auction is the Wal-Mart of yearling sales, then Fasig-Tipton's Saratoga select auction is the stylish little boutique. There are only 195 horses in the Saratoga catalog, and some of their pedigrees are quite fancy. Horses by such top sires as A.P. Indy, Distorted Humor , and Storm Cat are scheduled to be offered during the sale's two-night run, Aug. 4 and 5, in New York.
"Saratoga is a very special auction," said Lincoln Collins, an international bloodstock adviser. "There are a lot of people who enjoy the atmosphere, and they will be here. So far, I've seen a lot of nice horses, and I expect them to sell well even though the general economy has got to be a concern. At some point, the overproduction of Thoroughbreds is going to come home to roost this year, but I doubt that's going to be the case here at Saratoga because all of the horses are so good."
The number of head sold, gross revenue, average price, and median price all fell during the Fasig-Tipton Kentucky July select yearling auction, and many people blamed America's numerous financial woes for the downturns. But Brandon Perry of Paragon Farms and Vision Sales didn't believe the economy was the July auction's main problem, so he is hopeful that Saratoga can turn in a better performance if buyers like the yearlings that Fasig-Tipton officials have selected.
"We vetted a lot of horses in July, and quite frankly, a lot of the horses didn't pass the vet for us," Perry said. "I didn't think the physicals were as strong as they have been in the past, and that could have had more to do with the reduction in the average than the economy."
In 2007, the Saratoga sale followed the general downward trend of North America's yearling market, suffering setbacks in its gross, median, and average while its buy-back rate rose to 24.5% from 18.8% in 2006.
Terence Collier, Fasig-Tipton's director of marketing, believes this year's edition of the Saratoga auction has plenty of quality horses to tempt Sheikh Mohammed's bloodstock manager John Ferguson and other big spenders, whose enthusiasm is needed to boost the market.
"We feel that we've got an exceptional catalog; we feel that we've got sire power; and from what we've seen to date physically, the horses are holding up very well, so we're optimistic," Collier said. "But because there are so many factors in the international economy that are hammering us, there is some anxiety as to what effect that situation is going to have on the psyches of the buyers. Even though these very wealthy horse owners are somewhat insulated from many of the economy's vagaries, it doesn't help when they see something negative every time they pick up a newspaper."
Both sessions of the auction will begin at 7 p.m. (EDT).
Following are some comments from other Saratoga sale participants:
Brian Graves, Gainesway: "I could see the market maybe being a little bit off because of the economy, but I don't think it will fall off significantly. I think it will stay pretty steady. We're targeting kind of a different group of people than we did in July with the quality horse and the quality pedigree. That's the end of the market that usually holds up. I've seen some faces walking around shopping early that weren't here last year, so I'm hoping that there will be some new players in the market."
Bayne Welker, Mill Ridge Sales: "I would like to see pretty much a continuation of what we saw in July as far as people wanting to buy horses. I didn't think July was so bad. I was sitting there with five horses and four of them the market wanted, so I thought it was very fair. When you had a good horse, there was a market for it. Am I overly optimistic? No, because there's no reason for me to be so at this point. But I don't think people will stop buying horses. It will be OK. I think the whole year will be OK, but it will be rough in spots."
Tommy Eastham, Legacy Bloodstock: "Our volume of shows has been good. Yesterday (Aug. 1), we were glad to see the people who were here come by. Again, I think this is going to be a sale where they're going to buy the best and leave the rest, and I think it's going to be that way for a little while. But I think you're going to see a low RNA rate here. People's expectations are adjusting to what the market is. We're all kind of figuring it out. We're going to be more conservative and more realistic on our recommendations (for reserves). It all comes down to if the big guys in the industry play here, and we've already seen John Ferguson and just about everybody else."
Richard Kent, Kaizen Sales: "I'm looking for a good sale. The July sale, for the top 40% to 50% of the horses, was really pretty good. You're dealing with an upper end market here, so I would expect that market to sustain itself."
Marshall Silverman, consignor: "This is a boutique auction. Most of these horses have been picked through pretty good to get here, so I expect the market to be at least as good as it was last year. With the few scratches we've had and with fewer horses than last year in the catalog, there's certainly going to be enough money around to buy these horses. It won't be like we'll run out of buyers."
Cot Campbell, Dogwood Stable: "I wouldn't think it would go through the roof. The other sale (in July) didn't. It's the same old stuff. Everybody wants the top ones, and certain aspects of the market are very weak, like the horses below $100,000. Where I'm shopping is $100,000 to $300,000, and it seems to be pretty strong. I doubt that the pinhookers are going to be as bold as they have been."
Jeffry Morris, Highclere Sales: "It's just a matter of how much money shows up. There are a lot of secondary issues going on. There's a lot of controversy in our industry, and the economic issues are prevalent. Realistically these horses shouldn't get penalized as much as the next tier down and the next tier. The farther down you go, the more trouble you're going to have. I had some second thoughts about some of the sale horses we had in July. But in retrospect, I think that market was pretty representative of what we're going to see this year. A lot of horses that we used to easily get $50,000, $60,000, or $70,000 for, we're going to end up trying to get $30,000 or $40,000 for because there are so many of them."
John Stuart, Bluegrass Thoroughbred Services: "It's a very select sale, and there are plenty of buyers here. I don't think there is any reason for it to fall off like some of the other sales (this year) will and have. The thinking is the select market holds up the best, and there's pretty select stuff here."
Craig Bandoroff, Denali Stud: "In July, the good ones that they really liked brought plenty of money. The world's economy is about as bad as I've ever seen it, so I was very relieved and very reassured by the market (in Kentucky). As far as the definition of what the buyers want, they keep raising the bar. It takes a very good horse, but if you have that horse, there's money for it. The sky's not falling."
Frank Taylor, Taylor Made Sales Agency: "I think that July was, hopefully, a totally different market than here. There is a different caliber of horse in Saratoga. There are good horses here, and there's not a huge supply of them. I'm always a total optimist, so I think the sale is going to be great."
David Greathouse, Four Star Sales: "The market has eliminated some of the speculators, there's no doubt. You can't be too bullish on your product; you have to recognize your clients and act accordingly. The market might be a little bit stronger in Saratoga. But I think the July sale was a little bit misconstrued because large numbers of RNAs were sold after the sale, which didn't show up on the results pages. A lot more horses actually were sold than the percentages showed."
Copyright © 2015 The Blood-Horse, Inc. All Rights Reserved.