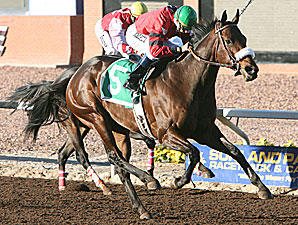 The track reported that the storm dropped more than six inches of rain in Ruidoso, which is located near the northwest Texas border about 200 miles south of Albuquerque.

"Ruidoso Downs has been impacted by Hurricane Dolly," said Ann McGovern, Ruidoso Downs' president and general manager. "We're assessing the situation and plan to race next weekend."

Undefeated in the first 16 races of her career, Peppers Pride was set to run in the $55,000 Lincoln Handicap for New Mexico-bred fillies and mares in an attempt to surpass the record she holds jointly with Citation, Mister Frisky, Cigar and Hallowed Dreams.

The Lincoln is part of the Zia Festival racing program for New Mexico breds, which has been rescheduled for Saturday, Aug. 2.

"All the horses that entered for Sunday's Zia Festival races (July 27) are now entered for the Zia Festival card on Saturday," said director of racing Robbie Junk.