Japan Sale: Young Sire Has Deep Impact
by Michele MacDonald
Date Posted: 7/15/2008 8:29:38 AM
Last Updated: 7/16/2008 2:44:08 PM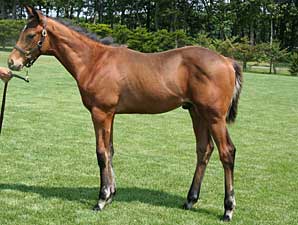 A Deep Impact colt out of champion Biwa Heidi, drew $2,056,074 bid from Takaya Shimakawa to top the first day of the JHRA sale.
Photo: Michele MacDonald

The electric popularity of Japanese Triple Crown winner and two-time Horse of the Year Deep Impact generated enough voltage on July 15 to lift the Japan Racing Horse Association select sale out of what could have been a dark malaise induced by the nation's sputtering economy.

Eighteen foals from the first crop of Sunday Silence's best son trotted beside their dams through the ring at the Northern Horse Park to great expectations from a crowd that included dozens of photographers and videographers assembled to record the event.

By any world standard, his foals sold strongly, yet neither they nor the rest of the youngsters cataloged for the opening foal session sparked as much exuberance from buyers as the record fireworks ignited in some recent years. Nonetheless, JRHA officials breathed easier and smiled at the conclusion of the day, knowing that if the Deep Impacts had not made their debut, breeders would have faced a more grim market.

A stylish bay Deep Impact colt out of champion Biwa Heidi, by Caerleon, drew a 220 million yen ($2,056,074) bid from Takaya Shimakawa to top the session. Shimakawa, who runs a food supply company based in Sendai, laughingly said after the purchase that his indulgence was "totally unexpected."

"I had a budget for this colt of $2 million but something pushed my limit up," he said. "Now I have lost all my money; maybe I'm going to be bankrupt."

Consigned by Katsumi Yoshida's Northern Farm, the colt had been billed as the possible star of the sale before any bidding began. He is a half brother to Japanese group stakes winners Admire Japan and Admire Aura.

Overall, the 18 unweaned offspring of Deep Impact offered were sold for a total of 1,211,000,000 yen ($11,317,749) and an average of 71,235,294 yen ($665,750). Thus, Deep Impact, who has stood for a fee of 12 million yen ($113,015 at current exchange rates), compared very favorably to current leading Japanese sire Agnes Tachyon, whose 21 foals that were sold generated 664,000,000 yen ($6,205,599) for an average of 39,058,824 yen ($365,035).

The session as whole featured 165 foals offered, of which 124 were sold for gross of 4,471,500,000 yen, down 9.8% from last year's 4,958,000,000. Average price of 36,060,484 yen declined 4% from 2007, but the clearance rate of 75.2% was slightly better than last year's 75%.

We are very happy—much more than we had estimated," said JRHA vice chairman Teruya Yoshida, owner of Shadai Farm. "Because of the economic situation, we had to be a little pessimistic, but the result in terms of average is almost the same as last year and the selling rate is a little better."

Yoshida, who stands Deep Impact with his brothers at their Shadai Stallion Station, also was pleased with the reception of the young stallion's first progeny. While some expected his foals to create a "crazy market," he noted that "people are still a little cautious because he's not a proven horse."

Yet Deep Impact's reputation reached across oceans, helping the JRHA with its goal of making the sale more international in scope. Australian Nathan Tinkler, who earlier indicated he was not interested in the challenging task of buying foals, captured the first Deep Impact in the ring, a filly out of Dubai World Cup (UAE-gr. I) winner Captain Steve's half sister Neon Delite, by Gone West, for 35 million yen ($327,102).

"She was a beautiful mover, a nice, well balanced filly," Tinkler said. "We had a look at all (Deep Impact's) progeny and she stood out amongst the fillies."

Another Deep Impact filly, out of Chilean champion Lhiz, by Hussonet, was sold to British-based Blandford Bloodstock for 33 million yen ($308,411).

Other buyers of offspring of Deep Impact included his former owner, Makoto Kaneko, who purchased a colt and a filly; prolific buyer Riichi Kondo, who also bought a colt and a filly; and agent Nobutaka Tada of Globe Equine Management, who signed tickets for a gray half brother to Satsuki Sho (Japanese 2,000 Guineas) winner Captain Thule for 100 million yen ($934,579) and a bay colt out of English group I winner Seazun for 94 million yen ($878,504).

"He has pedigree and he is a nice horse; he is pretty and he moves very well," Tada said of the gray colt while not disclosing which of his clients will be the owner."We expected to have to pay more so we are pleased with the price, for sure."

Tada and others at the sale including Sheikh Mohammed bin Rashid al Maktoum's bloodstock manager John Ferguson described the Deep Impacts as generally smallish, like their sire, but tending to be correct and racy.

"Deep Impact is a small, athletic horse, and his foals tend to be like him. He stamps his foals very well; you can see their father in them," Ferguson said.

Darley sold a Deep Impact colt who is a half brother to its Japan Dirt Derby winner Furioso for 52 million yen ($485,981) to Hirotsugu Inokuma, and also was a major buyer, acquiring seven foals, led by a Tanino Gimlet filly for 105 million yen ($981,308) who is a full sister to champion and Tokyo Yushun (Japanese Derby) winner Vodka, and four foals by Agnes Tachyon.

Other sellers included Catesby Clay's Runnymede Farm in Paris, Kentucky, which consigned two Deep Impact colts to the sale. A brown colt out of Hunter's Mark, a half sister to Japanese Derby winner and young sire King Kamehameha, sold for 42 million yen ($392,523) to computer game developer Hiroyuki Sonobe, while Runnymede's other colt was set to sell on July 16.

"Given the sober market conditions, we are gratified that we are still getting good prices and moving our stock," said Runnymede vice president and general manager Martin O'Dowd.

While Deep Impact accounted for two of the three horses to cross the $1 million threshold in the opening foal session—with Kondo buying a colt who is a half brother to multiple Japanese group winner Admire Monarch for 125 million yen ($1,168,224)—the second highest-priced foal of the session was a brown colt by Kurofune out of the Sunday Silence mare Rose d'Anjou. Consigned by Northern Farm, that colt drew a bid of 135 million yen ($1,261,682) from Tada.

Even though some sellers found the going somewhat disappointing, buyers enjoyed more room to maneuver.

"Relative to previous years, it feels fair rather than stratospheric," Ferguson said while praising the overall quality of the horses offered. "The standard here this year is as good as anywhere in the world."




Copyright © 2015 The Blood-Horse, Inc. All Rights Reserved.