Kentucky Legislators Tour Affected Farms
by Tom LaMarra
Date Posted: 6/14/2001 1:12:18 PM
Last Updated: 6/15/2001 7:34:21 AM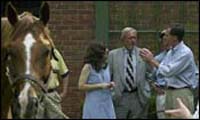 With stallion Old Trieste in the foreground, Kentucky state Rep. Carolyn Belcher, left, and state Sen. Joey Pendleton, center, listen to Jonabell Farm president Jimmy Bell, right.
Photo: Anne M. Eberhardt

As Central Kentucky breeders and owners prepare for the "ripple effect" from mare reproductive loss syndrome, Kentucky legislators are in the process of gathering information to assess the damage. Meanwhile, a state equine emergency management plan is in the works.On Thursday morning and afternoon, legislators toured two horse farms, the Gluck Equine Research Center, and the Livestock Disease Diagnostic Center to speak to people directly involved in mare reproductive loss syndrome. The tour was facilitated by the Kentucky Thoroughbred Association and Kentucky Harness Horsemen's Association.The latest projections are there will be a $50-million direct economic impact this year, and a $350-million direct impact in 2002. About 5% of this year's foal crop, and 25% of next year's, has been lost, according to projections.Up to six legislators were expected to participate in all or part of the tour, which began at Brittany Farms, a Standardbred operation located between Lexington and Versailles. General manager Art Zubrod said the farm has lost 10% of its 2001 foal crop, and 10% of its 2002 foal crop."Economically it's a huge hit," said Zubrod, who noted that of the 10 major Standardbred farms in Kentucky, five or six were greatly impacted by mare reproductive loss syndrome.Zubrod produced a list of about 20 aborted, euthanized, or premature foals valued at roughly $2 million. Farm owner George Segal breeds his own stock, so the farm is self-sustaining and the profits used to upgrade and expand.Farms that rely on boarders, or breeders and owners with only a few mares, could be the hardest hit percentage-wise."There are a great number of horsemen in Central Kentucky that don't have this caliber of stock," Bill Napier, executive director of the KHHA, said during the Brittany tour. "These may be the people who work a second job. If they have only 10 mares, and lose three or four foals, they could be devastated."At Jonabell Farm near Lexington, president Jimmy Bell would only say the losses at the farm were "significant."

"It's hard to make statistics or percentages tell the story," Bell said. "What we can't measure is an intagible loss -- a loss of confidence by outside breeders who send a world of horses to this region. We're all concerned about it."Bell called it a "ripple effect" whose impact may not be completely known for years. In the case of Jonabell, which is a full-service farm, the syndrome has impacted stallions, broodmares, foals, boarders, and even the land, which is used to produce food for livestock.Zubrod said one can only guess at the projected economic impact horse by horse. For example, the syndrome may have claimed a colt by a champion mare who could have become a champion racehorse, and perhaps have even greater value as a stallion.Currently, an economic impact study is being done in Kentucky, which faces a budget shortfall. Loss of sales tax tied to the equine industry won't help the situation. Legislators aren't sure what type of aid, if any, could be made available in the state, though efforts for federal measures continue in Washington, D.C.Rep. Joe Barrows, whose district includes Woodford County, where Brittany Farms is located, said the "smaller people are very important to the overall health of the industry." He urged owners and breeders to contact legislators with reports on those seriously impacted by mare reproductive loss syndrome, or those who may be forced out of the business.In a related matter, Zubrod called for better leadership to deal with equine emergencies. He suggested a plan and field response similar to the Centers for Disease Control in Atlanta, Ga.KTA executive director David Switzer said mare reproductive loss syndrome has brought about a call for an equine emergency management plan on the state level. "We need a chain of command so we're not all going off in different directions," he said.Other legislators on hand for the first portion of the tour were Reps. Carolyn Belcher, Roger Thomas, and Susan Westrom, and Sen. Joey Pendleton.



Copyright © 2015 The Blood-Horse, Inc. All Rights Reserved.