Industry on Notice at Start of Hearings
by Ron Mitchell
Date Posted: 6/19/2008 11:26:27 AM
Last Updated: 6/19/2008 6:08:52 PM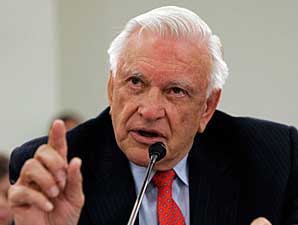 Jess Jackson, owner of Stonestreet Farm and majority owner of 2007 Horse of the Year Curlin, testifies before Congress on June 19, 2008.
Photo: AP Photo/Susan Walsh

Members of a Congressional subcommittee looking into practices of the horse racing and breeding industries began a hearing June 19 with warnings that they need to get their house in order to ward off government involvement.

That was the opening message from members of the Subcommittee on Commerce, Trade, and Consumer Protection under the House Committee on Energy and Commerce during the hearing on "Breeding, Drugs, and Breakdowns: The State of Thoroughbred Horseracing and the Welfare of the Thoroughbred."

(Link to Audio Webcast of hearing, starting at 10 a.m. ET)

Not unlike other members of the panel who addressed the horse industry participants that provided testimony, Rep. Jan Schakowsky opened the hearing by reiterating the events surrounding the death of Eight Belles following her second-place finish in the Kentucky Derby Presented by Yum! Brands (gr. I). While tests have shown that the filly was not racing with steroids in her system, Schakowsky traced the filly's genetic background, citing examples of fragility within the family that may have contributed to the tragedy.

Concerning opinions that the day-to-day workings of the horse industry should not fall under Congressional scrutiny, Schakowsky and others cited the 1978 Interstate Horse Racing Act passed by Congress that allows legal simulcasting and wagering, the source of an estimated 90% of all annual wagers now in North America.

"Unlike every other professional and amateur sport, horse racing lacks any national regulatory authority that can promulgate uniform rules and regulations," Schakowsky said. "What is going on here? What is happening to the Sport of Kings? Horse racing remains a confusing patchwork of different regulations from state to state. One of the central questions the subcommittee wants to explore is: Does horseracing need a central governing authority? Is the racing industry truly capable of making reforms on its own within the current regulatory framework?"

Kentucky Rep. Ed Whitfield, who was instrumental in scheduling the hearing, said he believed the horse industry "is at a crossroads. I believe greed has trumped the health of the horse, health of the jockey, strength of the breed, and integrity of the sport.

Whitfield said there are three major problems within horse racing, which he said are: horses racing more on drug induced ability rather than natural ability; lack of transparency regarding deaths on the racetrack; and the lack of a central entity to make and enforce rules and regulations.

The horse industry's ability to conduct simulcasting as a result of the IHA is the vehicle under which the federal government could become involved in horse racing, Whitfield said. "I know people have said the federal government has no part in this industry. I would submit that if the federal government provides the vehicle for the revenue of simulcasting, we have a responsibility to set minimum standards to ensure the safety of those participants, to ensure the integrity of the breed, and to ensure that we have a uniform medical rule around the country.

"This hearing is a wakeup call for you," said Rep. Cliff Stearns of Florida. "There is abuse in your industry and you know it better than I. We don't want to come in and regulate you; we want you to regulate yourself… We are asking you to step up to the plate."

Conspicuously absent among the scheduled witnesses was trainer Rick Dutrow, who had attracted considerable publicity for his comments that Big Brown, winner of the Kentucky Derby Presented by Yum! Brands (gr. I) and Preakness Stakes (gr. I), had received steroids for those two races but not before his last-place finish in the Belmont Stakes (gr. I).

Dutrow skipped the hearing because he said late Wednesday he had an illness that precluded him from traveling. Schakowsky noted that she was disappointed in Dutrow's absence and the fact he did not notify the committee that he would not attend.

"I'd like to note the empty space for… the trainer for Kentucky Derby and Preakness Stakes winner Big Brown. Apparently Mr. Dutrow was too ill to travel to Washington D.C. and will not testify with our other witnesses today. Unfortunately Mr. Dutrow never informed this committee of his illness and despite numerous attempts to reach Mr. Dutrow he never notified on the committee staff that he would not be attending this morning's hearing. I'm disappointed by his absence and I'm disappointed he did not feel the need to notify this subcommittee directly of his decision, given Mr. Dutrow's stature in this sport. I think he would have been a valuable addition to this public dialogue. I hope in the future when Mr. Dutrow recovers from his illness, he will join us and be a part of the solution to clean up the sport of horse racing."



Copyright © 2015 The Blood-Horse, Inc. All Rights Reserved.