Belmont Doings: Casino Works
by Steve Haskin
Date Posted: 6/5/2008 4:04:50 PM
Last Updated: 6/7/2008 8:30:01 AM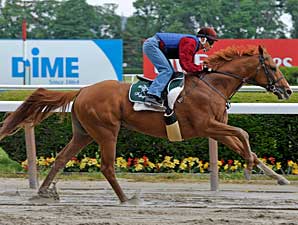 Casino Drive during his non-published four furlong workout June 5 at Belmont Park.
Order This Photo
Photo: Anne M. Eberhardt

For the third time in about a week Casino Drive had one of those non-published works that everyone has come to expect. The first time was by himself, the second with two workmates, and today's with one workmate. But this time it was different, as his jockey Edgar Prado was aboard for the first time.

Racing manager Nobutaka Tada, acting as translator for trainer Kazuo Fujisawa, told Prado to sit several lengths behind stablemate Spark Candle and pass him at the sixteenth pole, but to make sure he didn't go too fast. That is not Fujisawa's way of training, which is geared more toward conditioning.

As usual, Casino Drive had a brisk 45-minute walk before Prado was given a leg up in the paddock. Halfway through the tunnel, the siren signifying a loose horse sounded and Casino Drive and Spark Candle turned around and headed back to the paddock and continued walking until they were given the all-clear sign.

Over a sealed, muddy track, Spark Candle put five or six lengths between him and Casino Drive. As was the case in their last work, Spark Candle went wide into the stretch and Casino Drive quickly passed him on the inside shortly after turning for home and opened a length and a half lead at the three-sixteenths pole. Casino Drive maintained that lead down the stretch while failing to change leads once again. Crossing the finish, he gave a slight bobble as if he hit a bad spot and that enabled him to finally change leads as he continued strongly past the wire. Clockers caught him going a half in :55 4/5. A private clocker got him in closer to :57.

Casino Drive may not be burning up the track in his morning works, but he is looking super physically. His coat looked awesome this morning and he actually seemed to be moving a bit smoother than he did yesterday. Fitness and conditioning will not be a factor in the Belmont Stakes (gr. I). If Casino Drive wins the Belmont it will be one of the great training feats in preparing a horse for the third leg of the Triple Crown, not to mention unique.

Big Brown goes out early

Rick Dutrow changed his routine this morning, sending Big Brown out at about 5:45 for a once around jog after walking through the paddock. The son of Boundary was feeling good in the cool, damp weather and was bucking continuously after coming off the track. Dutrow then walked him around the shed several times, once stopping at the barn door to allow a few photographers and cameramen to get good close-up shots of the colt.

At the same time Casino Drive was working, Denis of Cork, third in the Kentucky Derby Presented by Yum! Brands (gr. I), was on the track for the first time, as was Icabad Crane, who trained on the training track yesterday. Denis of Cork, with trainer David Carroll aboard, was the final Belmont horse to train and galloped strongly, as Carroll, with a watchful eye who was coming up behind him, found the last remaining good path along the rail. Denis of Cork had his ears up and carried his head high after switching leads smoothly turning for home. The son of Harlan's Holiday was so strong Carroll had to pull back on the reins in the final furlong, which may have accounted for the colt keeping his head up. There is no doubt the colt is anxious to do something.

Icabad Crane is the consummate pro. He is always relaxed and easy to handle and he just glided over the wet track this morning, just ahead of Casino Drive's work. He has held his flesh remarkably well, coming off his troubled third in the Preakness (gr. I).

Macho Again, second in the Preakness, just jogged the wrong way with the pony, and like Big Brown, was full of himself after coming off the track.

Over at the training track, Nick Zito watched Anak Nakal and Da'Tara gallop over a sealed track and was happy with the way both colts are coming into the race. Anak Nakal is a smallish colt, but well made with a beautiful head. Da' Tara is a bigger horse, who gets more on the muscle, and he lathered a up on the neck despite the cool weather. He seems to take after his sire, Tiznow, who would get on the muscle.





Copyright © 2015 The Blood-Horse, Inc. All Rights Reserved.