Deep Sky Soars to Japanese Derby Win
by Jack Shinar
Date Posted: 6/1/2008 2:08:39 PM
Last Updated: 6/4/2008 11:12:07 AM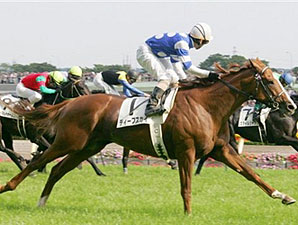 Hirofumi Shii rides Deep Sky to victory in the 75th running of the Japan Derby.
Photo: AP Photo/Kyodo News

(from Japanese Racing Association reports)
Favored Deep Sky came from out of the clouds June 1 to register a convincing win in the $4,639,000 Tokyo Yushun (Japanese Derby, Jpn-I), giving jockey Hirofumi Shii consecutive wins in the second leg of the nation's Triple Crown.

Shii, who won the Japanese Derby in 2007 with Vodka, is the second jockey to win the race in back-to-back years.

Deep Sky, the 7-2 choice in a field of 18 3-year-olds, soared past the leaders on the outside to score a 1 1/2-length victory before a crowd of nearly 125,000 at Tokyo Racecourse.

The 49-1 outsider Smile Jack, ridden by Futoshi Komaki, finished second. Black Shell, with Yutaka Take aboard, was third, 2 1/4 lengths behind the winner. Take is the only other jockey to repeat in the Japanese Derby in successive years. Second choice Meiner Charles finished fourth.

The winning time for the 2,400-meter event (about 1 1/2 miles) was 2:26.7 on a course rated firm but roughed up on the inside lanes following heavy rains May 31.

"I didn't think someone like me could ever win the Derby," said trainer Mitsugu Kon, a first-time Derby winner who has been conditioning Thoroughbreds for nine years. "We had a plan all long, but I never expected everything to go so well."

Shii, who broke from the inside post, said he used Take's mount as a target after Deep Sky fell back to fifth from the rear early.

"I was right near (Take) and I wanted to wait for him to make the move first," Shii said. "(Take) happened to slide in front of us so I dropped back. The trip went real smooth."

Take rated Black Shell in mid-pack as Let's Go Kirishima set an uncontested pace with Agnes Starch and Smile Jack stalking in second and third. Let's Go Kirishima continued to show the way around the final turn but tired soon after that as Smile Jack took over in the final 400 meters. Deep Sky, still shadowing Black Shell into the straight, angled far out for the finish, soaring past the others and catching Smile Jack close to home.

"The one thing I was worried about was the inside barrier," Shii said. "The turf was a bit rough on the inside so I was thinking about where to run him. It was especially bad from the third turn to the last. I looked up and I saw that it was crowded on the inside so I knew right away I was going outside. He was strong."

Deep Sky flew home in a time of :34.2 over the final three furlongs, finishing fastest of all.

"He felt good on the straight, but this is the Derby," Shii said. "Anything can happen. I couldn't let up until I was past the finish."

Kasamatsu Bokujo bred Deep Sky, a chestnut colt by Agnes Tachyon--Abi, by Chief's Crown that is owned by Toshio Fukami. Deep Sky won for the fourth time in 11 starts.



Copyright © 2015 The Blood-Horse, Inc. All Rights Reserved.