KY Equine Humane Center Creates Fund
Date Posted: 5/16/2008 8:33:47 PM
Last Updated: 5/17/2008 3:00:52 PM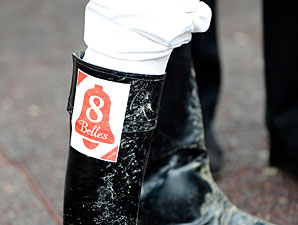 In memory of Eight Belles, Chris Emigh wears a patch on his boots. Emigh won the Miss Preakness Stakes aboard Palanka City on May 16.
Photo: Anne M. Eberhardt
The Kentucky Equine Humane Center has established the Eight Belles Memorial Fund with the blessing and cooperation of Eight Belles' trainer Larry Jones and his wife Cindy.
"We chose KyEHC so our filly's memory and our love for her will live on, and in turn, Eight Belles will be helping horses that are less fortunate," said Larry and Cindy Jones
Donations made to the Eight Belles Memorial Fund at the KyEHC will go directly toward providing humane treatment and shelter to any horse in Kentucky that is in need. Horses given refuge at KyEHC are available for adoption to caring homes.

KyEHC's Mission: To provide humane treatment and shelter while working as a clearinghouse to seek adoptive homes for all of Kentucky's unwanted equines, regardless of breed; To educate the public and raise awareness for responsible equine ownership so that fewer horses end up in crisis; and, To work with and serve as a model for organizations with the same mission in other states: to save America's equines from inhumane treatment.

KyEHC is a charitable 501 (c)3 corporation. All donations are tax deductible.

To donate or for more information, please visit www.KyEHC.org
Copyright © 2015 The Blood-Horse, Inc. All Rights Reserved.