Sale Catalogs to Show Foreign Earnings
Date Posted: 5/16/2008 10:37:27 AM
Last Updated: 5/17/2008 2:26:56 PM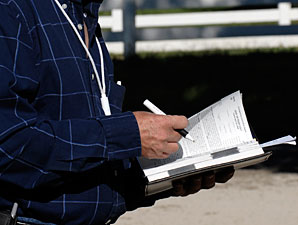 Photo: Anne M. Eberhardt
From the Society of International Thoroughbred Auctioneers

The North American members of the Society of International Thoroughbred Auctioneers May 16 announced future North American sales catalogues will present foreign earnings from most major racing nations in native currency, followed by a total earnings line converted to U.S. dollars.

This change applies to earnings from countries assigned "Part I" status in the International Catalogue Standards book for time periods The Jockey Club Information Systems has detailed start-by-start information from these countries.

Part I countries for which TJCIS currently has detailed start-by-start information are Argentina, Australia, Brazil, Canada, Chile, France, Germany, Great Britain, Ireland, Italy, Japan, and Duabi.

"Reporting earnings in native currency from these Part I countries, and providing total earnings in U.S. dollars will give buyers and consignors a more detailed assessment of a Thoroughbred's accomplishments given the global appeal of the domestic auction market and the significant difference in value between the U.S. dollar and many foreign currencies," said SITA chairman Norman Casse.

The changes will take effect beginning with the Ocala Breeders' Sales Co.'s June 2-year-old and horses of racing age sale.

Copyright © 2015 The Blood-Horse, Inc. All Rights Reserved.