Pletcher Likes Big Brown, Colonel John
by Claire Novak
Date Posted: 5/1/2008 12:31:38 PM
Last Updated: 5/2/2008 7:12:00 PM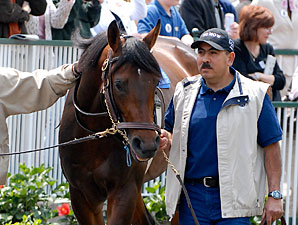 Colonel John, shown schooling at Churchill Downs, has impressed Todd Pletcher.
Photo: Anne M. Eberhardt
Trainer Todd Pletcher doesn't have the first, second, or third choice in the Kentucky Derby Presented by Yum! Brands (gr. I). In fact, his horses were assigned odds of 15-1 (Starlight Stables'
Monba
) and 20-1 (Stonerside Stables'
Cowboy Cal
) on the morning line. So, after giving an update on the status of his runners, Pletcher was left to confirm Rick Dutrow Jr.'s confidence in
Big Brown
during a May 1 press conference at Churchill Downs.
"I've raced against Rick a lot in New York and he's a very good trainer and a very good horseman," the Eclipse Award winner said. "Generally, when he says something like that you have to take it seriously because he knows what's going on. He was similarly confident with St. Liam when he won the Breeders' Cup (Classic, gr. I), so I think it's a sign that the horse is doing well. I was also really impressed by the way
Colonel John
looked this morning, so I'd say those two are the ones to beat."
Pletcher's own horses are in top form after shipping in from Keeneland April 30, where they finished 1-2 in the April 12 Toyota Blue Grass Stakes (gr. I), won by Monba. Both galloped the morning of May 1, hitting the Churchill Downs surface for the first time this week.
"I think both of these horses are doing extremely well right now," Pletcher said. "Both of them started to improve when we got to Keeneland. I noticed a change in the way they were training and the way they were eating, and their overall demeanor seemed better to me. I do think that for some reason horses tend to get over their races a little quicker coming off the Polytrack. In a perfect world I think just because these horses are doing so well right now we might add another week in, but I do think that they have bounced out of the Blue Grass very well."
Although Pletcher is known for his preference to train over Polytrack rather than race on it, he said the recent Derby prep set his horses up perfectly for their upcoming effort.

"Neither one of my horses would be in this race if it wasn't for the Blue Grass," he said. "I think that's the way everyone's gonna look at Polytrack; if you have a good race over it and your horse runs well you're happy, and if your horse runs bad maybe that's the excuse. All I know is my two horses ran well and came out of the Blue Grass well, and that's why we're here today."
Copyright © 2015 The Blood-Horse, Inc. All Rights Reserved.