Derby Jockey Profile: Ramon Dominguez
by Claire Novak
Date Posted: 4/23/2008 5:47:19 PM
Last Updated: 4/24/2008 10:18:00 PM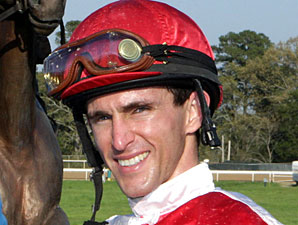 Ramon Dominguez
Photo: Coady Photography
In 2006, Ramon Dominguez rode
Bluegrass Cat
to a second-place finish behind Barbaro in the Kentucky Derby Presented by Yum! Brands (gr. I). He was close enough to practically taste the victory, and this year he's chasing it with renewed determination aboard the Todd Pletcher-trained
Monba
, his fifth Derby contender.
Dominguez, 31, came to the U.S. in 1995 from his native country and rode his first winner in March of 1996 at Hialeah. His move to Delaware Park and a partnership with agent Steve Rushing brought him success on the East coast (he was the leading rider at Delaware from 2004 to 2007). Recently, Dominguez has been on fire in New York—last winter he shattered the record for races won at Aqueduct during an inner track meet by riding 113 winners. Thus far, his greatest career victory is a score in the 2004 running of the John Deere Breeders' Cup Turf (gr. IT) aboard Better Talk Now.
Height:
5'6"
Weight: 112

Career wins: 3,311
Born: Nov. 24, 1976, Caracas, Venezuela
Residence: Elkton, Md.
Family: wife Sharon, sons Alexander and Matthew

Favorite sport: "Running would be one, I love to run, and the last few years I've been doing a little bit of indoor rock climbing as well."
Favorite food: "Any Asian food. Chinese, Japanese, Vietnamese—you name it."
Most hated chore: "My wife could answer better than me, but I guess I'm willing to help doing anything."

I can't live without: "Granola"

The fastest I've ever driven was: "Probably 90 miles per hour, maybe once, just to try a car. I just got a ticket last week for going 71 in a 50. But other than that, I really try to stay slow."
If I could trade careers with another professional athlete, I would: "Be a soccer player. That would be something I'd like to do, since I played for fun and like that sport a lot as well."

Another active rider I admire is: "More than one. Mario Pino, Edgar Prado, John Velazquez, and Javier Castellano—they're all very good riders and friends of mine that I look up to."
One thing I wish people knew about jockeys: "It is great to be a rider, it's very fulfilling, and it's awesome getting to live our dream come true on a daily basis. At the same time, most people—including trainers and owners—don't fully understand what it takes to be a rider. Some of us sacrifice more than others, but I don't really think you can fully understand what it takes—not only physically, but also mentally—unless you do it. I hate to see a rider heavily criticized, because in all fairness people don't understand how many situations are out of our control."
The best part about winning the Derby this year would be: "Dedicating the race to my family and my agent, for sure."
Copyright © 2015 The Blood-Horse, Inc. All Rights Reserved.