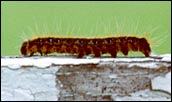 As previously reported, examinations of caterpillars and their excrement have initially tested negative for cyanide, but revealed high levels of the mycotoxin, zearalenone. (Briefing dated May 17, 2001). Also reported in the same briefing, we believe the critical insult that gave rise to MRLS occurred between April 17 and 23, based upon detailed studies of mare breeding records. As reported in yesterday's briefing, Central Kentucky experienced a very cold March, followed by a very warm April, with frost/ freeze occurring on April 17 and 18. We also believe that ETCs were moving during this time period as they had defoliated trees and were not yet full grown.We strongly emphasize that the cause for Mare Reproductive Loss Syndrome has not yet been determined and many options are still under consideration and investigation as to its cause.

The Kentucky Thoroughbred Association will also broadcast fax this brief to horse farm owners or managers on a request basis. To be added to that list, please contact Vickie Garcia at 1-800-552-3781 or locally at 381-1414.

The scientific investigating team, with the Kentucky Association of Equine Practitioners and the Kentucky Thoroughbred Farm Managers Club will hold an information sharing session on Thursday, May 24th similar to the session held previously on May 10th. The information sharing session will begin at 5:00 pm at the Keeneland Sales Pavilion. The entire session will be web-cast live from the web-site: www.keeneland.com.